Part 3: Oriental Bay is the meeting point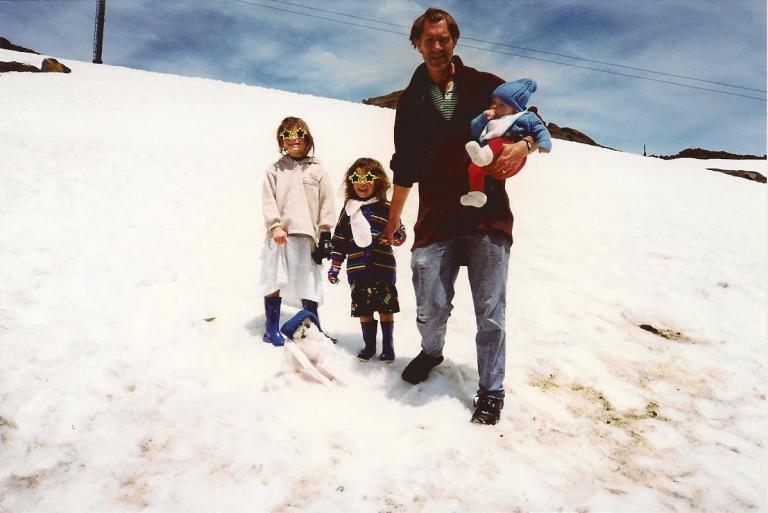 Reflections on my parents, siblings and the interconnectivity of the universe, through spacetime and multilocality.
(listen to tracks 4-7)
---
Oriental Bay is the meeting point. The convergence of the universes of the night sky, the harbour connecting to the world's oceans. Matairangi, one of my maunga, the St Gerard's Monastery on the hill. My sister, father, and mother are all within 20 minutes walking distance from here, and my current home is just up the road.
The harbour connects me to the Pacific ocean, which in turn eventually relates to the Medeteranean sea surrounding Cyprus and the Aegean sea, encapsulating the Greek island of Lesvos. And yes, this is where the word Lesbian comes from.
The way the houses sit on the hills of Matairangi (Mt Victoria) remind me of Plomari, my Pappous village in Lesvos. He was the eldest of 9 children and came to Aotearoa in 1924. Being born in 1900 made it realy easy for me as a child to remember how old he was or about to turn that year. In my early days of mathematical awareness as a 3 year old, I knew that Pappou was 91 going on 92, based on it being the year 1992. He lived to 100, and passed away in 2001, having lived through more than one century and millennium. I was grateful to have him, as both my grandfathers on my mother and fathers sides had unfortunately passed away before I was born. So having a great grandfather felt like a bonus - God's way of making up for what I may have missed out on having had no direct living relationship with Papou Michael or Papou WIlliam.
In 1998, just after Pappous 98th birthday, he came to my primary school, Clyde Quay in Mt Victoria, to tell my class about how he arrived in Aotearoa. I was 9 at the time. He still had the thickest Greek accent, despite living in NZ for three times the length of how long he had been in Greece. Everyone was completely in awe of him though. He actually stowed away 2 or 3 other friends on the ship to the southern hemisphere. He taught himself how to speak English by reading Newspapers. And he lived in many parts of NZ with his young children and wife before settling in Matairangi, in our family home.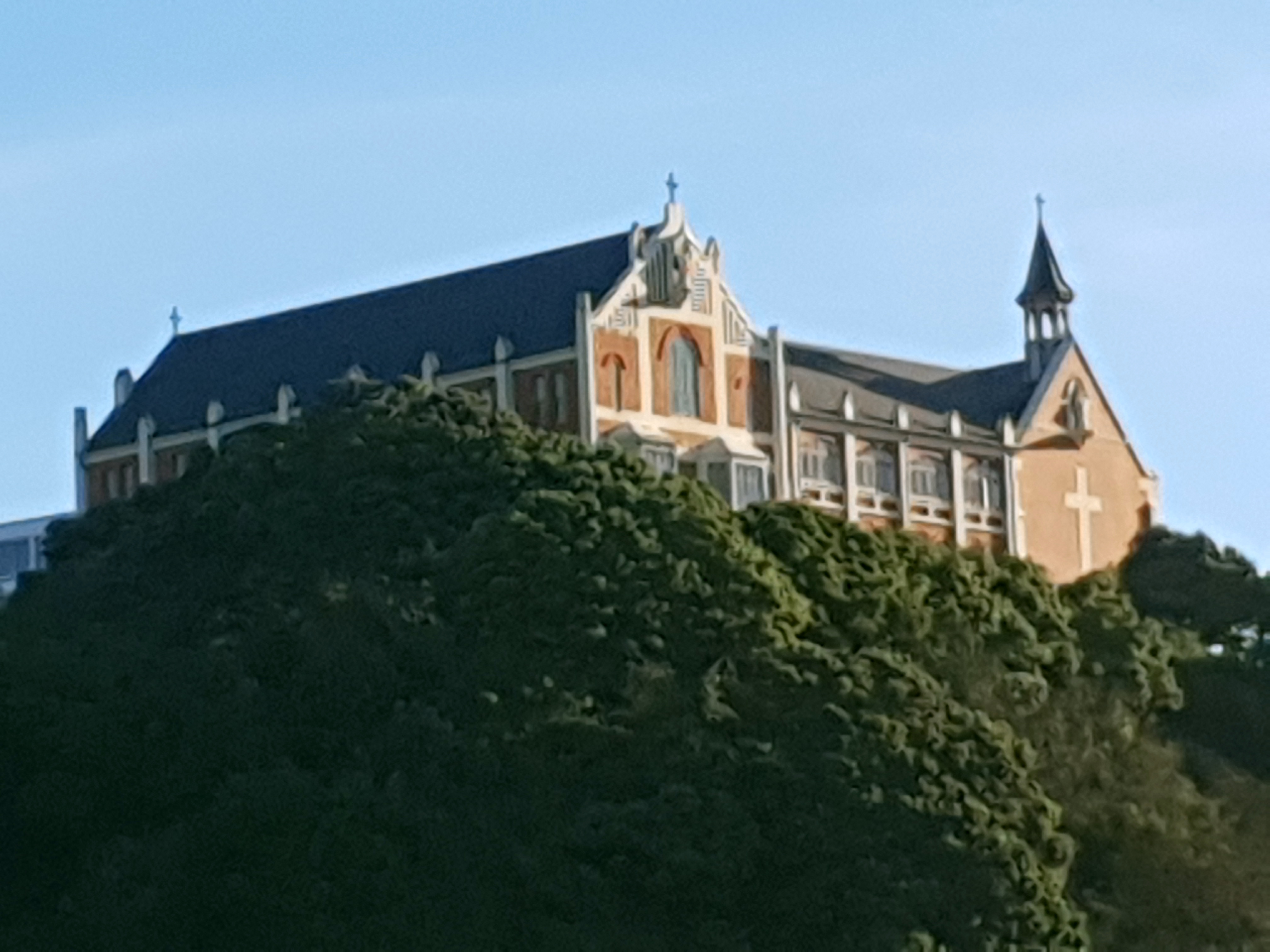 In the latest chapter of his life, Pappou took turns living with his eldest daughter, who was in her 70s, my yiayia Polydora (although she preferred to be Nana) in Petone and my mother Athena in Wellington. I always felt that Nana Poly suited her name, as she always had boxes of chocolates and other random gifts on her, to whoever was fortunate to interact with her. Poly meaning "many' and Dora "gifts". Nana always taught us to be polite and respectful to people we did not know, particularly those who worked in the hospitality or service industries. They were always guaranteed chocolates from her. But I remember Nana also having chocolates on standby in her handbag, in case she came across any unsuspecting person she felt was deserving. A few friends of mine were targets of this practice. And she was always well loved for her generosity.
Mum has always had a strong belief that the elderly deserve a quality of life right up until the end. I am grateful that this invaluable life lesson was ingrained in me from such a young age. The Greek COmmunity gatherings always had people of all ages - babies, middle aged, retired grandparents - socialising and dancing till all hours of the morning. Observing a social nightlife for the elderly filled with dancing, options beyond aged decay and regression in a rest home, they are an integrated part of daily life right till the end.
In practice this meant me, my sister and my brother, all learned how to help look after our grandparents. Living with Pappou meant spending time and learning from him. As both me and him got older, this also meant cooking for him, and helping wash him and ensure he had his basic needs met. My namesake was my great grandmother, Yiayia Marika, who was Pappous' wife. He used to sing a song to me about Marika, about when he was pursuing her to marry him, which was in Greek. At the end, he would crack up laughing and clapping "I say Marika, go leave your mother, and come and live with me". I am still unsure if he wrote this song himself or if it was an existing piece of music.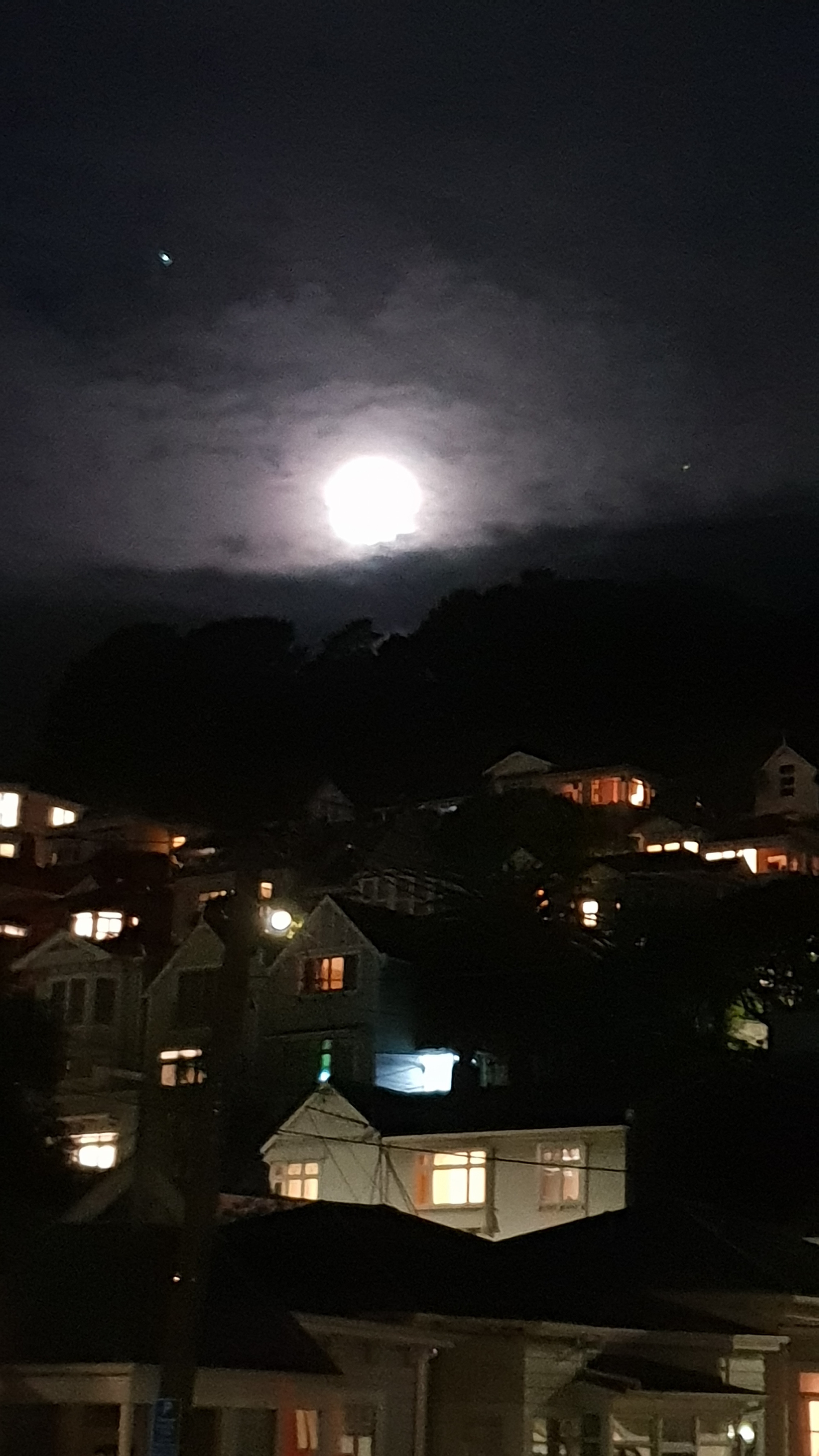 The first time I remember cooking a Greek lamb roast by myself, I must have been about 8 or 9 years old. I knew what herbs to use, how to stuff the garlic, and the importance of lemon juice, oregano, olive oil and salt, which must be the holy trinity base ingredient for most Greek cuisine. We had an old fashioned gas oven, which must have been nearly as old as Pappou himself - and a living testament to a time before planned obsolescence, the constant breakdown of goods to perpetuate a forever market of repairs - aka they don't make things like they used to anymore.
Pappou was very specific about food being fresco. When my sister was around 11 or 12, she decided to cook Macaroni Cheese and accidentally put cornflour instead of standard flour into the bechamel sauce, causing it to transcend into glue. I am not sure how Pappou felt about this particular eating experience, but we all still laugh about it today.
When Pappou turned 100, we had a big celebration for him. He had brought most of his siblings to NZ, who in turn had children, grandchildren and great grandchildren of their own - so when I say I am probably related to half the Greek population in Wellington, I am not kidding. I remember one of the infamous Cypriot Picnics, many of the kids would not stop talking about "The Grand Pappou". Some of them must have thought he was older than time itself. My sister wrote to both the Queen and the President of the USA, and Pappou received birthday cards from both of them, congratulating him on his 100 years of existence.
Pappou had parkinsons and was an insulin dependent diabetic. Despite this, I Remember him walking to the sea to go swimming in the summer. Everyday he used to touch his toes and do basic stretches. As a 6 year old, I thought this was pretty standard. However, in my 20s and barely able to touch my toes myself, I can look back on this with full appreciation for Pappous dexterity, as well as the shame that as someone a quarter of his age I struggled to do something so basic. Mum told me stories of him helping fix roofs and other carpentry rescue scenarios right into his 80s. So I shouldn't be surprised that he was wanting to swim in the chaotic Wellington harbour sea well into his 90s, or why I myself am so drawn to the ocean as a place of recollection and reconnection.
Pappou had a stroke just after his 100th birthday, and it meant for the first time he was not able to walk. Mum took him into our house, the same one that he had initially settled in, and looked after him full time. Caring for him in his final days was a real blessing for all of us. Pappou was extremely frustrated with how the right side of his body was paralyzed, and how it impacted his ability to speak clearly. Mum however had not given up. Even though he was 100, she arranged Chinese acupuncture, and he was starting to regain movement in his hand. One day just after the nurse had visited, Pappou turned to mum and said, "time to pull the plug". It was his time and he had a life well lived, as he quietly went to rest next to his granddaughter.
---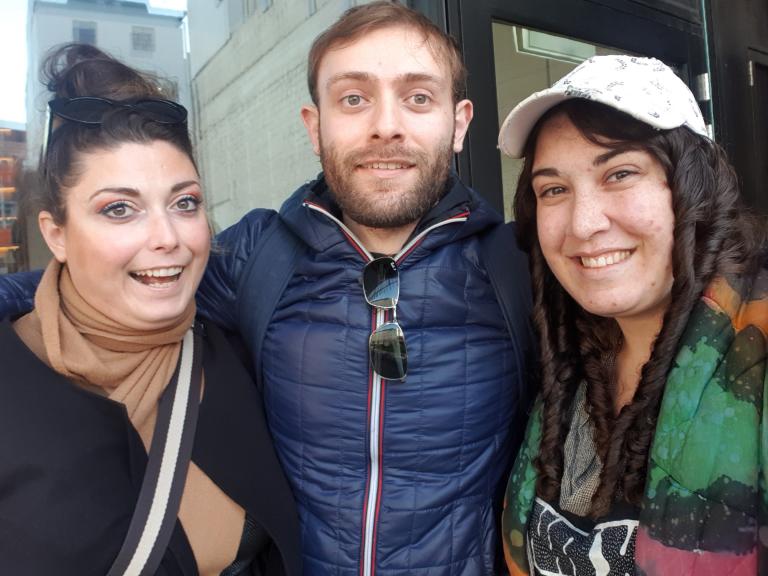 Luke
My brother is the most focused, the youngest, yet also the most unpredictable out of me and my siblings. When we were kids, I would play with him a lot, usually playstation games like Crash Bandicoot or Spyro the Dragon. Luke was always really good at sports, just like our father. When Luke was a teenager, he seemed pretty blase about school. But he was also self motivated with computers, having taught himself Basic and Q Basic from 5 years old and upwards. One of our family friends knew a neighbour of ours, who gave Luke his old computer books to study. Once Luke was bored in class, and he programmed a virus which behaved similar to a hydra. Each time the cursor would press the closing x, more windows would pop open. An innocent distressed German IT teacher running around screaming panicked "oh my gods", only to have Luke stealthily fix the virus with zero suspicion by the time the class had ended.
When my brother was in Year 11/5th form, he got struck by an extreme case of Glandular Fever. The blood test showed his liver had been hit particularly badly, and it took him months to fully recover, along with many sleep ins. Around this same time was when Luke had decided to take up the bass guitar. He is responsible for introducing me to Victor Wooten, Primus, Jaco Pastorius. And later on to Squarepusher, Aphex Twin and other electronic music artists. His commitment to practice and self discipline was impeccable.
Luke started composing his own riffs, and soon took up the electric guitar as a side hobby - the opposite to most people, who usually start with electric guitar and then transfer to bass later on. Within a few weeks he was writing riffs for the guitarist in his band, however they struggled to keep up. Luke's sense of rhythmic articulation and ability to navigate the fretboard, was embedded with automated muscle memory. Watching him practice was transcendent and I have great nostalgia for us hanging out as siblings, talking about music, and having miniature concerts of whatever pieces he was learning at the time.
It is now 2017 and I have gone to Surrey, England to visit my brother. The Mullard Space Science Laboratory (MSSL) is located in a reclusive location. On the outside, it looks like a classic Mansion you would expect a Lord of the Manor to be residing in. When entering the majestic brick building, there is the shell of a retro 1960s space rocket on display to the left. Upon the wall is a poster, a photographic anthology of all the space missions that the MSSL has participated in with the European Space Agency (ESA). My brother rushed showing me around, "there is not much to look at here". I suppose that being an astrophysicist you get used to being surrounded on a daily basis by histories of out-of-this-world space equipment and discoveries.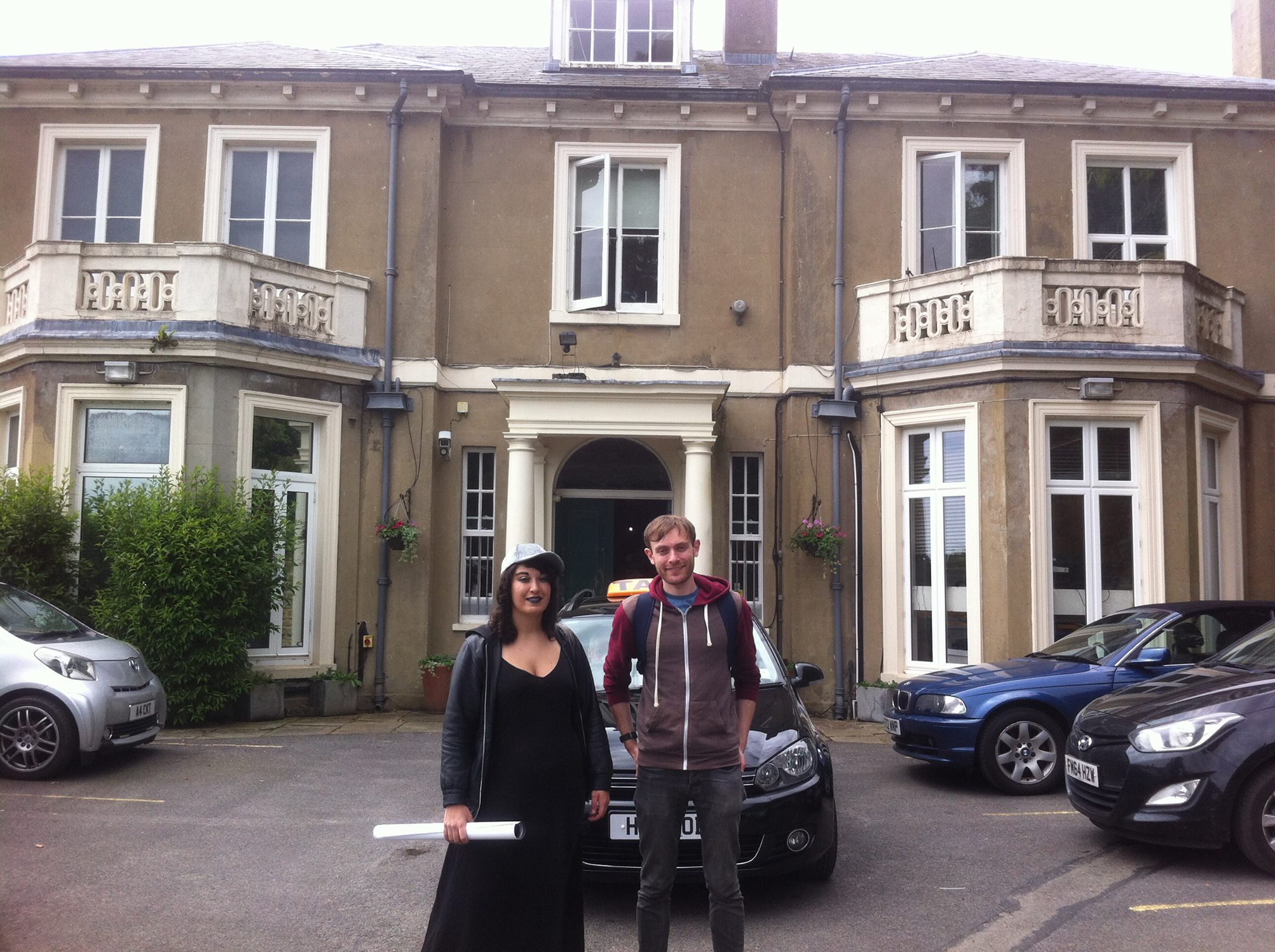 Luke explained to me the division of labour in the lab is split in two. There is a section for people who work "Within the solar system" and the scientists who work "Outside the solar system". Luke's specialisation was with radio telescopes, so he was sharing office space with those studying astronomical phenomena external to the solar system. We continued onto the general grounds. Huge fields, gardens with hedges, a swimming pool being cleaned, and the previous servant quarters that had been converted to postgraduate on-site accommodation - Ariel House, where my brother lived for his first year. One of my brother's colleagues, his flatmate Alan, insisted I should be shown the Pet Cemetery.
Later that day we went back to Luke and Alan's flat. Another work friend of theirs Roger was visiting too. His thesis was about panorama cameras that would be attached to robots exploring Mars. About 6 months into when my brother first started studying at MSSL, he had told me and my sister that he had a "cleaning job". Upon further investigation, it turned out this "cleaning job" was actually a science technician job, ensuring that the materials being used for the Mars Robot were being quarantined and cleaned of any earth-based microorganisms or bacteria. Even though Luke is highly esteemed by his peers in the scientific establishment, he has an incredible ability to humbly downplay his achievements. For him science is the mission, not his ego.
On a side note, this concept of potential intergalactic cross-contamination or accidental ecological warfare was the seed of a later sibling collaboration with Luke and my sister Heleyni, Telaesthesia of Time, a psychedelic science fiction audiobook, exploring the concepts of spacetime, memory, emotional process and identity.
While I was mainly in England to visit my brother, I had also bought my Deluge, a new electronic music invention from New Zealand. It turned out my new space scientist friends Roger and Alan were somewhat curious about this Deluge, both passionate musicians and songwriters themselves. By default I was the expert, and my ego and pride as to what I thought I knew or didn't know, were completely irrelevant. The Deluge had only just had its first round of mass production months before, with very few owning this instrument in Europe or the UK at the time. My one was different though. 40-pad sugar cube sized buttons, completely hand soldered and hand made, as it had been one of 10 of the penultimate design made for friends and supporters before its formal release on the world stage. They both created pieces from scratch, and that evening we decided to curate a performance at Ariel House - a Party in the Space Lab.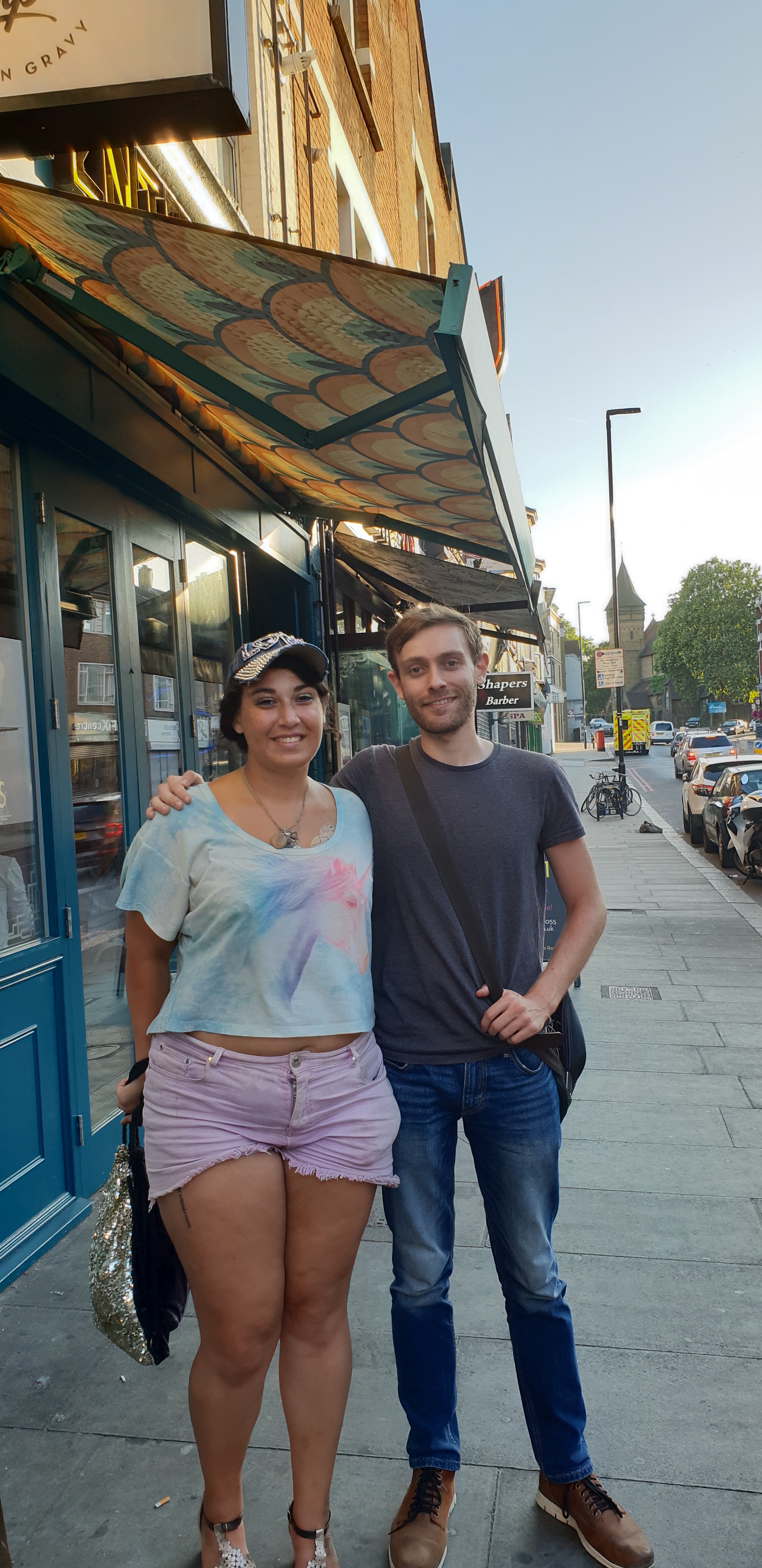 Right now, my brother has been in lockdown in Canada since March 2020, unable to go to the University of Toronto where he works as a postdoctoral researcher, let alone come to Aotearoa to visit us. I don't know when I will see him again, and this sometimes upsets me, but I accept we all do the best we can in the challenges life throws at us - which are most usually out of our control. We had initially planned to visit my brother in 2020- as his graduation for his PhD at MSSL UCL was taking place, and we also found out he won 4 awards - two in the university, with the other two for the Royal Astronomical Society, and The International Astronomers Union. I love him so much and I am so proud. When he wanted to do maths and physics at highschool, they were not going to let him study due to his grades being poor (luckily our mother Athena gave those teachers a talking to so he continued on with great success).
When mum was pregnant with Luke, I, a toddler with poor boundaries and zero self awareness, frequently pounced onto her belly. I jokingly claim this was my older sibling contribution to his current success in science. In year 12/6th form Luke failed maths and physics. And my mother had to convince the dean to allow him to continue on. It really astounds me how the school system teaches children that failure means they cant do something, rather than allowing perspective that mistakes are a normal part of the learning process, and the only way you will get there is by continuing to try and not give up. Our parents taught us two basic things. Keep trying things until you find your passion, and once you find it work hard at it. "Wellington whiz goes from maths failure to space scholar" an apt headline in a Nov 2015 edition of the Dominion Post, accurately described:
"A Wellington whiz-kid who once failed maths is heading to London to help unlock the secrets of the universe. Astrophysics student Luke Pratley, 24, will pack up his life in
Wellington and head off to University College London, a trip made possible by three scholarships totalling $270,000.
Pratley said he "fell into" the space field, and knew it was the right choice after seeing a radio telescope up close. "I did maths and physics at school, but wasn't as good at it
then. I failed some of my maths papers in sixth form," he said. "In seventh form I decided that I wanted to do maths and physics at university because I like solving problems – and it seemed fun."
Although Luke is the youngest, I am always learning from him and he is my role model for how to stay focused, have healthy boundary setting to achieve goals, and how to persevere and be resilient. I am so lucky to have him in my life.
---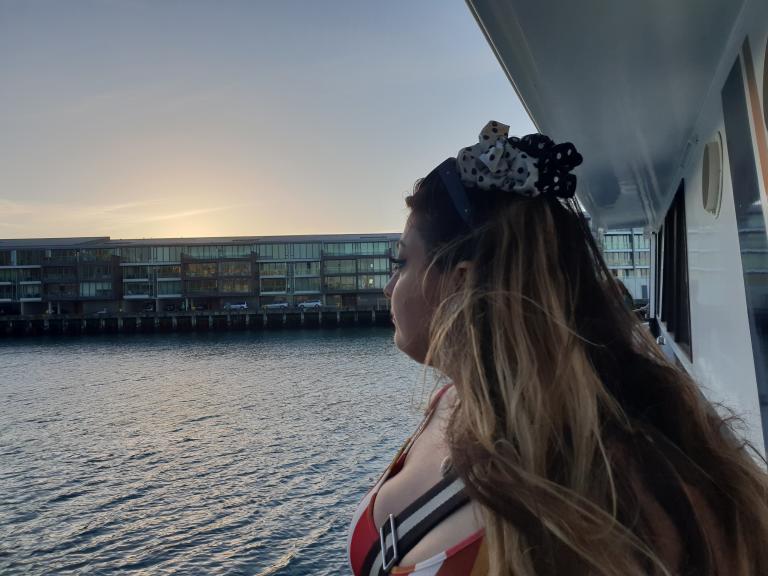 Heleyni
My sister has always been one of the most profound inspirations of my life. When the lockdown in NZ was announced, it was a week behind Heleyni's predictions. She had gathered our family (as in me, Dad, Mum and Her) at a brunch, and said "this could be the last time we will be together for a while". We even did a collective whats app video call to my brother in Toronto. She had been following Italian twitter, and I could not quite tell if she was being a mad genius or a visionary of the worst case scenario. Either way, I completely trusted her. And I took what she said seriously. Our entire family are community minded activists. And I knew she was not mucking around. Before Jacinda had even announced Level 2 going into Level 4, we had gone down to the Warehouse, where me and her panic bought sets of swimming goggles for 8 year olds and rechargeable AA batteries. (why were people prepared to kill each other over rolls of toilet paper? I will never understand...)
It was a Wednesday morning, and I was meant to be going to Dunedin on the Friday, a week out from a production called Feminine Hygiene which I was intending to do with one of my psychic queer siblings, Virginia Kennard for the Dunedin Fringe Festival. Both Heleyni and my mother Athena, gave me a talking to, indicating it is "completely naive" and I could be trapped in Dunedin if I risked going down there.
I was not sure what to do, and whether we were being melodramatic. Coming from a Greek family, I found that it was a 50/50 chance if mum was being completely over the top or just bang on the centre point, with her 6th sense of her namesake Athena Goddess of Wisdom to be observing between the lines where no one else was looking. I assumed Heleyni, being the eldest of us siblings, was on a similar trajectory. After all, her namesake Eleni was also integrated with fierce feminine energy. "Helen of Troy" or "Helen mother of Constantine (first emperor of the Byzaintine Empirefrom modern history). Both strong women. Heleyni was named after our great Grandmother Yiayia Eleni, the mother of our maternal grandfather Michalis. Heleyni was Eleni's first grandchild and they were fortunate enough to meet one another when Heleyni was a baby. Heleyni the eldest of the grandchildren,the Ray of Light (etymology rooted in the ancient Greek word Helios, 'sun ray').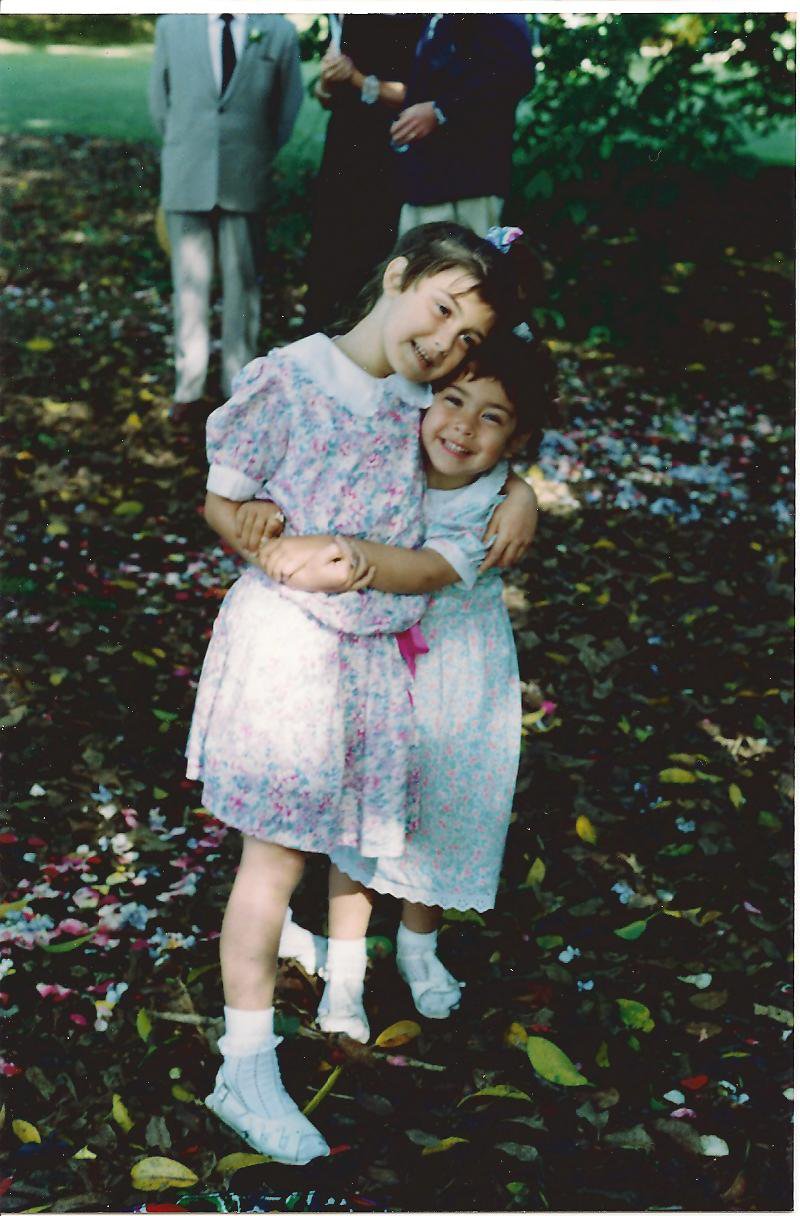 I do not know where to begin with when Heleyni began being a positive loving influence for me, because it must have begun before life for me had even technically started. To have a Tuakana like her is a continuous deep spiritual awakening. I am constantly learning from her. I also feel this for my teina, my younger brother Luke. Both of them are perpetual inspirations, whether they are aware of it or not. The cliche of 'romantic love' as a muse has never made sense for me, but the love of my family and siblings, is a muse which computes with my sense of sensibilities.
Heleyni and I are in some ways like complimentary creative opposites. I studied music formally from the age of 4 years old (Classical piano), and did visual music and theatre as a side hobby, whereas she learned music by ear and was formally studying visual fine arts and theatrical performance art from a young age. Heleyni got accepted into the Massey School of Fine Arts when she was only 15 years old with her School Cert portfolio, but although our mother wholeheartedly supported her to pursue the fine arts, she convinced Heleyni to finish highschool first. Heleyni's abilities to pick up melody by ear and translate into her singing voice are beyond eerie. In my first year of composition at University, I remember Jack Body setting our first major assignment, writing a solo melody, and explaining that melody was essentially the 'backbone of a composition'. To this day, whenever I hear any of my sister's original songs, I am profoundly ingrained that her unconscious understanding of the backbone in music is integrated into the neurons in her brain, and this is what enables her sixth sense capabilities and core genius as a songwriter and composer.
My first memory of Heleyni doing a stage performance was a production of The Snow Queen at Downstage Theatre. I remember her and the other budding thespians running up to me, a small 4 year old in the front row seats, doing tremendously terrifying facial expressions. Some of the early home videos of me and Heleyni show a courageous 6 year old with her extremely shy younger sibling. Heleyni would lead the actions of the song, and support me by directing the dance moves, encouraging me to enjoy whatever song we were singing.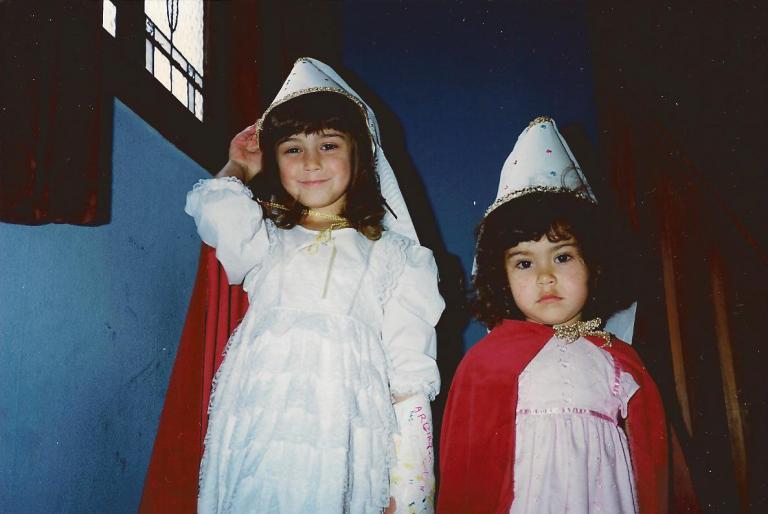 Both Athena (mum) and Gerry (Dad) have been incredibly supportive of all of us to find our genuine creative and political voices and passions since we were children. We were very lucky to go to a primary school which encouraged concepts of musical composition, autonomy, and adaptation. Creativity and play were completely integrated into the learning, even though it was a mainstream school. We learnt Cranberries, David Bowie, and most memorably the catalogue of Bob Marley. In my final years at Clyde Quay, I had a teacher called John McDougall, who was in a briefly famous NZ band called The Holiday Makers. They had a hit single called "Sweet Lovers of the Night". He would help us learn how to find confidence in our own creative voices and political voices. I remember as a 10 year old in the first year of MMP 1999, we had to create our own political parties, and campaign in the classroom about our own political opinions. This same year, I remember being introduced to the Hero's Journey, watching Metropolis, and learning some very basic structures of songwriting and the blues. Pokemon was in its first wave, Rikki Martin was in, and we were all making the most of the Windows 96 computer before the predicted y2k collapse.
One day my sister decided to dress up as a Kite to school. The fact that my parents did not intervene speaks volumes for them in terms of the support they had for our creativity autonomy. I am forever thankful for this. They were more concerned with our moral high ground. I remember when I was in Form One, My mother Athena gave me a heads up that there were many children from refugee backgrounds who did not speak English as a first language, and had come from traumatic backgrounds, and to be kind to them. This might seem like a very obvious thing to parent a child, however even when I was in university I witnessed racism and ableism from fellow students who completely lacked empathy. It is easy to take for granted basic human decency, especially when our political world does not differentiate between ethical and moral structures, and naturalises systems of oppression, which perpetuate victim blaming and a hostility of basic resources for survival is integrated into our political and economical infrastructures.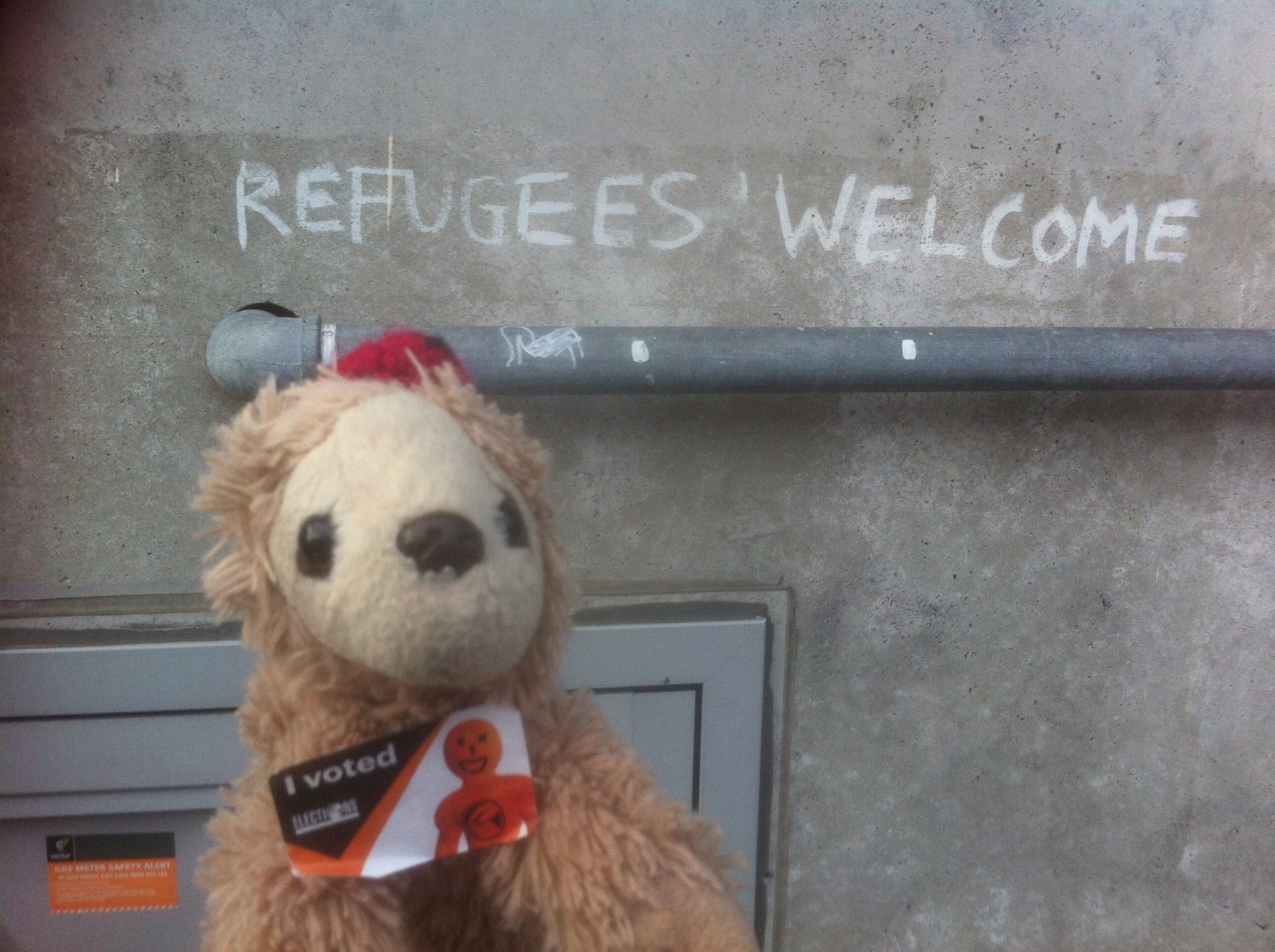 Since Luke moved overseas it has heightened my awareness of my relationship with my brother and my sister. In some respects we are different people, like how we process and communicate about emotions, and some of the language we may use is different even if we are describing similar things. One of the things I appreciate with this is that it helps me develop empathy, to comprehend how other people's thought processes might work, and to never assume that just because something is clear to me means it's like this for other people, or that we are always having the same/or similar experiences. Like there could be a stressful situation, but we will have a different concept of what the primary/core problem we are trying to solve is - or a completely different perception of what needs are meant to be prioritised or how they would be met. Heleyni and Luke help me learn to be open with my listening and to keep that in check, even if they don't realise it.
Everytime I look into the night sky I think about my brother and imagine what he may be studying beyond what I can see with my retina. We take for granted on earth that what we can see with our naked eye is a present, in the now, experience. However the lags of galaxies and other phenomena, of hundreds to millions to billions of light years away... it is easy to forget that astrophysics can be more similar to archaeology - looking into the past, observing worlds that have been but not as they are now. Looking into the past, and potentially with cosmology, into the origins of spacetime as we know it. Sometimes when I'm dissociating I feel like I have an internal lag of spacetime. Like my brain sometimes jumps to previous versions of my past selves, and I suppose the concept of "flashback" or "memory" can relate to this sometimes. After all, memory and relationships are completely integral to identity, are always moving non linear - backwards, forwards, zig zags, sideways. And I am very interested in how this shapes my sense of self. And how landscape, skyscape, soundscape of my location, are all integral to my psychic location and placing of my internal sense of self. It was weird to be in Oriental Bay knowing I was within a 20 minute walk of my sister, but not be able to go and visit her, and to live in a city with the hard irony of social distancing in an urban condensed population. One of my initial coping mechanisms with the announcement of lockdown was "just pretend you are going overseas for 2 months''.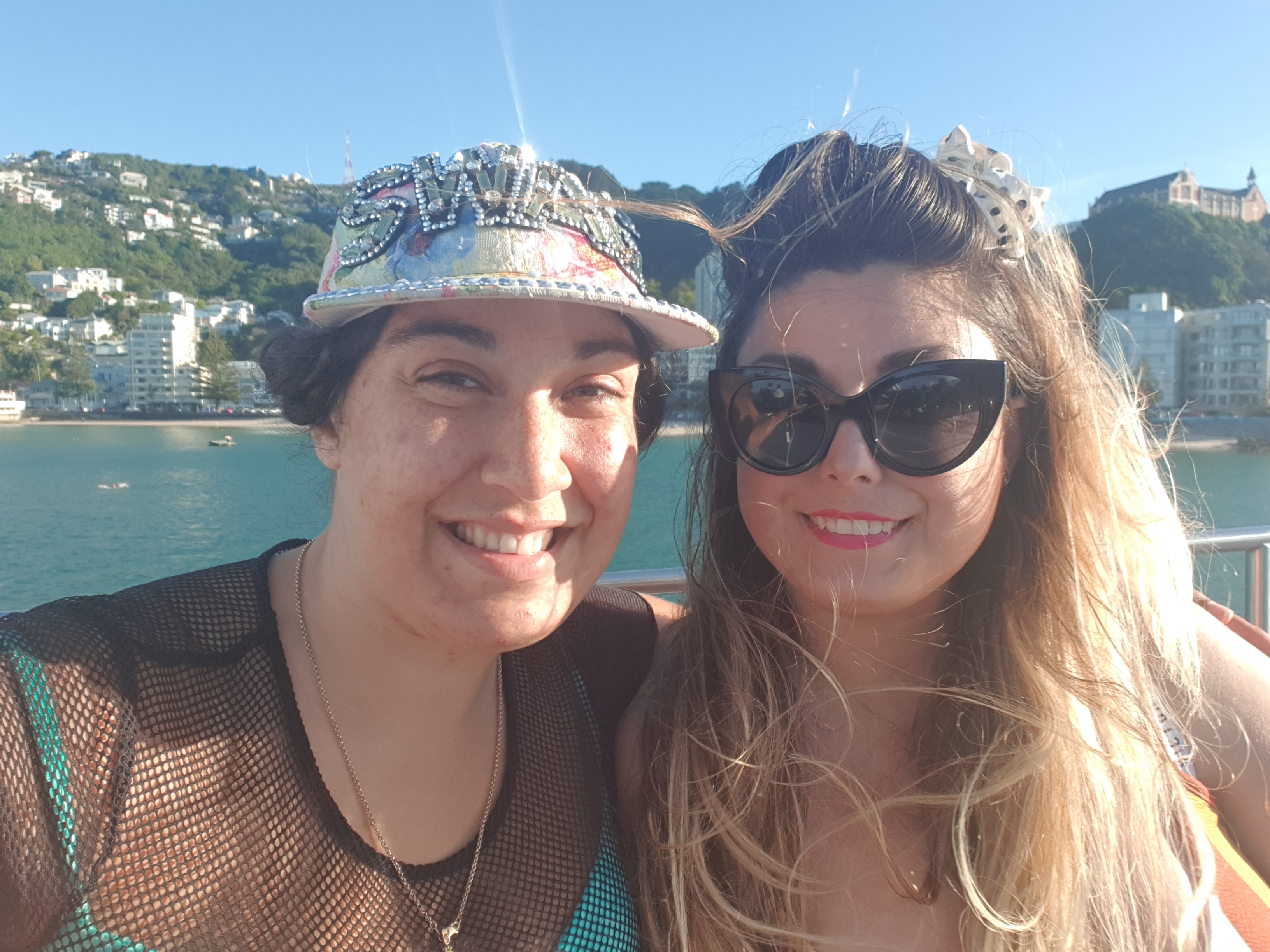 Me and Heleyni it's a different style of personal growth that is cultivated in our relationship. We are very similar, so it's easy for me to imagine myself in her shoes or vice versa. We have both run political campaigns as activists, volunteered or worked in organisations which advocate voices of disenfranchised, are focused on community building and equity for resources for people - to bring the power imbalance back to the side of the workers/beneficiaries and all people negatively impacted by heteronormativity, white supremacy and capitalism. We both see our artistic voice as having a fundamentally political purpose, whether its a space to reclaim our internal and external humanity, a space of commentary and observation of the state of the world we live in, or simply a space to have permission to process and improvise, to detach from our egos, or to get completely lost in our own ego. Art is a space for healing and building strength, it is more than the reductionist commodity which trivialises making sense of the worth of work for many artists in our current infrastructure.
When I work with Heleyni creatively it feels effortless, like it is natural for me to know my role in the production of her voice and what it means to step up or step back in making sure her intentions are heard. Making work together is a product and expression of our love for one another, and we help each other grow.
---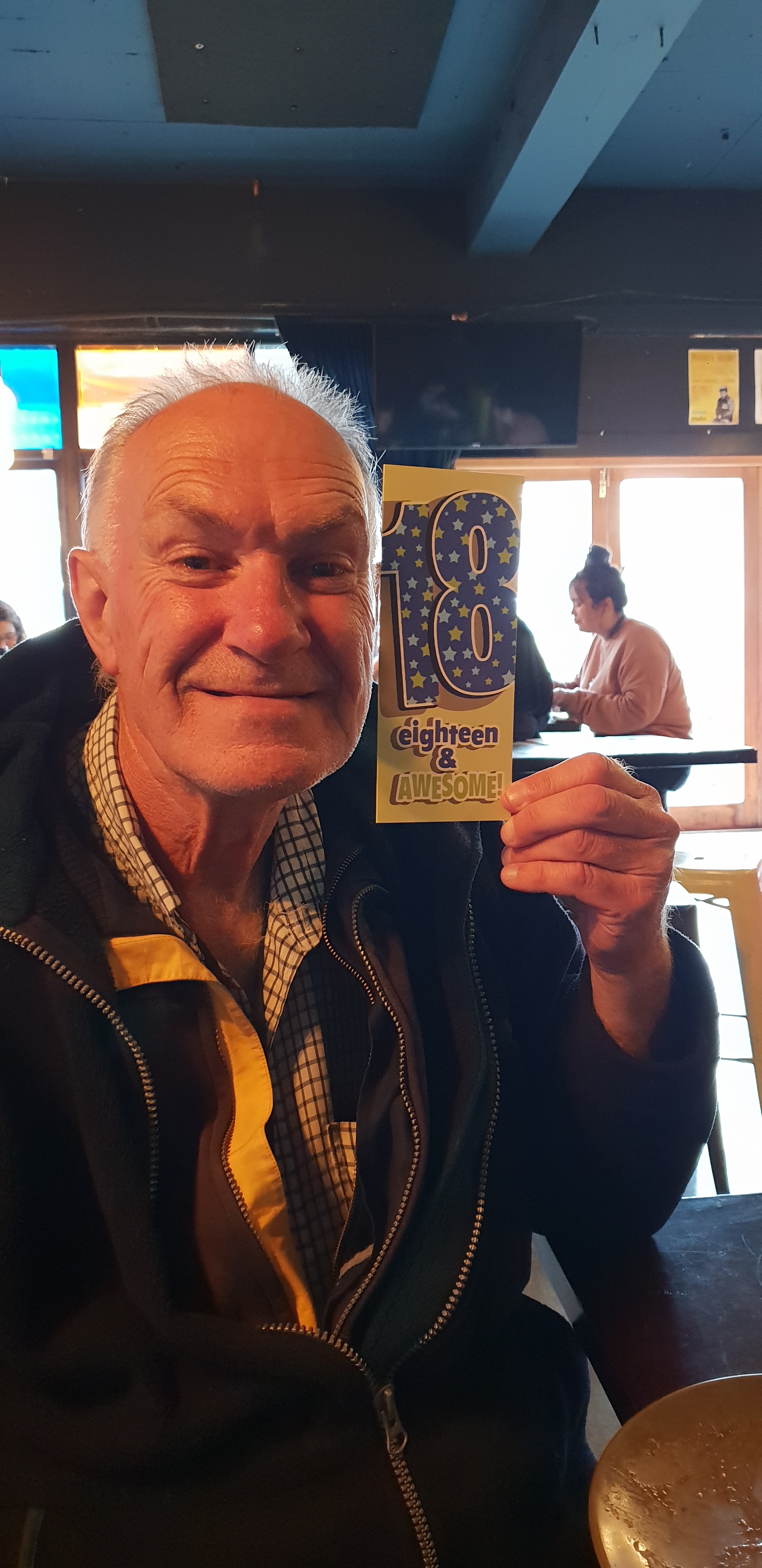 Gerry
My father is where I get my slothy side from. He has a superpower where he can nap anywhere at any time, and has the confidence to engage in this practice. Dad is a very modest and humble person, and doesn't like to be the centre of attention. He loves working as a nurse, and his patience and calm presence has helped many people who have been going through distressing times with their mental health situations.
Last year we had a surprise 70th birthday party for dad. Unfortunately he was in hospital at the time. We decided to go ahead anyway, filmed some speeches for him and made sure he had some birthday cake. My dad does not judge people, but his value system is embedded with serving the community, putting others before yourself, identifying those in the most need, and making sure you are available for them.
One of the times I was sick with my Post Traumatic Stress Disorder and depression, I was feeling a lot of internalised guilt about being mentally unwell, and some of the poor decision making that had happened when I was struggling to cope. Dad said to me "you do your best Marika and that is all we can really ask of you". Dad's unconditional love for me and the resilience he provides for when people feel their most vulnerable is a quality I have not found in many people. He is always in the sloth time zone, the healing time zone. Going at his own pace. Slowing down.
The most challenging thing to accept in lockdown was that my father had decided to continue working on site at the hospital. He is over 70 now, and the recommendations announced were for people over 70 to self isolate at home, from level 2-4-3-2 in the first lockdown cycle. Mum was self isolating because of her heart condition, and it meant my parents were not able to be together, due to the potential risk if there was an outbreak of Covid at the hospital.
I was quite upset and angry at dad when he made the decision to continue working at the hospital in the lockdown. My whole life he had worked strange night shifts, double shifts, always going above and beyond the call of duty. When he wasn't at work he would be sleeping. I felt over the years he had done what he could for his profession, and struggled to understand why he made this decision. And although I respected that he wanted to keep working (even though he has the option to legally retire), I felt his stubbornness to continue working at the hospital during a life threatening pandemic, with him as an extra vulnerable person, was going too far.
When I spoke to dad on the phone, we had already made a decision as a family that I would be the one primarily responsible for helping mum during the lockdown - i.e. getting her groceries, and I was appointed the person who was allowed to visit her, since she was otherwise living alone. So it meant I was having to isolate myself early from him, my sister, and other people, before Level 4 had officially begun.
The conversation initiated by Heleyni at the family brunch, was in fact like she had predicted. This was the last time we would be able to hang out in person as a family together before lockdown. The idea of my father being socially isolated from us really distressed me, especially concepts of mortality. If Dad did by any chance get Covid or any other life threatening situation in the lockdown, none of us would be able to see him or practically support him.
Dad was very adamant about his decision to continue working. "But you could die if there is an outbreak at the hospital, like there has been overseas" "Well if that's what happens, it's what happens." Dad was very committed to the patients and supporting other colleagues of his. His heart was bigger than life. His heart and commitment was bigger than his relationship with me or my siblings.
For one of the first times in my life I had to both hardline disagree with dad, at the same time as completely accepting and respecting his decision. I was extremely aware of his potential mortality and vulnerability, and I was confused as my selfishness was motivated and justified by a deep love for him.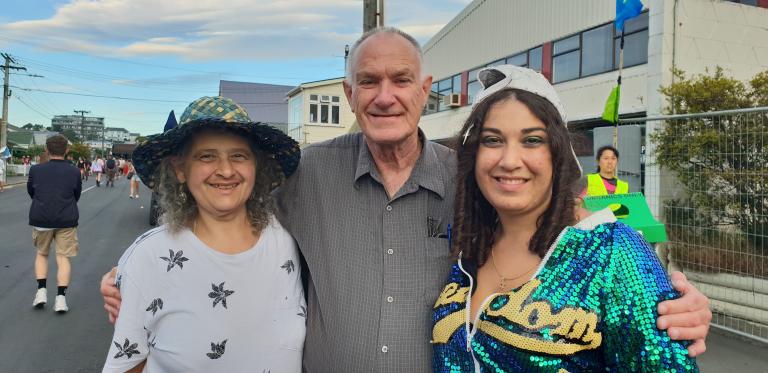 One of the things which gives my Dad strength is his faith. My personal relationship with the concept of Christian God and the institution of religion alongside it, has become more fluid and free thinking as time has gone by. Dad is Irish Catholic, and Mum is Greek Orthodox, so we were always going to both churches and engaging in both theologies growing up. One of our family friends, my sister's Godfather, is also Catholic, and his brother converted to becoming Russian Orthodox, serving for a number of years as the Russian Orthodox priest in Wellington. Father Ambrose once told me that when my parents were trying to decide whether to baptize Heleyni as Greek Orthodox or Catholic, they put her in the middle of the street to see which church she would crawl towards to seal her fate.
Even though in some of my ideas around things like abortion or how society engages with Sex Work has diverged from the traditional conservative christian belief system, I am very close to these people and see them as major role models in me developing my own moral compass and ethical frameworks in my life - particularly concepts of social justice, social responsibilities, and collective identities.
As we descended into the first days of lockdown, for the first time in years, I found myself desperate for a willful imagination to get through a highly unpredictable situation, far out of my control. Sometimes when things feel like they are really turning to shit (or could explode into diarrhea) it is easy to get lost in the negative or darker aspects of the present, and get sucked into a blackhole time loop of deepest darkest fears. Humans like to have control. We feel empowered when making decisions, and having to strategize proactively in a reactive manner did not feel natural.
For the first time in a long time I felt the need for prayer. I had no immediate control over the scenario around me, but sometimes blind faith can be enough to get you out of a rut. And I knew it was a language that my dad and mum understood. It was a way we could be spiritually and psychically connected with one another, bypassing the physical barriers of social isolation. Jumping quantum leaps to be peacefully present with one another, cutting through spacetime. It was also a way to empathise with my father. Prayer is where my dad finds the strength to do unthinkably selfless acts, such as finding the courage to be a 70 year old man going to work in a hospital in an unpredictable Covid 19 pandemic environment.
Excerpt from FAMILY PRAYER 26TH MARCH 2020 (Marika to family)

Daily Prayer

As we enter the lockdown we ask you to help us to remain grounded, compassionate and resilient. We will no doubt all be tested as individuals and a family. We are hoping with the challenges we will develop confidence and skills in areas we had not anticipated, as we have to make the difficult decision to be physically distant from each other to ensure none of us risk infection from the deadly Covid 19 virus.

We ask you to give strength to the hospital workers like mum and dad, and particularly those in Italy and the globe most impacted by this. We ask guidance to medical scientists to find a medical vaccine or other drugs which help patients impacted.

Each of us is staying at home to save lives and to reduce risk of transmission. Please help our interactions to be loving and supportive in this time of stress and to help mum and dad who are in particular isolated in this situation, to feel connected with community, society, and us their children, while they have to go through the challenge of physical isolation.

We pray that we will be able to take this one day at a time and if we are overwhelmed please help remind us of the sloth to slow down, rest, have a break and look after ourselves mentally, emotionally and physically, eating well and having shelter.

We are thankful to have a responsible government which takes the pandemic seriously and wants to care for us as citizens and hospital staff. Please grant us the wisdom to not sacrifice ourselves at the expense of others or do risky behaviours which may endanger others.

Especially while maintaining the bubble system required to reduce deaths from Covid and any other casualties that would happen if our hospital was overloaded and inaccessible to other ICU patients desperate in need.

Kia Kaha
Amen.
---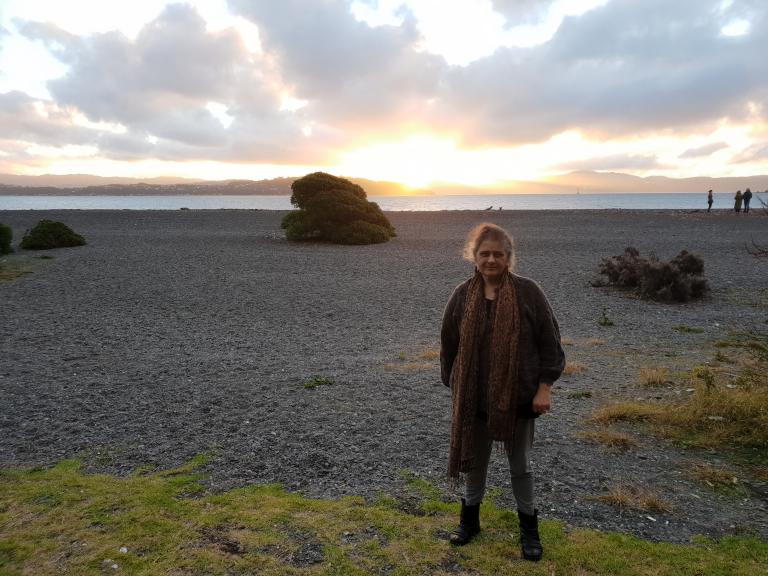 Athena Is A Goddess
These are the words my sister immortalized on our kitchen wall, above the backdoor, when we were teenagers. Mum, whose name is Athena, was not initially impressed. However the bright yellow testament to Athena still remains in the same place.
Just like Yiayia Polydora, Athena is in many ways like her namesake. Definitely wise, and not someone you want to cross. Athena is kind and compassionate. Resilient matriarch. A nurturer and lioness.
Mum completed her PhD in mental health nursing, while taking care of my Great Grandfather, raising 3 children, and working part time in an ICU mental health ward. She was actually enrolled in a masters, but they were so impressed by the quality of her work that it got upgraded to a PhD. Mum continued to work in the ward as a frontline mental health nurse, which in my opinion means she has an incredibly grounded understanding of academic observations or applications of research, compared to most researchers who are somewhat detached from everyday people facing challenges. The lag of intended policy and everyday real life applications, many bureaucrats are prone to dissociating from.
Athena is a name that runs in our family. It is common in Greek families to name your children after parents and other relatives. I have great Aunts Athena and Persephone, my nana's sisters, and many cousins called Persephone on that side of the family. Michael/Michalis is another common one, as well as Yorgos/George, and Vassos/Vasilis. I was named after my great grandmother Marika and Heleyni after our other Great Grandmother Eleni. By the time Luke was born there were so many Michaels/Michalis in our generation of siblings/cousins, that mum decided to name him after Uncle Loukas, our Pappous first cousin, who was very close to Pappou Michael before he came to Aotearoa. Fundamentally, Luke would have been inspired by St Luke the apostle and Gospel writer, who has original hand painted icons in both Kykko Monastery in Cyprus and Agiasos Lesvos, where my family is from.
In 2018 I went back to Cyprus for the first time in 20 years with my parents. Athena has a strong passion for understanding our whakapapa (family history) so much so that she has even traced back many generations on my father's side (The Swedish/Irish/English/Scottish Mix).
For the Greek and Cypriot family, some limitations exist due to records being destroyed, possibly in the dissolvement of the ottamon empire. Yiayia Marika who was born in Port Said, had ancestors from Constantinople (Istanbul), The Penneloponese, and Thessaloniki.
In 1998 the first time we visited Kypros was a life changing experience. The Turkish occupation in the North of the island meant that we were never able to go freely over the border. The occupation started in 1974, the same year that Pappou Michael had died in Wellington from a heart attack. And it still continues to this day.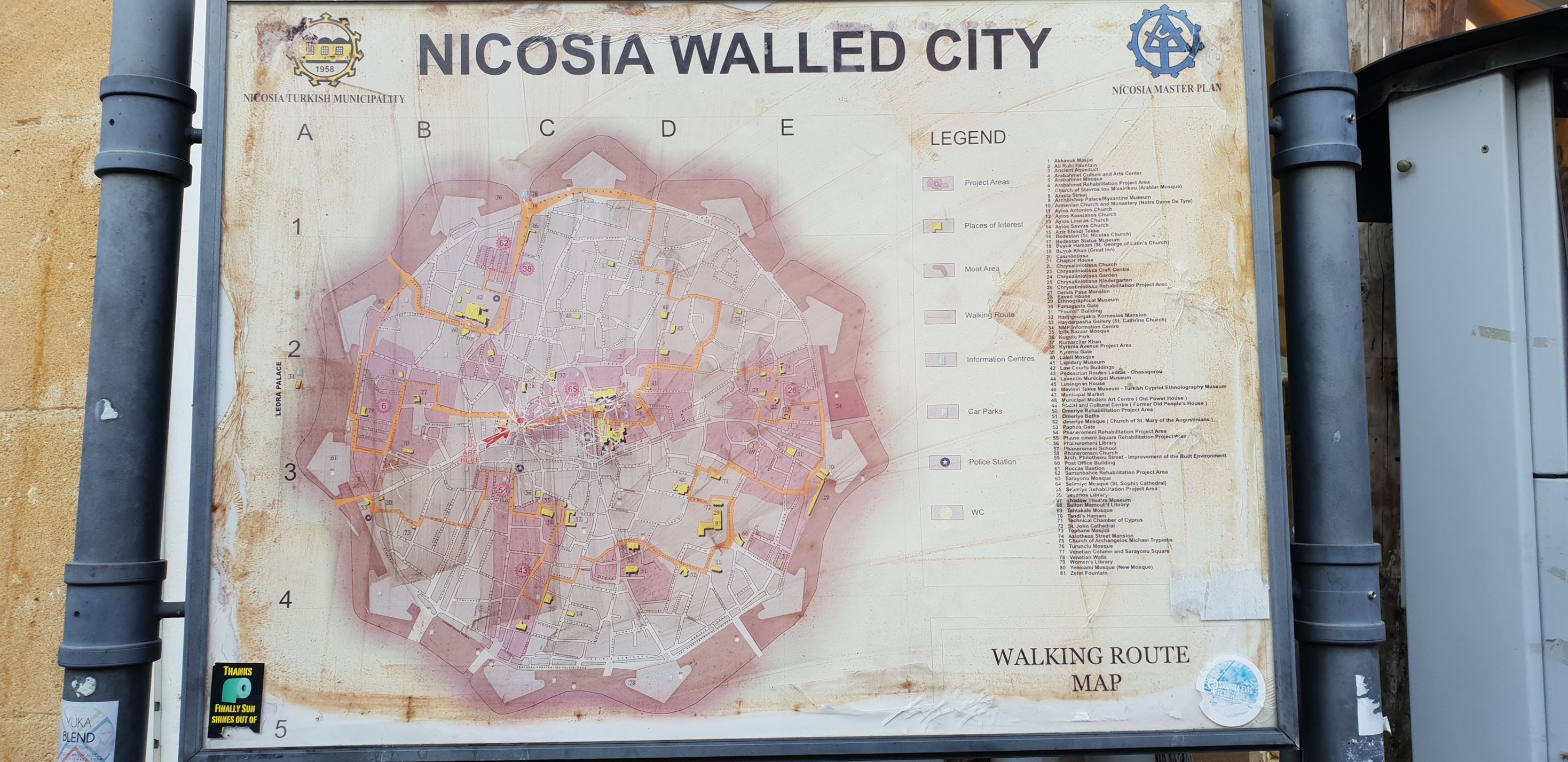 I was 9 when we first went as a family to Lefkosia/Nicosia, the divided capital city. The army patrolled the borders with guns. I remembered there being an exhibition on the missing persons who disappeared in the invasion of 1974, integrated into the space outside the border wall. I looked over the Wall/Greenline, to see glimpses of slums on the border in the illegally occupied area.
This emotion was new to me. The inherited intergenerational trauma of a land that was one of my homes, even if I only just got there. How does the spacetime phenomena work when we try to understand the trauma of our ancestral planes? Many cultures' concept of time, the living and the dead, suggest many nonlinear alternatives, but what do the potential multiplicities of spacetime mean in real terms? How does this relate to emotional processing and identity? How does our experience of memory relate to spacetime, identity, emotional processing, forgiveness, anger, sadness? Is my identity an individual or a collective construct? The questions go on. And I am still processing that grief, like many other Cypriots.
In 2004 negotiations were made to open 3 or 4 checkpoints between independent Cyprus and the occupied territory in the north. Citizens of both the occupation and the south were able to travel with passports between the two parts. In 2018, me and mum went for the first time with our family friend Tina, to the Occupied Northern Territory of Cyprus. It was a surreal experience to say the least. Confusion and zigzagged emotions.
Tina worked for a section of the Cypriot government that was trying to find the remains of the thousands of missing people from the war in 74. If she was lucky, she would sometimes find a bone, such as a leg or arm, and they were able to use DNA testing to confirm the identities. This doesn't necessarily provide closure to the families impacted by the loss of their loved one. Aside from the question of where the rest of the body/ies may be, there are the stories behind what happened to them. A part of Tina's work is having to track down former soldiers, some of whom may provide anonymous tips. Even though the Turkish Government has provided permission for her to look for the bodies, there are still a lot of military records they will not release to her or her colleagues working in the Cypriot government. There are suspicions that they may have disposed of bodies by throwing them off a cliff into the sea. But as this is not official, it is difficult to arrange an underwater search.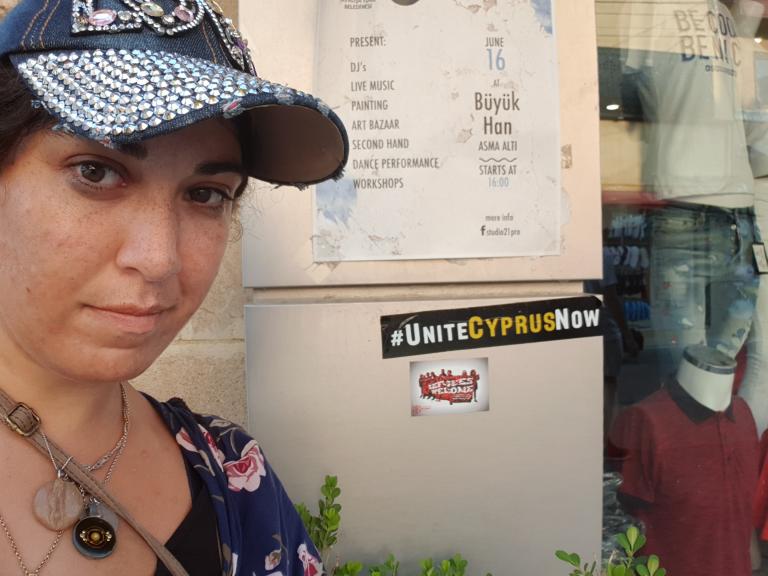 Before the trip with Tina, I had been at a conference organised for Cypriot Diaspora by NEPOMAK, the official international youth diaspora network. It was hosted in Nicosia in a conference centre. Out the window you could observe a Turkish flag chemically ingrained into the field in the landscape, just over the border in the hill of the occupied territory. It was a constant reminder of the ongoing occupation of the North.
Some people on the outside might think that the option of a holiday or casual trip to the occupied territory has resolved the issue. I cant speak from the perspective of someone who had their home and land confiscated from them, as they were dispossessed from their community and country, or who is still trying to recover the body of a loved one/or find out how they died. I was not personally in that situation. And although I am aware of some cousins of ours who were in Famagusta and had to evacuate, and we have friends who were children escaping in boats when the chaos that comes with a military invasion began, I was not even alive when this happened. Some people might not understand how as a descendent of a place which has conflict and unresolved trauma, why the trauma would be impacting me, or other Cypriot diaspora of my generation. Especially diaspora who have been born in other countries and lead multicultural lives.
What I found the most challenging to reconcile or make sense of, was if it was ethically or morally 'ok' for me to go to the occupied region. I felt guilty that many refugees had not been able to return to their homes and that the occupation still existed. It seems strange that they could theoretically travel there as a 'visitor', and see the homes that used to be theirs, only to have no access, and to see settlers who have either illegally purchased the property or just taken it and moved in. It is a big issue that after the illegal occupation began Turkey was selling stolen housing to British tourists as holiday homes. Mum said that one of our older cousins tried to visit the north after they opened up the checkpoint (in the 2000s) and it was so retraumatizing they just cried the whole time.
We visited Kyrenia on a hot summer's day. The sky was a deep blue - like the pacific ocean. Mum wanted to explore the castle, which had existed since the time of the Crusaders. The history of Cyprus is incredibly rich. An overwhelming cauldron, of many people from many lands. The Venetians, Ottomans, The Hellenes, Maranites, Armenians, Turks, Arabs. Many unique dialects. Even the Greek spoken here had variations in the diphthongs and vowels, its own slang. Cypriot Turkish, Cypriot Arabic, are among some of the other languages colloquially spoken, the acoustic inflections of language embedded into this island.
When I was at the conference I made friends, including Raphael and Erterm. Armenian Cypriot and Turkish Cypriot respectively. It turned out prior to the '74 invasion there were Armenian Villages too - something I had never known. Ertem explained that the Turkish Cypriots had always had a culture unique to Cyprus before the invasion from Turkey had happened. And that there were concerns from some Turkish Cypriots (there prior to the military invasion) that the 'new settlers' from Turkey were eroding or evading the culture of Turkish Cypriots, trying to assimilate them into mainland Turkey.
We went for a walk along the harbour next to the castle. Tina pointed out to me that she knew the owners of the apartment. It was abandoned and in such a condition no one would be able to even get away with squatting in it. Whenever I look at the ocean I often consider how it has no borders, and is a seamless connection to nature and the lands of which our ancestors came. Both Cyprus and Aotearoa are islands, but it is surreal to consider an island half the size of the north island could have borders and such complex nationalist conflicts occuring.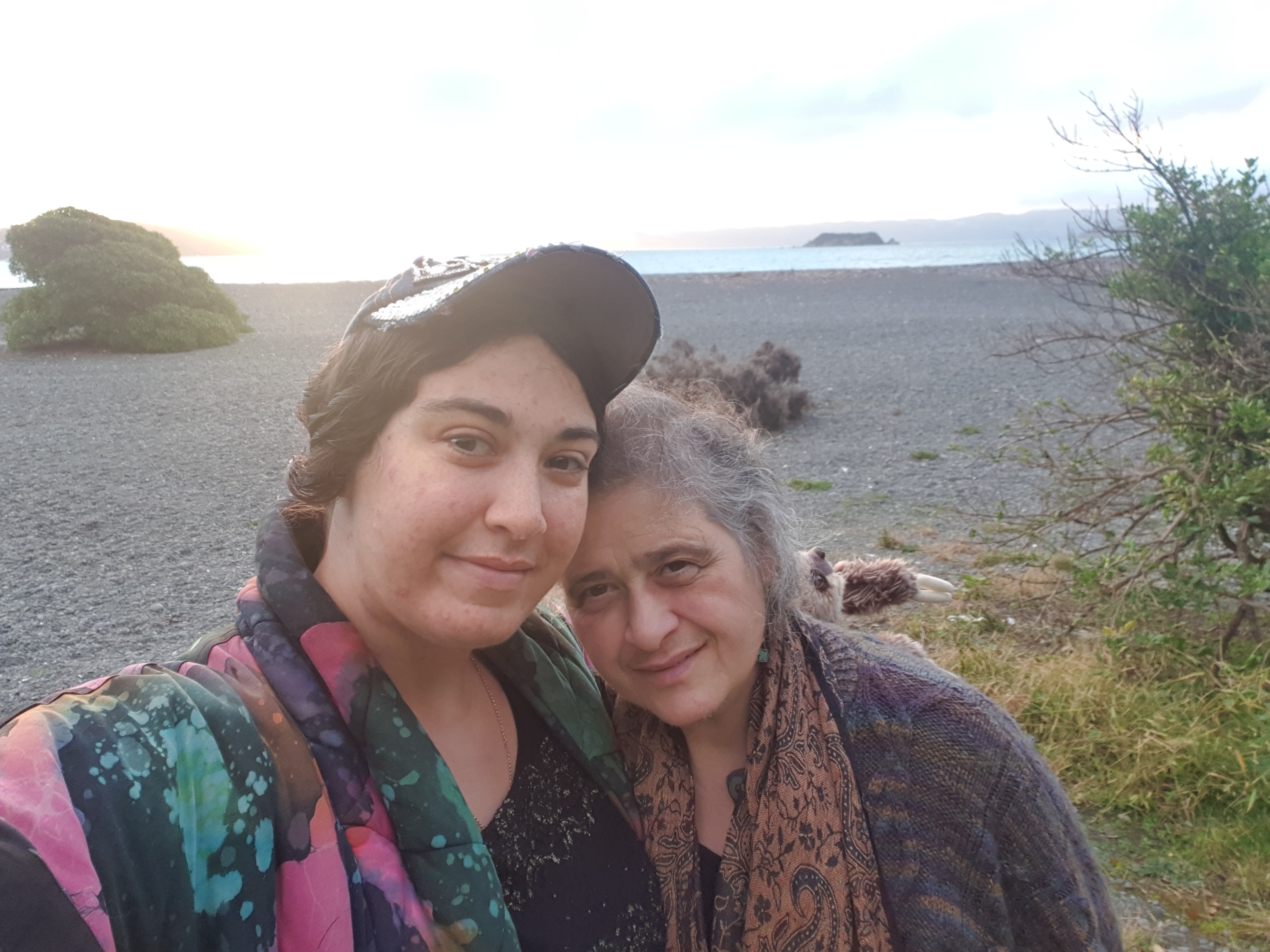 My house in the lockdown was only a 10 minute walk from mum and I was privileged to be able to go see her for brief social distanced visits when I was dropping groceries to her. To maintain sanity she had completely thrown herself into the garden. Gardening, poetry and textile based crafts were her creative languages.
When I was a child I remembered mum had embroidered a series of her own poetry books. But as we grew older I developed more of an awareness of how shy she was to share. Sometimes self doubt or ideas of 'not being good enough' barricaded her from sharing. Often as the only daughter in the family, she took her duties as a nurse and matriarch seriously, the calling of being a carer a way of being beyond formal employment hours. There are no timezone restrictions for the heart.
"Do you get imposter syndrome?" I would often ask. It is hard to imagine how someone who is a Doctor Nurse PhD (to the dismay of some medical doctors), a hardworking matriarch highly esteemed by her peers, family and community, could overlook the fruits of her labour and manifest such self-doubt. But perhaps she can feel vulnerable with her daughters, her apprentices in the matriarchy. It must be tiring to be strong all the time. Not just for yourself, but for other people, the way she is.
---
Epilogue: Poem by Athena Gavriel
Athena says the inspiration of this poem is a true story about the fig tree in the garden of where she lives (my great grandfather's home) and a mirror of my ability to survive.
The Fig Tree

The old gnarled fig tree Planted by Papou Fell over in the summer gales So strong and full of fruit that initially I didn't notice its demise. Its branches' full of greenery, like arms stretching out to the sky.

"The tree is dead! " "Cut it out of the garden," they cried. "It's no good now - get rid of it."

Broken from its base Out came the saw Trunk and branches cut into pieces Bleeding memories with every sliced limb Down went the clothesline it had supported for years.

"But leave the roots" No heart to dig them out They are full of history, my sorrow silently simmering like a full pot boiling at the brim Overflowing with memories on its passing "There's a small branch shooting from the soil nearby" Maybe it will survive?

Now from those roots a large new tree stands With branches bearing sweet fruits To feed us and The fantails and tui feasting from dawn to dusk from its sweet juices.

Same place, different shape Strong and majestic like our ancestors.

---

Athena Gavriel, © August 2020
Bio reference
Artist Photo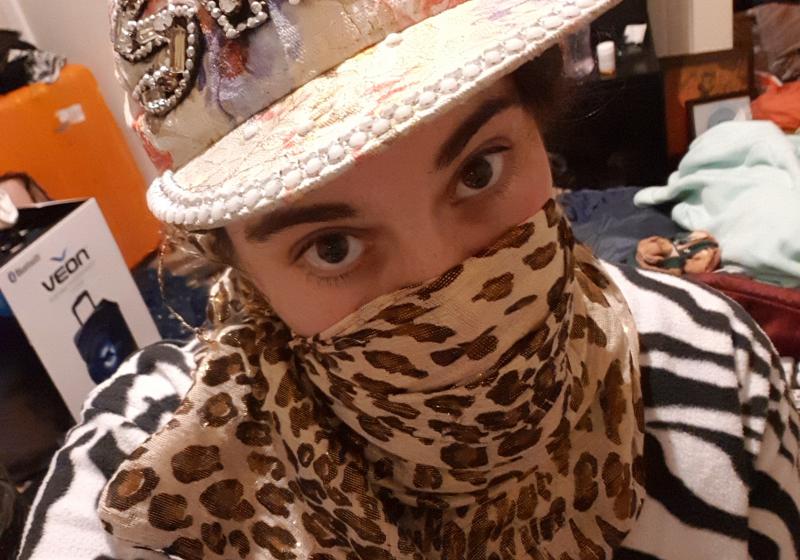 Artist Bio Text
Marika Pratley (she/they/them) is a Queer Greek/Cypriot New Zealander, composer, improviser and performance artist, born and raised in Te Whanganui a tara, Aotearoa. The online launch of It Is Time To Slothersize is timely with the 2021 NZ lockdown for the delta variant, reflecting on lived experience as a working class performance artist/beneficiary activist with mental health issues.

Marika creates both solo and collaboration works across all platforms.  Themes of her work include radical relaxation, intersectional feminism/queerness, mental health activism, healing from trauma, anticapitalism and sloths.
Ongoing music projects include Moody V and The Menstrual Cycle (with Madison Van Staden), Reptilian Future Cops (with Matt Hunt), Greek Rembetika band Kali Ora and  performing with sister Heleyni Pratley.

Marika's performance art works include multiple collaborations with Virginia Kennard,  Mega Pash Action, and Richard Orjis including performances at Queer Pavilion for  Auckland Pride Festival 2020. She has also scored installations, dance and theatre works, including Orjis cruising lazing learning for the About Walking series, and the award winning dance works Demi God Half Human (excerpt) and An Unfortunate Willingness To Agree.

Solo work includes avant-garde meditation musical A Symphony of Sloths and deluge project Class War On The Dance Floor. She has performed festivals and live events around Aotearoa and abroad. 

In 2021 Marika and sister Heleyni Pratley will be the recipients of the inaugural Pyramid Club and Museums Wellington  Thomas King Observatory Residency, extending on sibling collaboration with astrophysicist sibling Dr Luke Pratley. Marika is currently producing an autobiographical documentary, The Healing Power of The Sloth, and intends to release debut Class War On The Dance Floor album this summer.
Links here to their website, Bandcamp, and Soundcloud.
More Articles