Other Worlds - Gerard Crewdson's visual narratives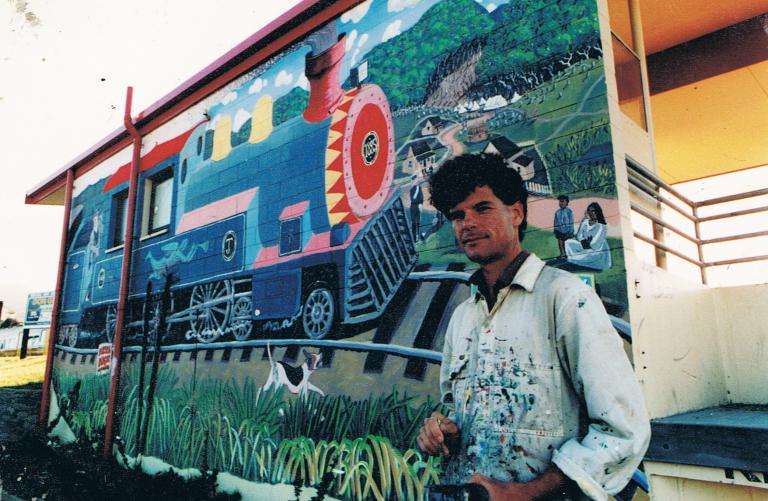 Gerard Crewdson's artistic output defies the usual constraints of the art gallery, music venue or printed publication. His is a truly idiosyncratic, interdisciplinary approach, drawing on visual art, sound, moving image and narrative. Much of his work is conveyed through performance. As with his cardboard box cinema, Crewdson uses cheap, readily discarded materials to make transportable mechanisms and backdrops for his performances. With these handmade devices he will scroll through dozens of images while narrating a story, and will provide his own soundtrack on trumpet or other instruments. Rather than being finished works, these narratives are portals into living worlds which are continually playing out and developing within Crewdson's mind. An avid walker, he will often enter into these worlds of his imagination as he strolls the city streets. In this interview, conducted in 2015, Crewdson takes us behind the scenes into his methods and the motivations for his work.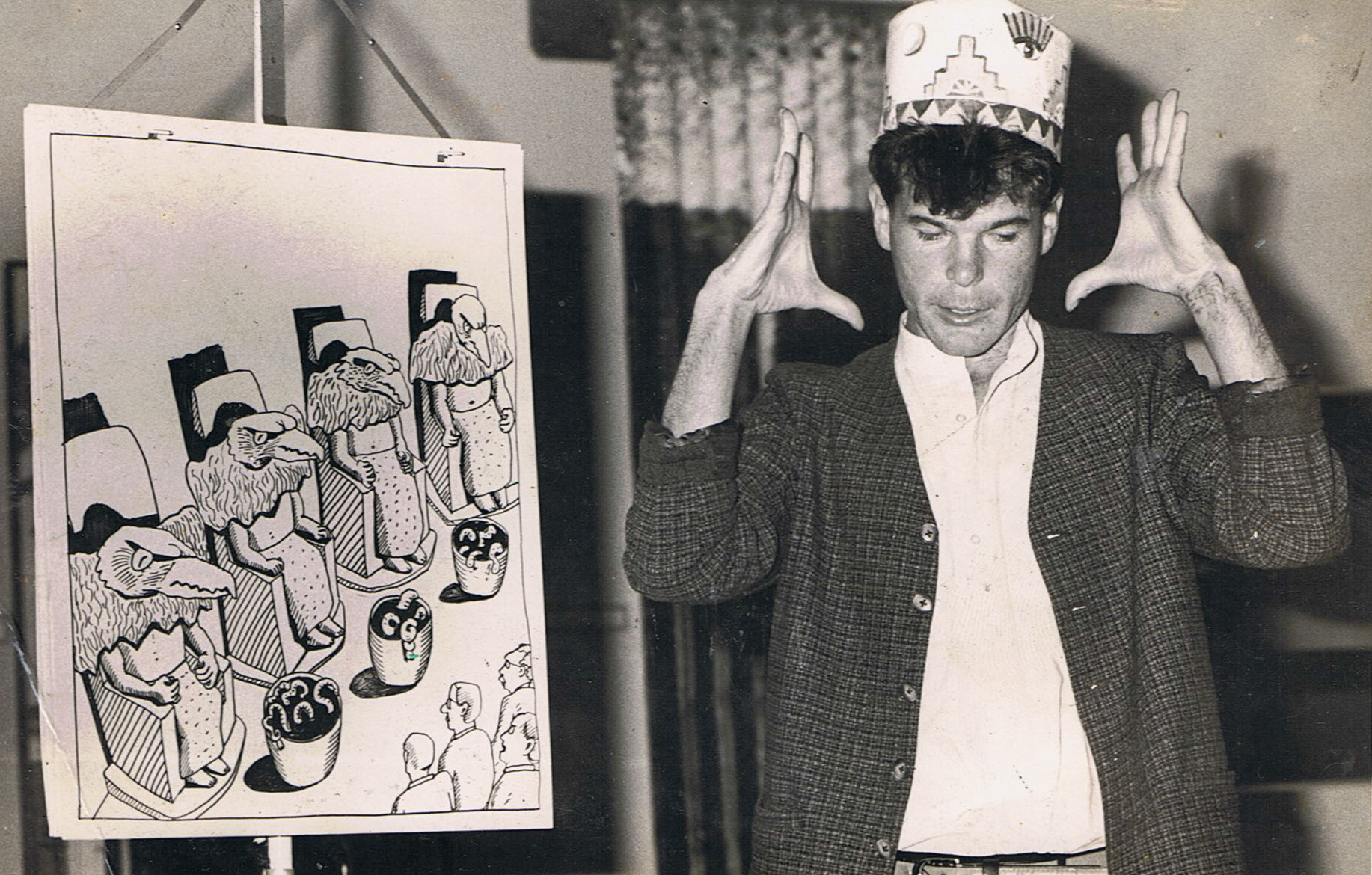 What's your process of creating your handmade cinema performance pieces? I know you've got a whole bunch of different forms that you work in, but for instance something like Salt of the Earth. Where do you start when you are creating a piece like that?
It's a long process and it's probably different with each thing, although there are common factors. Salt of the Earth began initially when Tony Buck and Magda Maya were performing here about four or five years ago and I was asked to do the introductions for their performance at St Andrews church on the Terrace. Because they're pretty amazingly creative musicians I wanted to make the intros wild and creative too. So I just had this idea of digging into the ground and uncovering a treasure and then saying "greater treasure will be what you'll hear".
But the image of digging into the ground really grabbed me. I portrayed myself as an infant with a spade digging into the ground. It was just a thought that came into my mind and then you elaborate, this infant digging into the earth. And of course it's an archetypal thing because the earth can symbolise in archetype, digging down to something hidden. I've always been interested in archetypes. There's the thing that we're trying to understand, how we came about. Three hundred years ago there was still the biblical story of Adam and Eve, a lot of people believed it in the West and the equivalent creation stories around the world. And then in the Western world we've had science bringing up this other narrative of evolution, which is pretty amazing. And we're still uncovering that, this amazing mysterious transition between the pre-human, Neanderthals, how we're related to them. And you can go back in your own individual life to your first vague memories, which for me were about around the age of four, and your first dreams, and then trying to imagine further back. And you observe babies and how they're taking in this sudden transition, going from the womb into this bigger world.
So with Salt of the Earth, the ideas are just details that come from the imagination but it's driven by this perennial mystery about how human beings have evolved, how consciousness has evolved, how everything's evolved and how each individual has evolved. I love science but science can't ever tell the whole story and with each individual is where art comes in. Each individual is unique in itself.
Narrative things I create deal with loneliness as well, isolation. I'm always drawn to people that are outsiders or outlaws or overlooked, and one day I was thinking about that and I thought that even if someone who's isolated from the rest of society they've still got this relationship with the world that they're in, they've got this unique relationship. Everyone's got a relationship with something which is unique. So in a general sense that's what drives my particular creativity.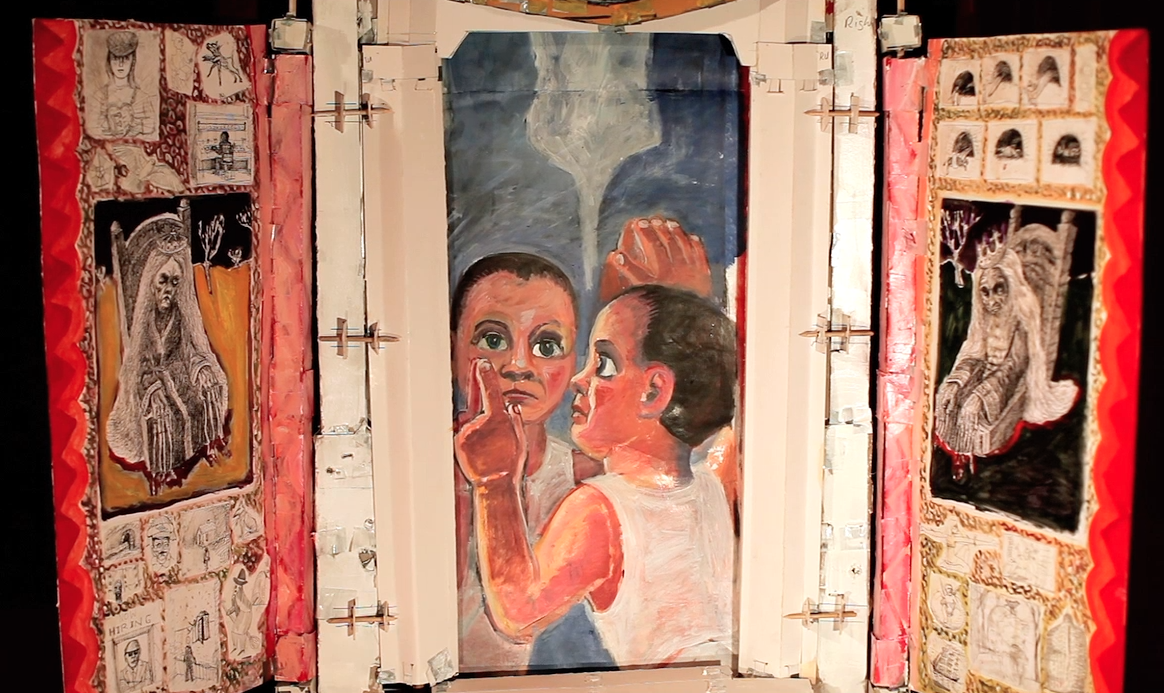 So say if you're thinking of coming up with something like Salt of the Earth, it may just be a kernel of an idea, what's your process? Do you sit down with a pad and pencil and start drawing? How do you forward the development of that idea?
With Salt of the Earth and those narratives, I form it within my mind. I've got these stories in my mind, the narratives and images, and I play around with them in my mind. Instead of doing it externally, I like doing it within my mind. I do a lot of walking and those stories, they're each a different world. When I'm walking I can just go into that world. And I like combinations of things that are logically impossible but making them compelling. It's always the magic of creating something from the imagination. I don't like just random fantasy. I like to give the worlds a structure that becomes compelling. There's something that slips it askew from reality but it's still linked in there. There are laws but there's something skewed. I like playing around with that. The rational and the irrational. And one of the books I read recently, I really responded to it, it was describing science as this island of what we know. The boundaries expand, but it expands into this possibly unlimited, unknown beyond it. So at the same time as knowledge is expanding it doesn't ever exhaust it, there's this unknown beyond. I find that comforting because it would be awful to think that at some point we'll be able to understand everything and predict everything. I find the idea of this island that's surrounded by the unknown much more interesting, I love that idea.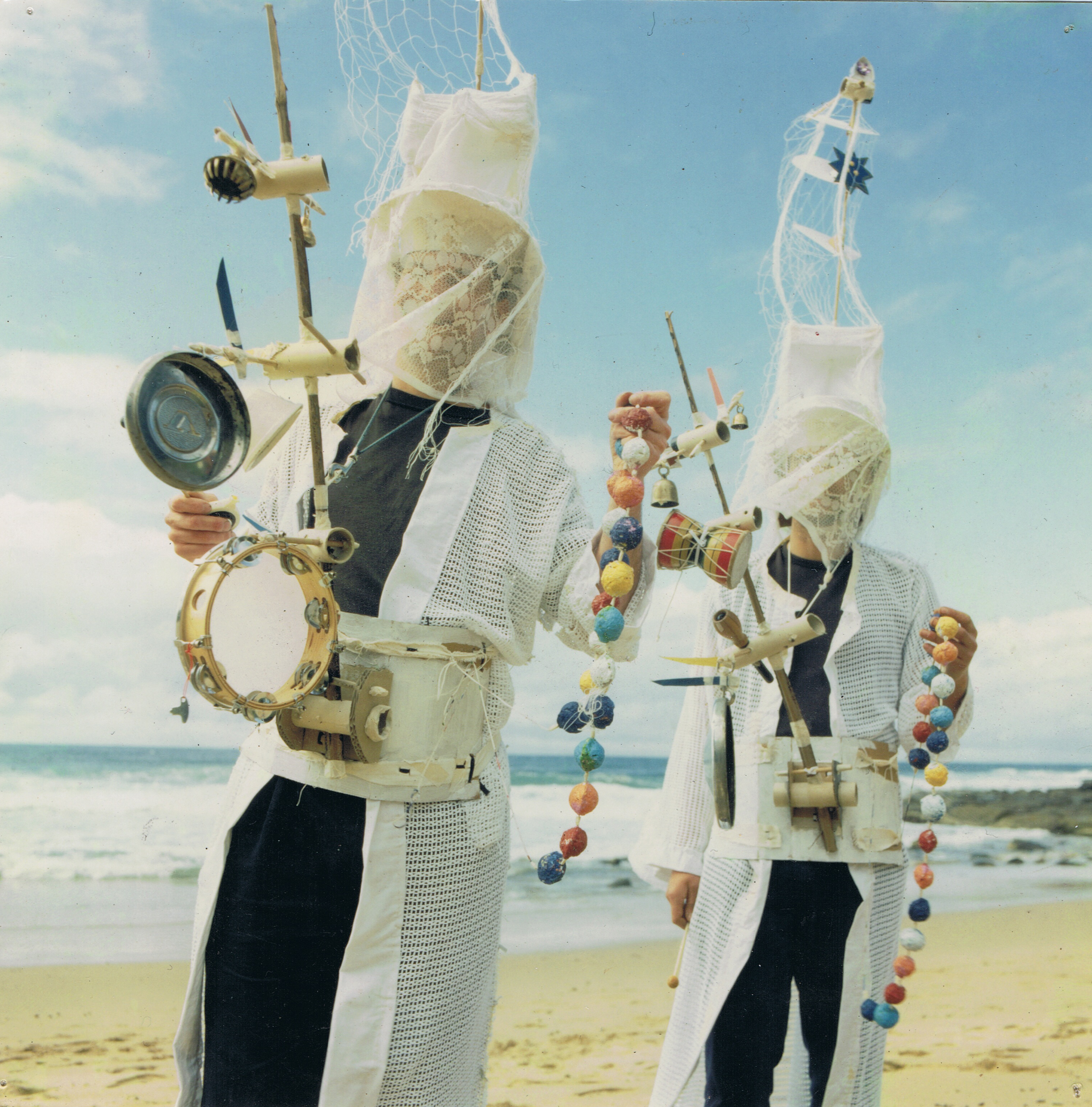 Is part of your role then, to explore that sort of boundary land?
Yeah, one of the recent stories I did was called Mediocrity and that came out of a scientific notion that we're not alone in the universe and we're not the centre of the universe. Since Copernicus the naive idea that the earth was the centre of the universe got overthrown. And then it's extended out as we've discovered the unimaginable vastness of the universe and the near infinite possible inhabited worlds. So in that view the earth has no significance, we're a minor planet in a minor star on the outskirts of one galaxy amongst hundreds of thousands. So the principle of mediocrity, it's simply saying that we're nothing special. It's demoralising in a way. But at the same time I like to think that we are uniquely special at the same time.
Then I went to a wonderful idea called pataphysics which was developed by an extraordinary late 19th century French writer, anarchist called Alfred Jarry who's most famous work is Ubu Roi. His idea of pataphysics was it's the science of the laws governing exceptions. And that's a wonderful thing to think about. You have a scientific law because there are these events that repeat, water always boils at 100 degrees. But conceivably there are one-off unique events that happen but never repeat again. They would evade any scientific law, but they would still exist. Just these one-off things. So I developed the story of Salt of the Earth out of this one-off idea. And these one-off things could be quite miraculous, they could defy the laws.
When you go into quantum physics and entanglement where these particles are communicating instantly and they could be at either side of the universe, it's a world that is solidly scientific now but a hundred years ago it would've been in the realm of magic. That boundary that's pushing out, what we're discovering is more and more magical. So that's a long way to talk about that boundary between the known and the unknown.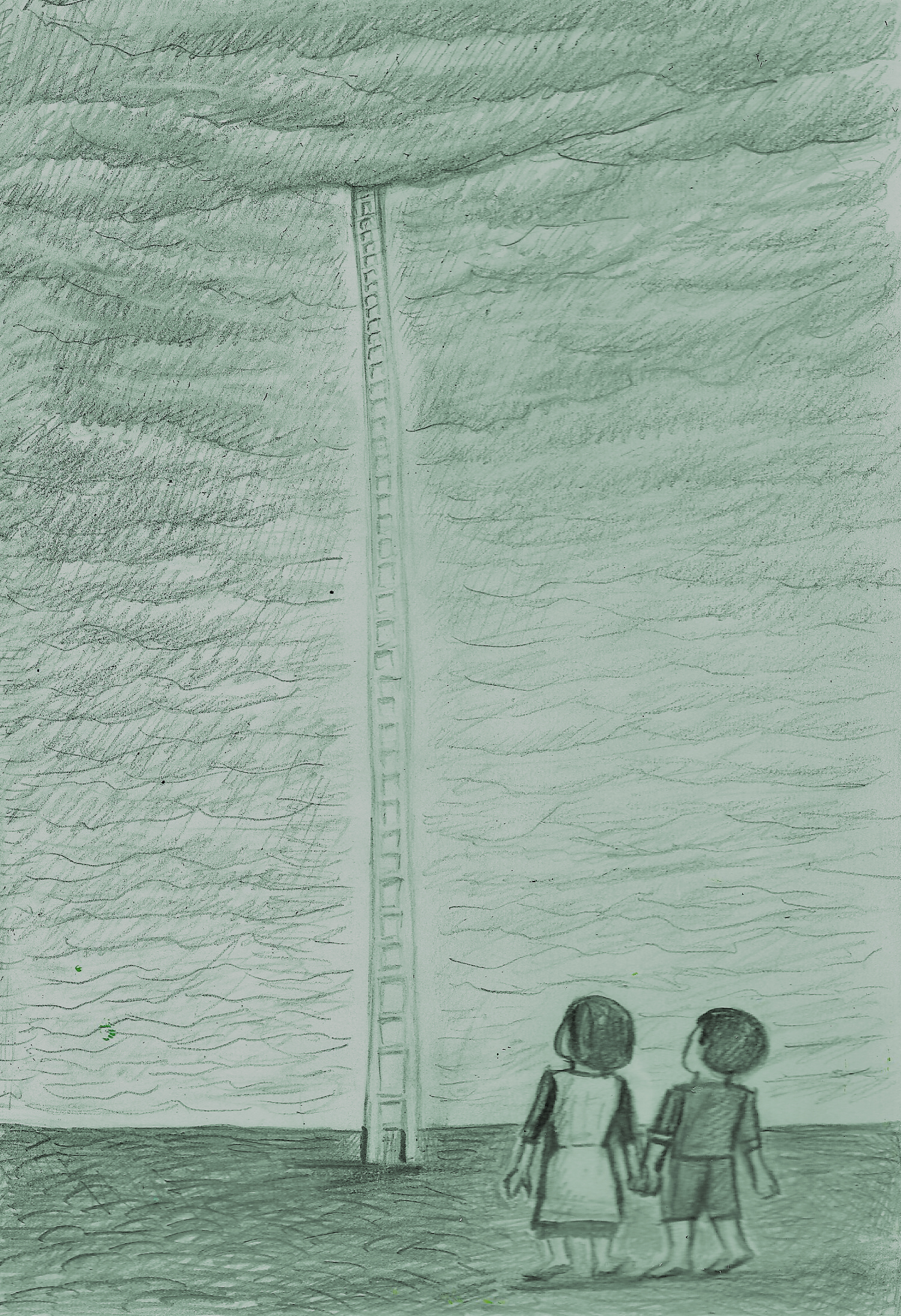 You mentioned before, when we were talking about Salt of the Earth, you were basing some things on your first, earliest memories, hazy as they might be. What are your very first memories?
My first memory is being wheeled in a pram down the Crescent and looking down onto the water of Evans Bay. The memory I have of that world is so vastly different from this world, it's like a 19th century world. And I also remember, this was in 1959 when I was four, Wellington airport being opened and there was this huge British plane called a Vulcan Bomber flying over, a vast jet taking up the sky. So water and a vast jet taking up the sky, and prams.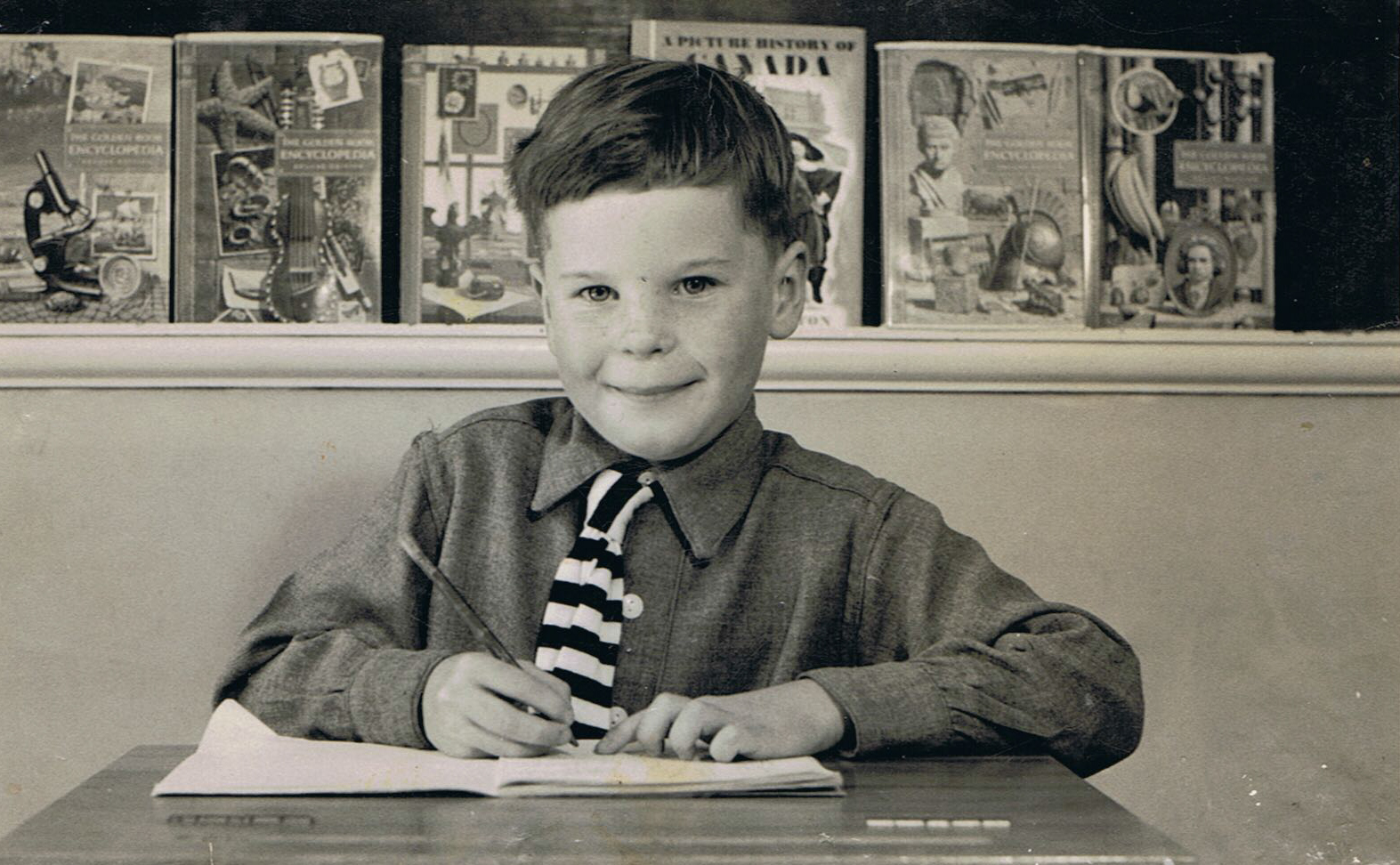 Before I can remember, I was constantly drawing. My first ambition was to be a sailor and then to be a visual artist. I'd wanted first of all to become a sailor because where I grew up looks down onto the harbour. Wellington was a very busy port, and I used to follow the shipping news and do drawings of the ships that would come in and out. Also in Wellington you get these great gales, sometimes flashings of sun, and I just became more and more fascinated by the wind patterns in the trees and the clouds, the waves, the silvery light of the sun, and the way you've got the bare black hills, the Orongorongos. I spent a whole summer just drawing patterns of wind. I relate that to music, because its about that energy, that kinetic energy. And one of the great creative spirits that has come out of New Zealand is Len Lye, who, when he was a young man in Wellington, one of the things that set him on his fascination with kinetic energy was the clouds floating over Wellington skies.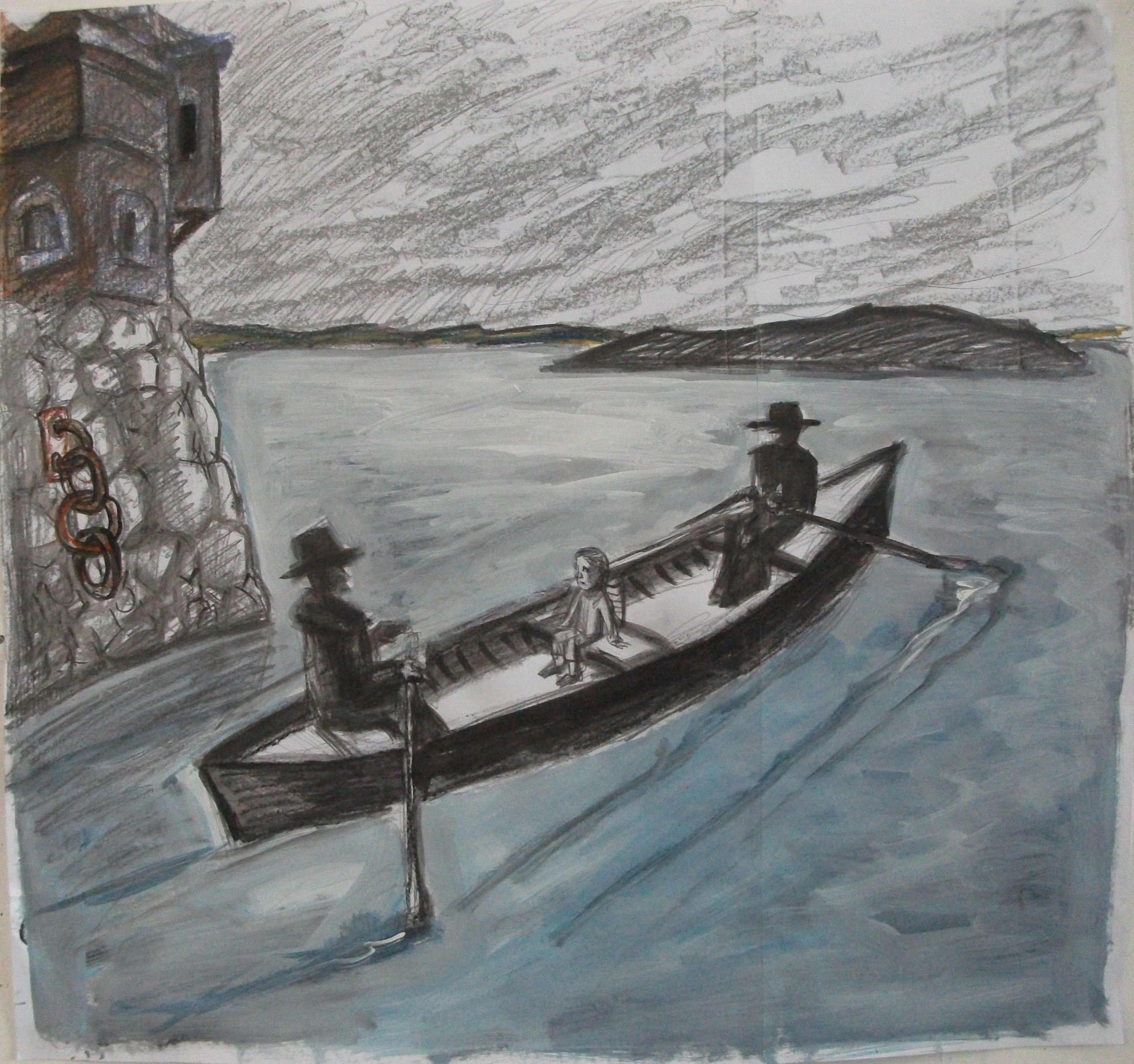 I know you read a lot of books. Are there some books that have been particularly influential to your own work?
There've been some books in terms of stories that I've been bowled over by and then wanted to create something with some of that power. One of those books I read, a long long time ago, was by a French writer called Raymond Roussel, who created extraordinary stories purely out of his imagination. He had inherited wealth, and he traveled around the world in this custom vehicle but he actually never went outside. He went to exotic places but he never went outside, he stayed in this kind of caravan vehicle. Because his imagination was so powerful his stories are very intricate. There's so much that you can be inspired by and draw upon but you don't want to copy someone else's idea, although you can always take an idea and turn it into your own. It can take a while but I like creating my own stories that have something of the power of those Roussel stories.
I always find it interesting that you can absorb a lot of stuff from other people and be amazed by other things but there's always this possibility of creating your own thing. And there are archetypes that are always shared. I was brought up in this quite repressive religious upbringing, so I absorbed biblical stories from an early age, like the Adam and Eve story and Cain and Abel, really powerful archetypal myths. You can create your own narratives - which other people have done - out of those archetypes, like the first murder and the first outlaw. And I've created my own story, my own creation myth of a sort of Adam and Eve couple called The Empire of the Empirical. But this Adam and Eve couple find themselves so old, they've grown really lazy and nasty and they may have existed for millions of years. In the story I go back to when they were young and beautiful and radiant in this Garden of Eden. But they're really passive, they don't know why they're there. Our modern garden of Eden creation story is Waiting for Godot of Samuel Beckett, the tramps, sitting and waiting. Mine are these beautiful, radiant man and woman, but they just sit there. And then there's a tree that's growing up beside them and when they get really really old they hear a noise from the tree and there happens to be an axe in this garden and they pick it up and start chopping down this tree. And then there are these little children that they find in the tree, so that's how the world grows from this impassive couple, except for the one thing, they cut down the tree. That's shaped by the Western creation myth, but I've developed my own spin on that. Everyone is doing it in their different way, you inherit these stories or these ideas, or in music you inherit this language and then create your own language out of that inherited language.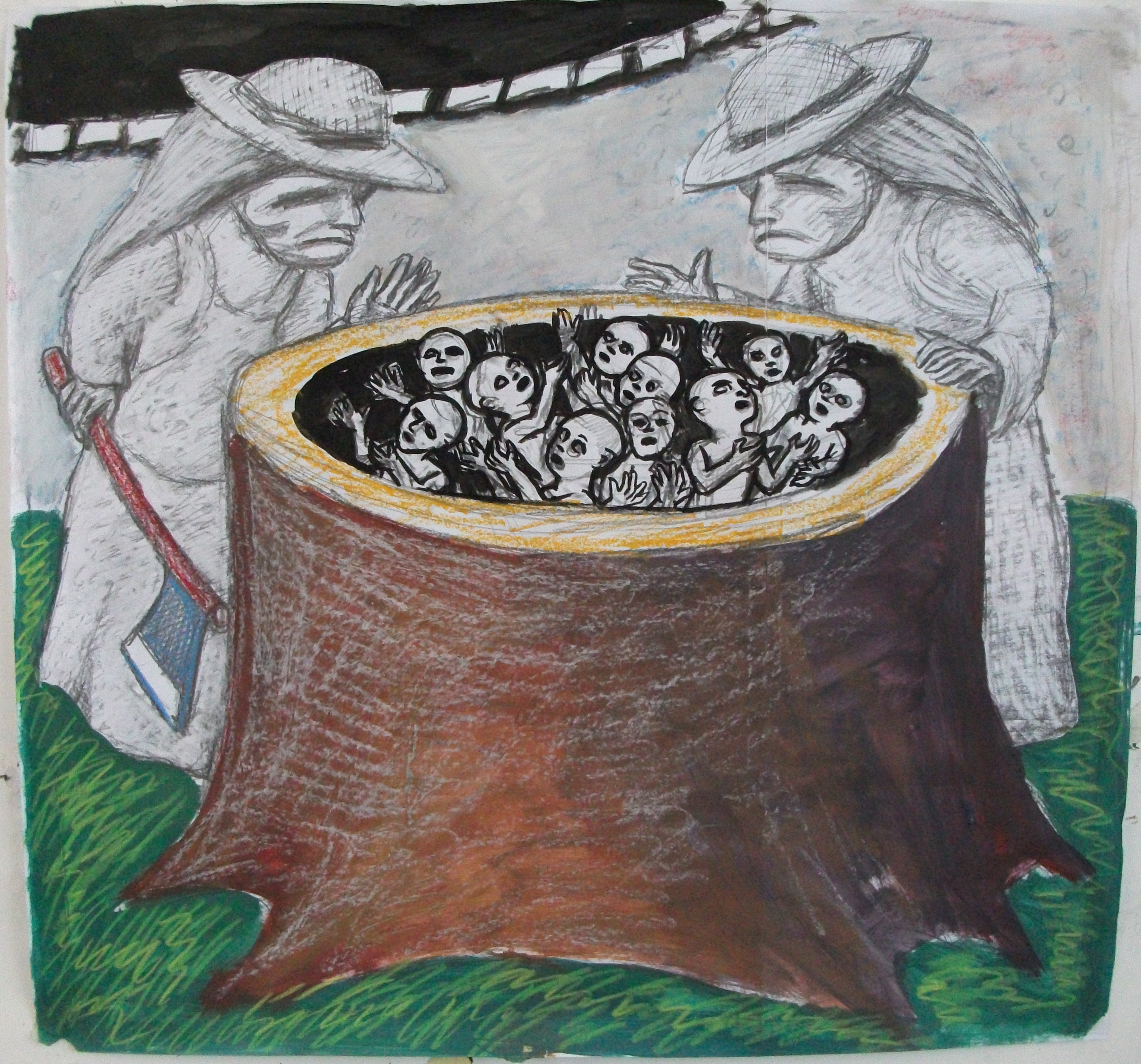 And in a piece like that, which there's a whole series of pictures or paintings, does that story span a particular time within that world or is open ended, is it still a living entity, you can you go back into that and create more work based on that?
Yes. Going back to Raymond Roussel, I remember one of the things that just bowled me over with his stories was that he has a story and then there'll be a story within the story. And one of these stories is Locus Solis. It's like a Jules Verne, this genius inventor who has this estate outside of Paris. In the opening chapter he's invented this device that flies, it's got these balloons that are operated by the heat of the sun, and he's been able to calculate years in advance the weather conditions, so he knows how to calibrate the machine so that the sun will be able to operate this little flying machine. And he's got these piles of teeth, and the machine picks up a tooth, which will have different colourations, and a mosaic is being created out of these teeth, on the ground. There are different pictures that are being created out of these discoloured teeth by this machine and he'll go into each picture and there'll be a story, which is phenomenal. The umbrella story in itself is so fantastical and detailed, but then there'll be these stories within the story. There's nothing else remotely like it. They're like the stories of a mad person, the obsessive detail. But it was this idea of the story within the story that amazed me. So the Empire of the Empirical has stories within stories within stories. There are no details that are copied from Roussel, but it's that notion of a story being contained in a story.
In Empire of the Empirical the creation story is told by this aged couple to the children. But the story is a false story, it turns into another, the real story, which is not the creation myth at all. The aged couple have actually been chosen by this secret group of 17th and 18th century scientists who are conducting experiments on human beings. That's influenced by the fact that in the 17th century and 18th century, there were scientists who were studying poor children and they'd conduct experiments on them. It was quite dark, and there were kids that were discovered that were living out in the wild who were experimented upon. So that's the Empire of the Empirical. The creation story's actually a false story and the real story is this long-term experiment, also based on this friend of mine is in this longitudinal study, which he didn't choose to be in, from when he was born in Dunedin, apparently it's the most cited project in the world now, a whole group of people born in a particular year were chosen for a longitudinal study. Every year, or maybe two years, three years, they're assessed and that information is being used around the world to base our social policies on. It's frightening in a way, and possibly flawed.
Do you have any idea how many different stories you've got.
I've got about a dozen. Salt of the Earth, I actually made a short film of it and so it's in a kind of finished state. But all the others, I did them for events and you create them for a deadline but then afterwards you want to go back and refine things. So I've got this bank of stories that I want to refine and change and sometimes add to as well.
What's your preferred medium, if that's the right way of putting it, of getting your stories across?
I've tried different ways and I actually like doing something different each time. Collaborating with you I've done some of those stories with the images as slides and presenting the narrative and also doing sound and music and having people collaborate on that as well. And I've done images in a big book that you open up that you physically show or flip over on a stand. I've done stories where I've made a little graphic novel or a comic and made mass copies and given a copy to each person in the audience and then narrated the story live over that. And the other thing that I've done is the moving scroll called Cinema of the Poor, where the images are all on a scroll that physically moves so the images move up and down.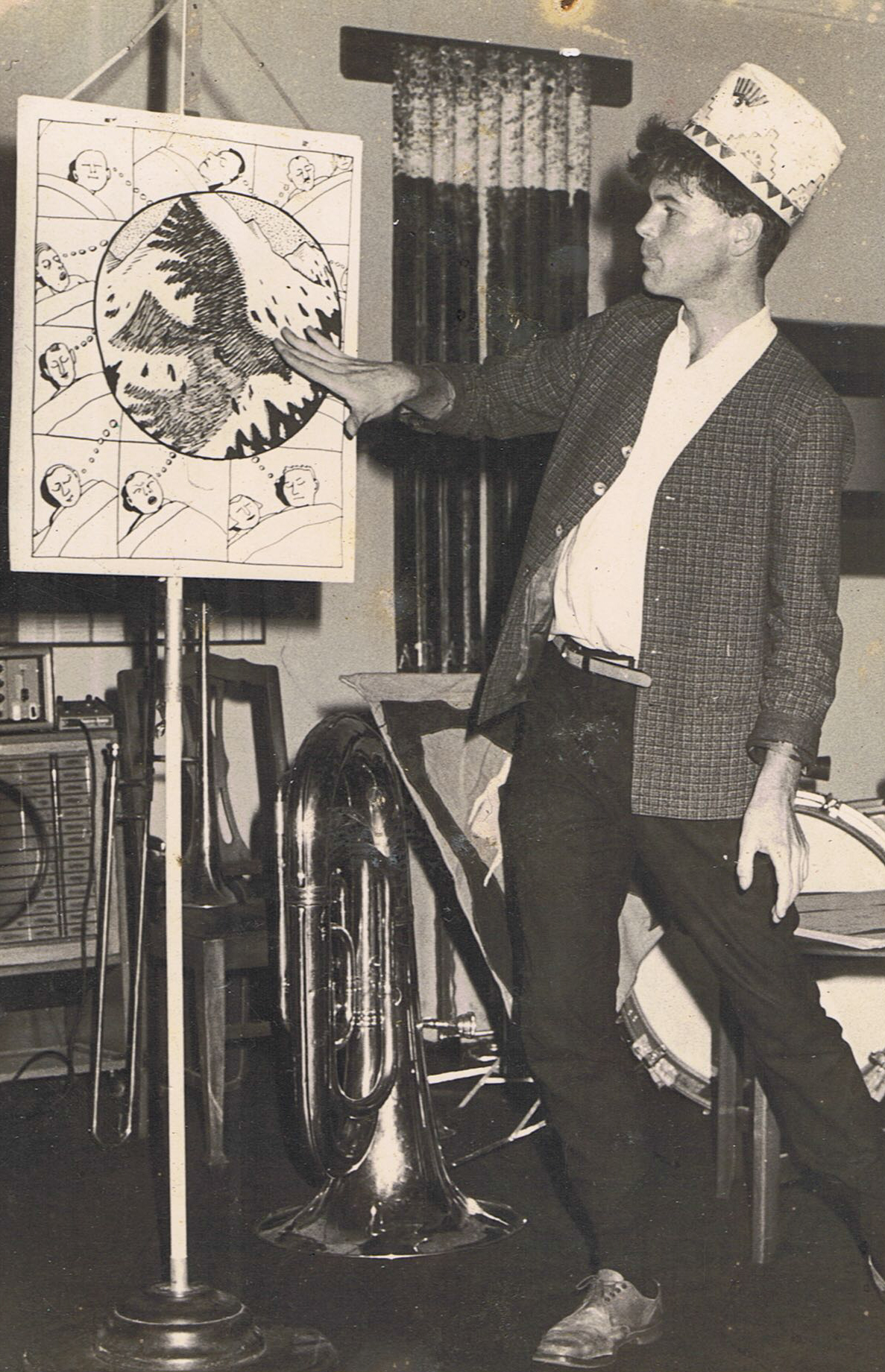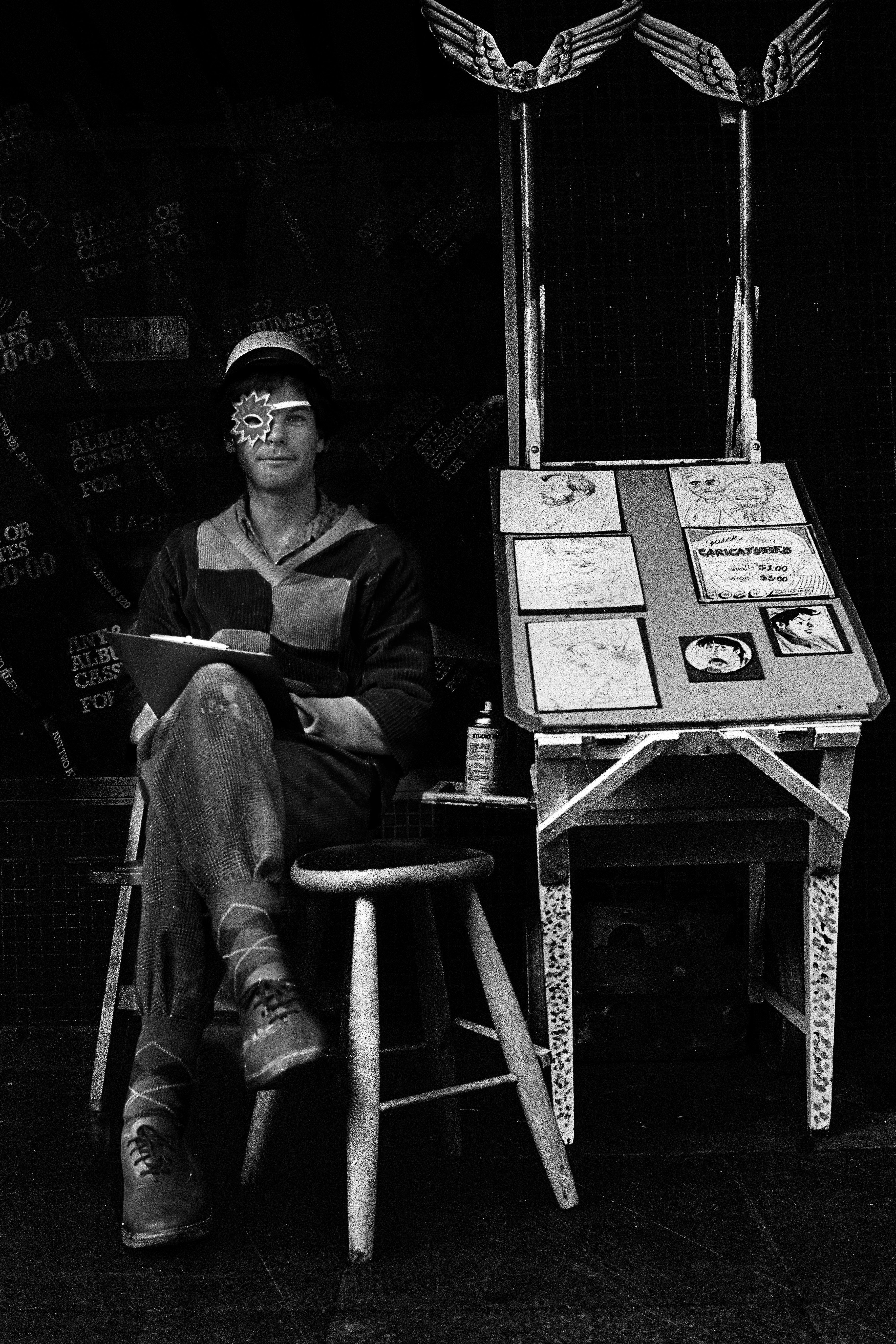 Portrait Image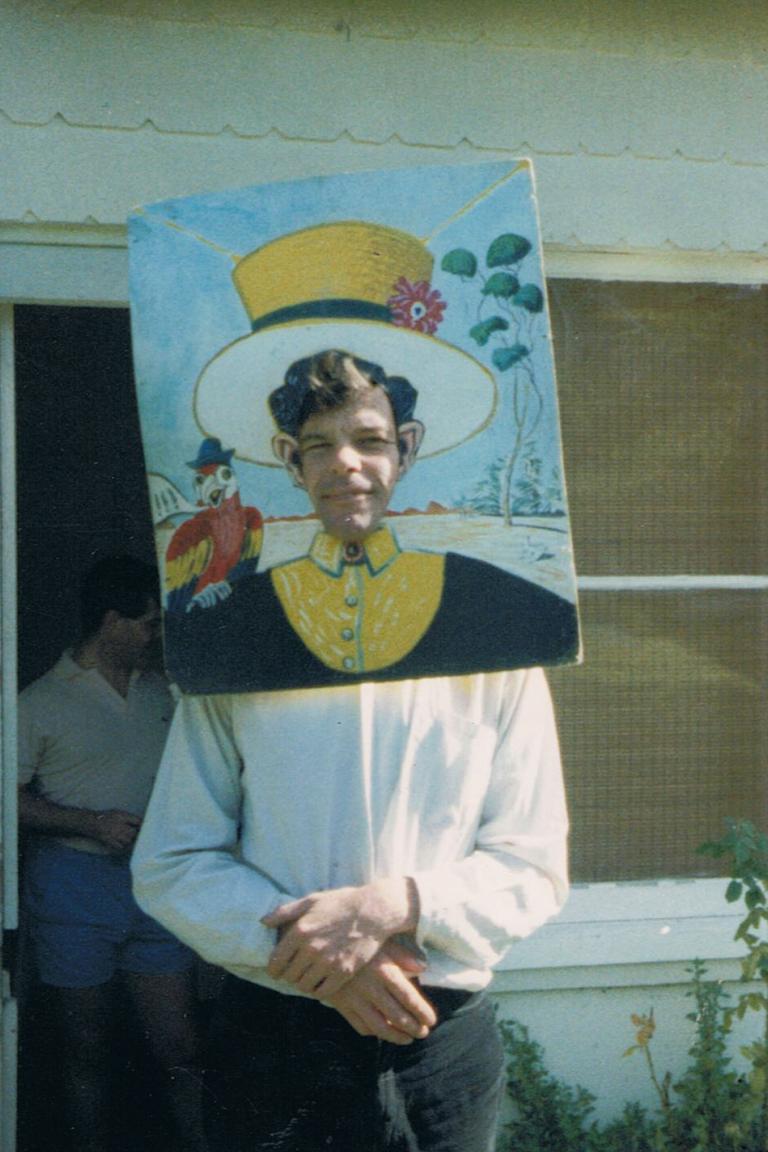 Landscape Image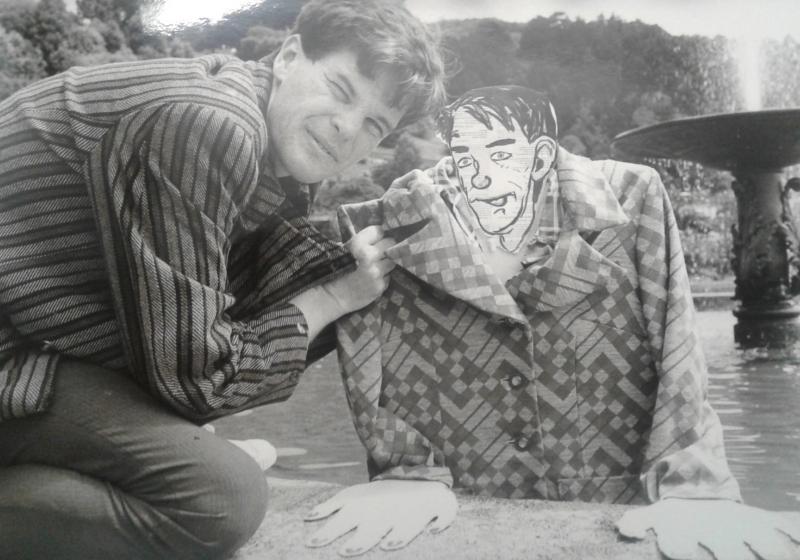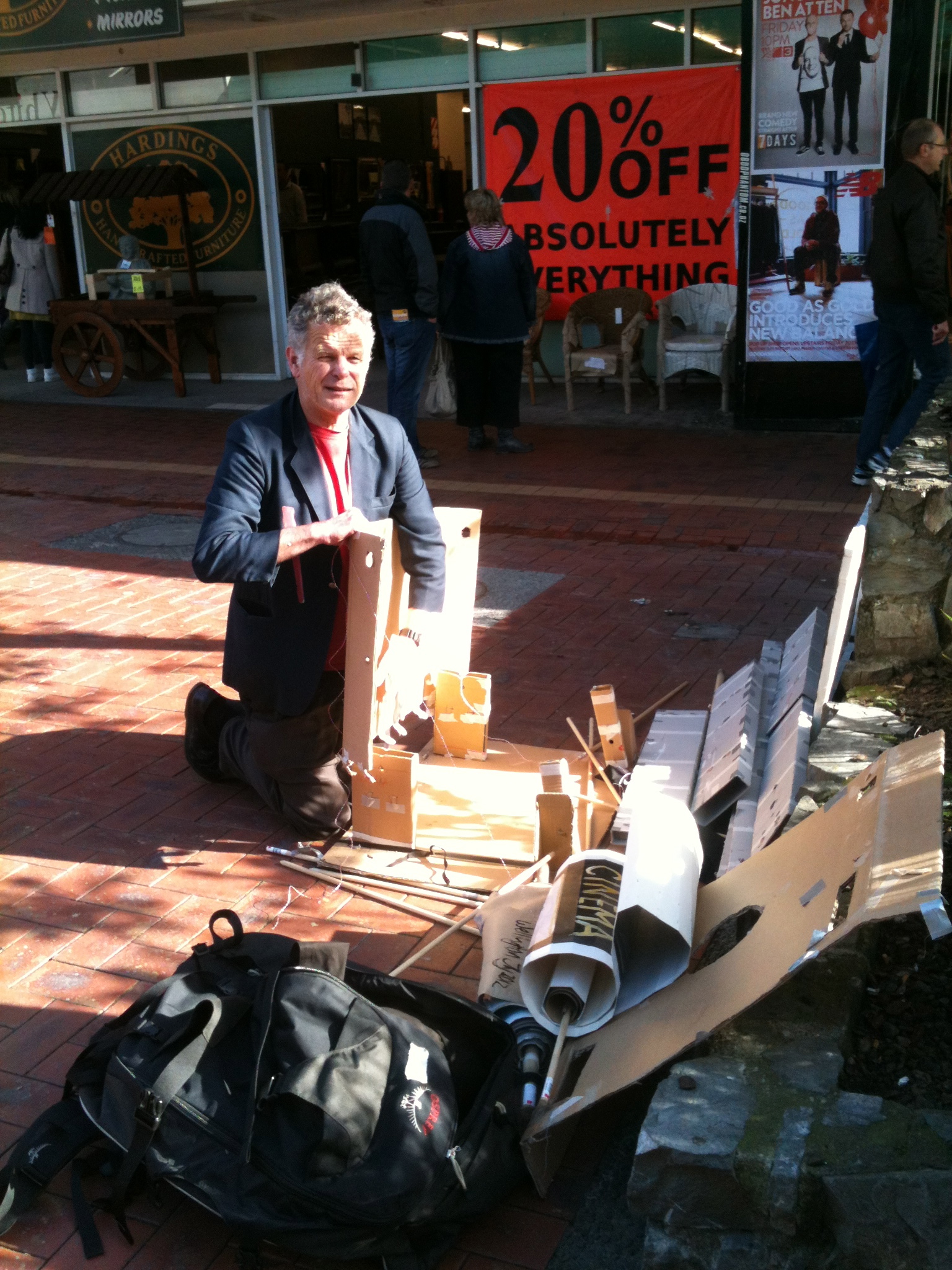 I just want to go back to something you said earlier on, you said quite a few of your stories deal with loneliness, I just wanted to ask you about why that is?
The strong stories come from a strong emotion and loneliness is one of those fundamental states. You're either lonely or not lonely but sometimes you're lonely in a crowd of people. There's this wonderful black gospel spiritual which is 'I must walk my lonesome valley, I must walk it by myself'. Again it's a really archetypal thing. You may be in a marriage or a relationship, but in some sense you're always walking your own lonesome valley. But at the same time it can be a positive thing because if you find yourself particularly isolated, you've still got this relationship with the world.
Last night, or early this morning, it was four o'clock I was walking home from a late night party and although I was really tired I wanted to walk, and I was walking along the Crescent up on Mt Victoria and I started to hear the birds seeming to wake up. There were tui singing, like in the middle of the day but it was still dark. I was looking to see if there was any kind of light pouring in but there wasn't and it was just this mystery world. I don't usually wander around at that time of day, or if I'm wandering it might be in the city where you just hear the human sounds, but it just fascinated me that there's this separate, mysterious bird world waking up, and singing like they'd be singing in the day, and communicating with each other. I felt related to these birds.
Some of the stories have this dark element in them. I lived in Sydney for an extended period and I cared for people with severe intellectual and physical disabilities. It's the same thing with psychiatric illnesses, there can be this kind of isolation from the world, caught in their inner world. But you can communicate through that. And I was really amazed as I got to know the people that I was caring for, their worlds and their individuality which can be so overlooked. Someone can seem to be like, one label is vegetative, no response at all, but that's not in fact the case. But those people are very very vulnerable to abuse. So I got caught up in a nightmare world of seeing abuse happening by staff of residents, and trying to protect them and speak up for them and making complaints and finding this shocking thing of, overnight almost, discovering that you were up against this department and then ultimately the State, that wants to crush you. And at a certain stage the crushing process takes on its own logic or illogic or malevolent logic in that, they no longer care about what you were trying to expose. There's just a kind of thrill and sadism of crushing this person. So I've got these stories where there are these Kafka-esque nightmares, darkness and this malevolent evil, because I've actually kind of experienced that. In one way I wish I didn't know about that bureaucratic world, but in a way it all feeds in. One of the ways I deal with it is making those stories because you can contain it and look at it, and you're dealing with those emotions of finding yourself up against a police state that has it in for you.

And I was doing that work because there's the perennial problem with trying to survive, to develop as an artist and finding a way to support yourself. Ideally you'd earn through your creative work, but that doesn't necessarily happen. Prior to leaving Wellington I'd started painting big murals and getting some money through that. And I was quite proud of landing in Australia and I survived financially partly through painting murals.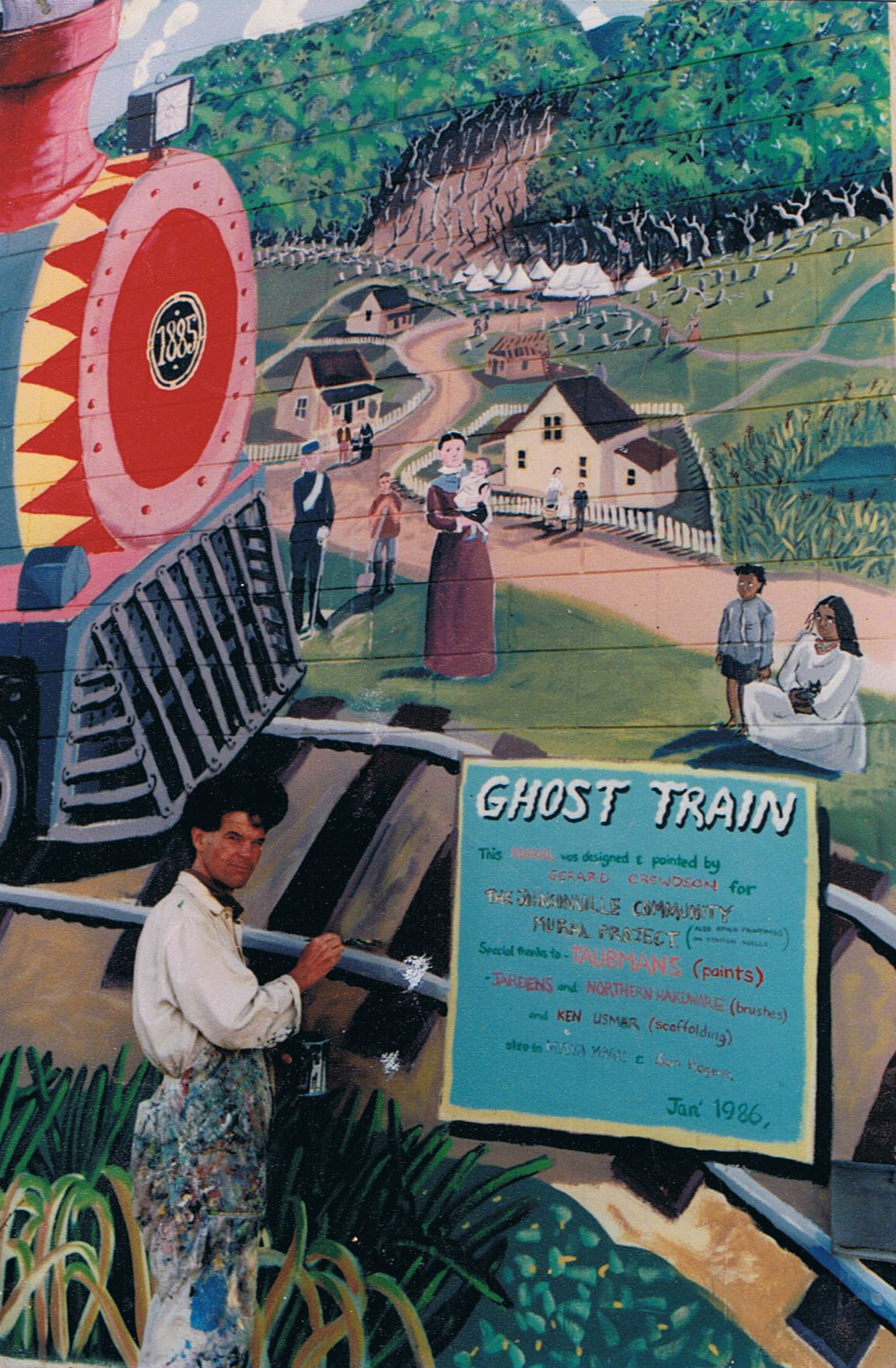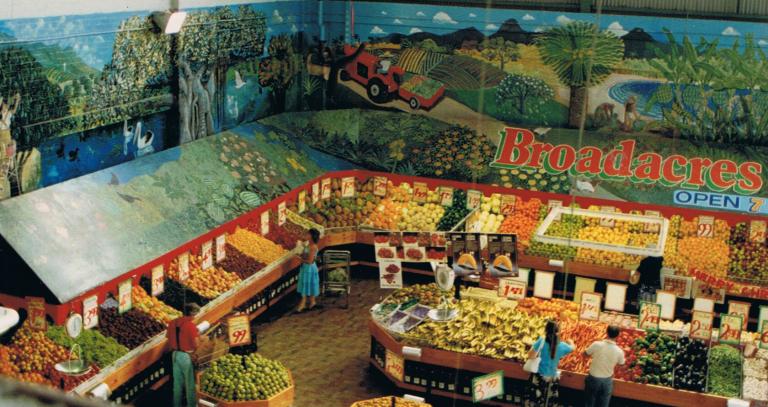 And there's a particular mural commission that links to the later things that happened to me. I was asked to create some murals at at youth remand centre called Yasmar in Sydney, the outer west. It was run by the New South Wales Department of Corrective Services, effectively a kid's jail. Some of the inmates were in there for murder, and various offences. It seemed like this over authoritarian, paranoid place. I met a couple of people who'd also worked in that Yasmar centre on another programme and they were frightened of the place, they were actually frightened of the residents, the inmates. I had hoped that the project would involve my going and meeting the inmates and together we'd design a mural and start painting it, but the powers that be, the authorities, didn't want that. Their idea was that I would design this mural and individually inmates would come and, under my supervision, paint it. 
It involved a wall of a changing room in front of a swimming pool. The thing that really struck me was that these teenage boys would come and even though it was just painting, they spoke to me and I felt completely relaxed with them. In particular one of the inmates that came down and was working with me for maybe an hour and painting. He was an aboriginal kid maybe about 15 or 16, he was very softly spoken and I don't know why he was there. And in the midst of painting he said to me "can you explain to me the theory of relativity?". That astonished me. I tried the best I could to explain it to him, and I wish, looking back, that I found out more about him because it's something I always think about. Australia, there's this hideous racism that's so entrenched, it's been entrenched and it's never really changed since the year 1788, the invasion day. And to think of this aboriginal kid and the question he asked me, and if it's a typical story of an aboriginal kid overwhelmingly chances are their life will be incarceration or on the wrong side of the law and there are deaths in custody. There's discrimination in schooling. It was just a glimpse into that. Why was he there? Why was he asking me about relativity? 
The final mural I did there was a wall, and I painted this semi realistic scene of hills and rainforest and trees, and a sea beyond and a horizon. Because when I was painting it with the assistance of the inmates, I wanted to destroy that wall. Just using traditional illusion, trying to think of that confinement and to create this beautiful, natural world. I wanted to turn those hideous walls into this image of this boundless natural world.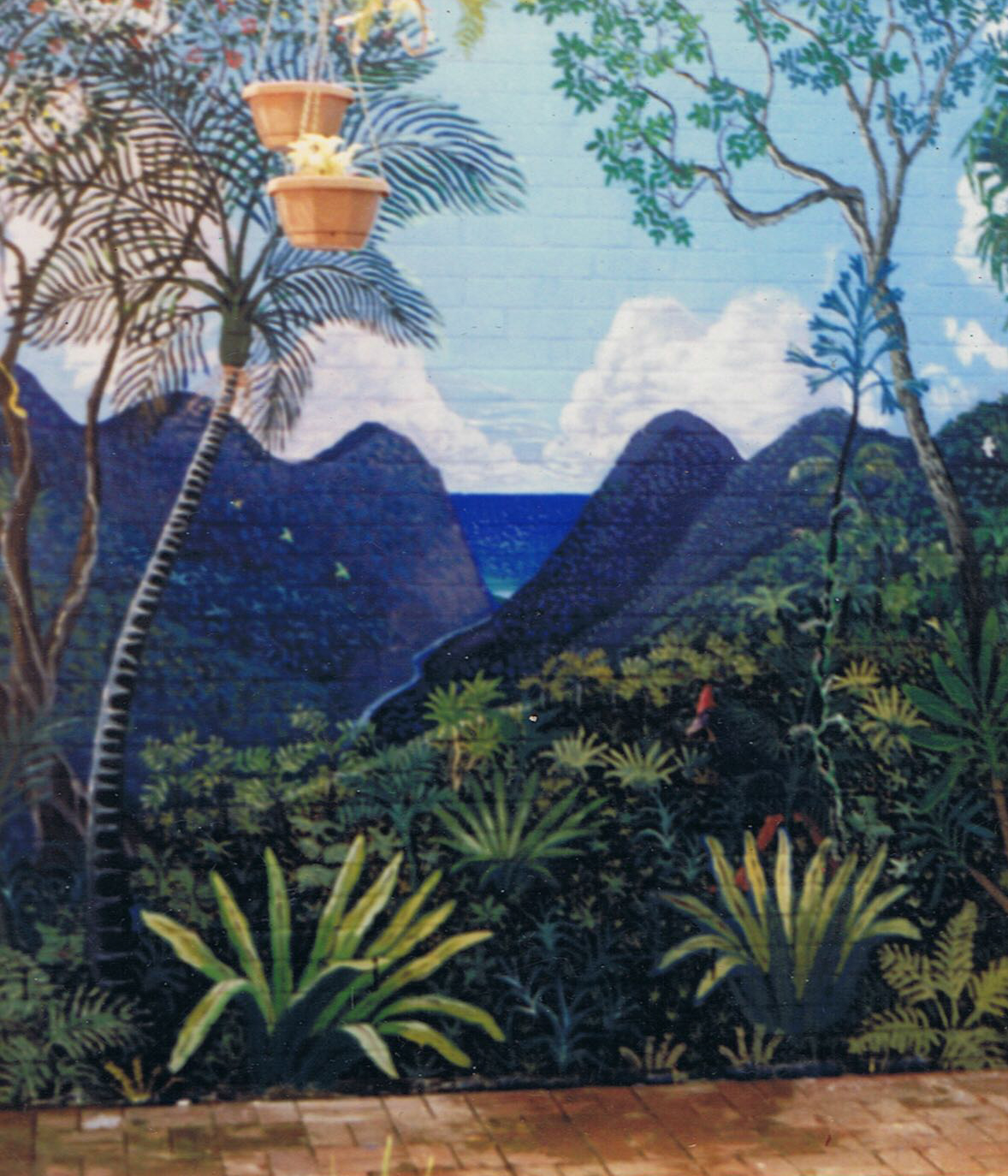 I remember one of your performances at Happy, relatively soon after you moved back here from Australia, and there was a picture of one of the bureaucrats with balloons, and you were popping them. Tell me about that piece, who that was and what you were doing.
It was called Weasel Words, and that was a very raw sort of thing which I wouldn't quite do in the same way now. When you are in the situation of speaking truth to power the worst agencies I've found in my experience and other people's experiences were the, like the Australian Human Right's Commission. On paper it looks wonderful. In my situation my human rights were being violated and the human rights of people with disabilities were being violated, and you're meant to be able to go the Australian Human Rights Commission and they'll investigate your case and take on the government on your behalf. But of course they are the government. And they've got these beautiful words, the most beautiful beautiful words about transparency and accountability, and then you discover that they're weasel words, that they're hollow.
So I created this big image in the shape of a head and it was covered in balloons, multi coloured balloons, and as the performance went on about weasel words I prick a different balloon and each balloon had one of those weasel words written on it. So there might be 'ROBUST INVESTIGATION' prick pop! And as the balloons pop they revealed the head behind which was a skull with a Hitler moustache. You've got to be careful using Nazi imagery, but in this case it was actually apt because one of the lesser known evils of Nazi Germany was that people with disabilities and mental illness were persecuted and exterminated, they were gassed. They were the first group of people to be gassed and murdered with the idea of exterminating them completely because that was part of creating the master race. You had to get rid of people with defective genes. And one of the reasons why it's not been focused on so much is because it was actually shared by other countries. It came out of Eugenics which was strong in New Zealand as well in Australia, Britain, the United States.
So in Australia what I experienced was a state that, behind its beautiful phrases, had contempt for people with disabilities and people with mental illness. They showed their contempt for me by labeling me officially as insane, using government psychiatrists. It sounds like a wild conspiracy story, but this is what happened to me. If you're a blameless, conscientious public servant, and they want to get rid of you, the best way to do it is to label you mentally unfit, psychiatrically dangerous, because you don't need evidence to do that, you just get the psychiatrist to label you falsely, and it can never be overturned. You can be portrayed as paranoid, the things you'd complained about is evidence of paranoia and delusion. With Empire of the Empirical and the stories that turn out to be false, I'm playing with that. In fact the false stories maybe true.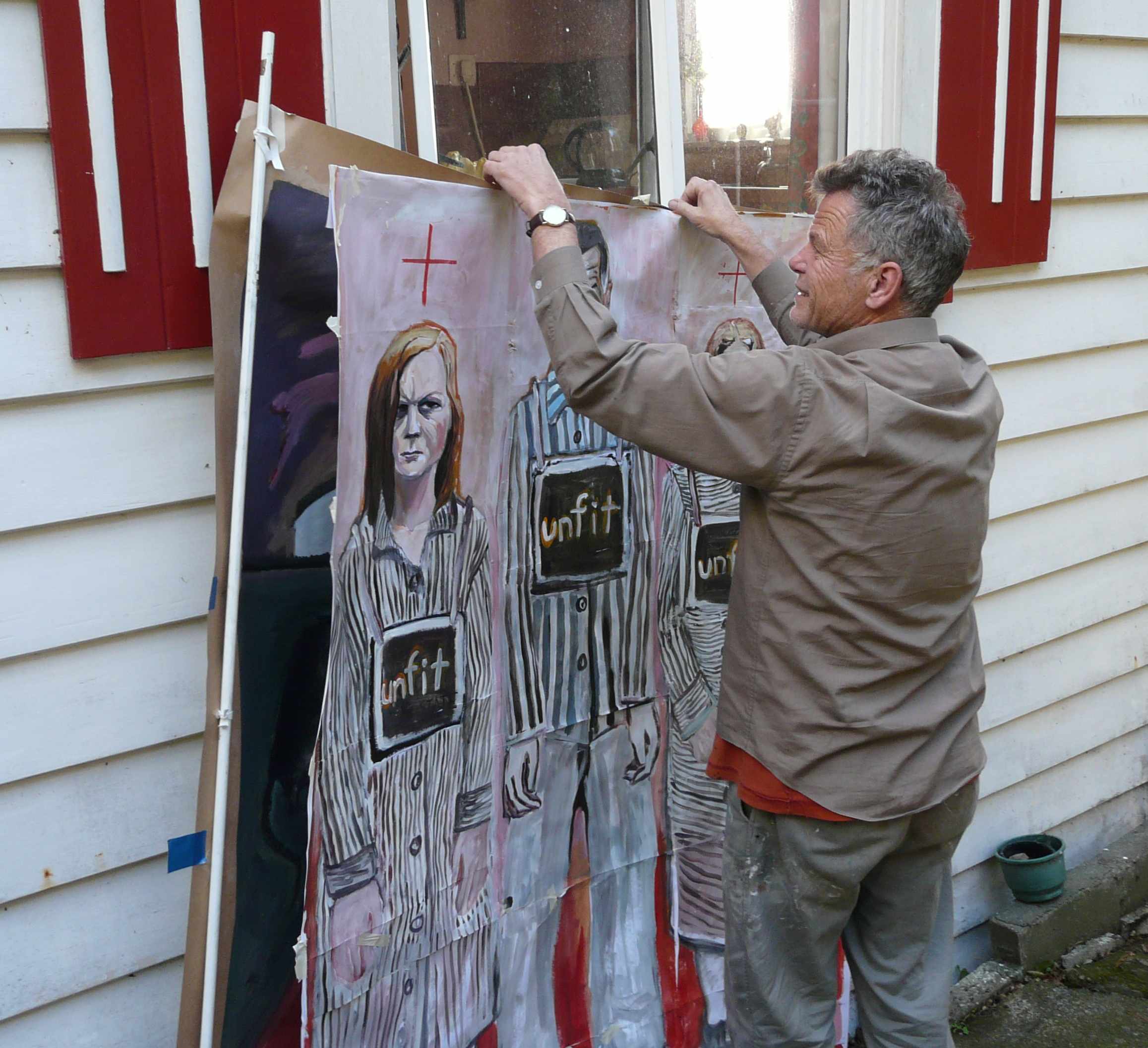 What effect did that episode of pointing out abuse and then being labelled mentally unfit for work, what effect did that have on you, what happened after that?
Ah, totally devastating. And there are others that that happened to. And it's just devastated my life. The one thing that it does, it gives you a connection and an understanding of other people who've gone through or who go through similar kind of experiences. But the good thing about it, to me, it's not about trying to get a name or exhibit in galleries or perform here and there. That's all good, but the first thing to me is it's a way of dealing with your life experience and the most powerful of all art that I've seen is art created by people in institutions, the 'mad'. And I always find that moving because it's just a direct thing with no calculation about I'm doing this to impress someone, it just pours out.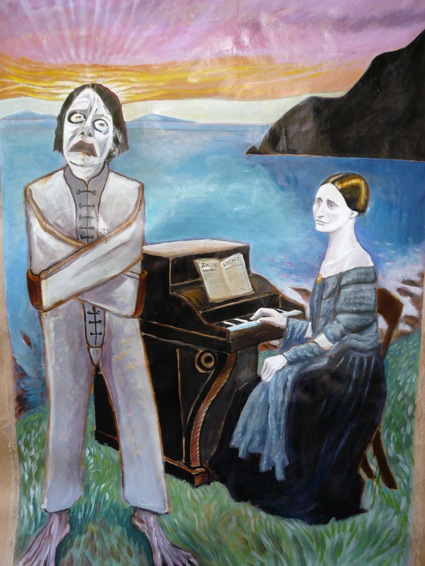 You ended up living in a garage with some dogs, which I don't recall the details of the story, I was wondering maybe you could share that.
I spent eight years in total living homeless in Sydney, and there are various kind of forms of homelessness, there can be couch surfing where you're living in someone's house temporarily, or sleeping out in cars, sleeping out in streets, sleeping out in parks, sleeping out on trains. You could get on a train, but you can't properly sleep because the lights are on. During the Sydney Olympics there were free trains running, so I and quite a lot of homeless people, we'd get the train from Sydney to Newcastle up and down up and down. A couple of circuits and you've gone right through the night.  
And then for a period I was still homeless but I did have a residence in the garage of a woman I met. She was a teacher who had also been declared psychiatrically unfit by the same government outfit. I was helping with her case, and living in her garage. And the garage was also home to her dogs, a father dog and a son dog, Ned and Kelly. Kelly was the father. Kelly could be quite vicious, but from the first time I met Kelly, he was always totally friendly to me. I had known Ned from when he was a little infant puppy. So I lived with them in the garage and we were like three dogs or three human beings, our lives merged together I was quite happy to be an honorary dog, because dogs are certainly a much nicer species than human beings.
So I'd be in this garage, down in Port Kembla, an amazing place south of Sydney down the south coast, south of Wollongong which is one of the industrial cities. There's this great long beach and this headland with wild seas, and I'd take my trombone, trumpet or cornet and I'd practice. And sometimes I'd practice in the garage. There were these dog toys which had little plastic discs with air inside and a reed, so if you squeeze them they'd make a sound. So I'd be say doing a little thing on the cornet, softly as I could because it was in this garage, and the father dog Kelly would be howling and Ned the younger dog would have the squeeze device in his mouth and be vigorously making sounds in sync with me. We were a little dog band. I'd forgotten about that, my finest moment.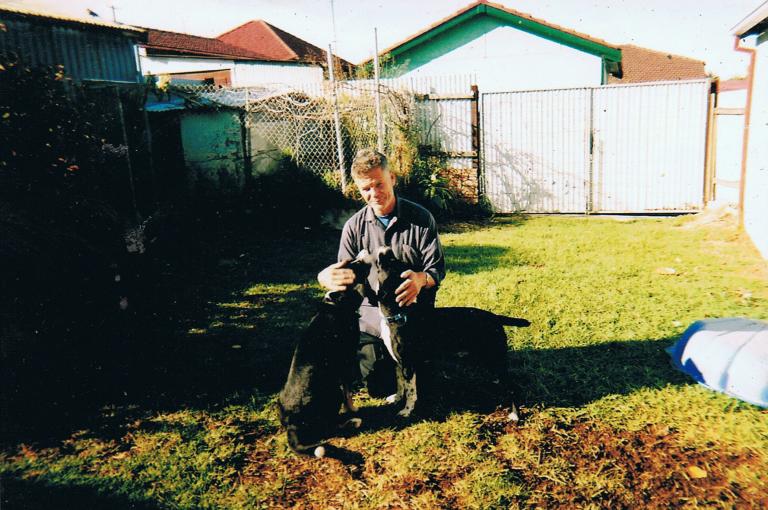 Bio reference
Artist Photo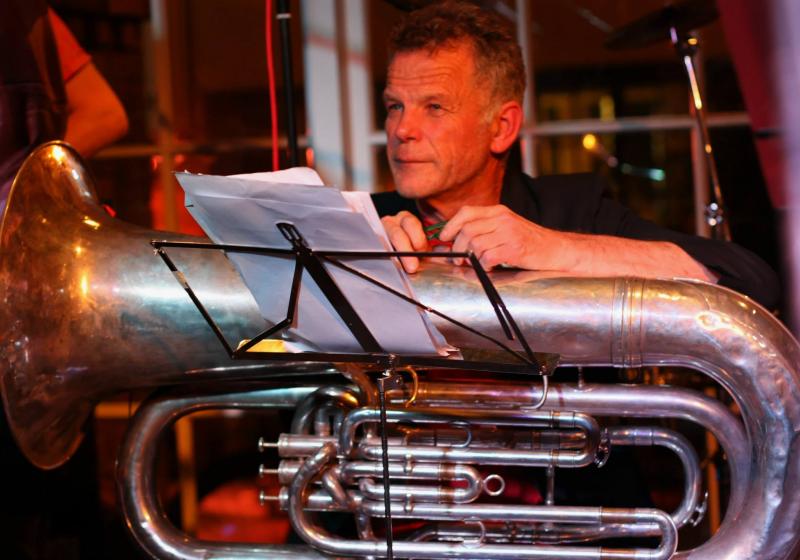 Artist Bio Text
In a career spanning over 40 years, Gerard Crewdson has developed a highly personal artistic, theatrical and musical practice. Crewdson's interdisciplinary activity began in Wellington in the late 1970s where, first as a visual artist/dancer/story teller, and then as a tuba player, he was a part of The Braille Collective, performing original compositions with an emphasis on non-standard musical structure and collective improvisation.
In 1986, Crewdson moved to Sydney where he undertook formal study at the Sydney College of the Arts, developing printmaking and paper-making processes using plant-based and recycled materials to create sculptural work. During this time, he created public performance works with a pointed emphasis on political critique and intermedia experimentation. He played an active part in Sydney's burgeoning noise and experimental scenes and worked with environmental/anti-war performance group The Bare Earth Blasters. In Sydney Crewdson also performed frequently with The Sydney Splinter Orchestra, a large electro-acoustic improvising ensemble.
Back in Wellington since 2005, Crewdson has continued working across music, story telling, visual art and theatre. His output is vast, including his Cinema of the Poor performances for which he paints visual narratives on huge scrolls which he 'projects' from his specially crafted cardboard box cinema.
More Articles