Body
Pyramid Club is proud to host Motoko Kikkawa for 2 nights of musical articulation and collaboration.
For her 2-night Pyramid Club performance residency Motoko Kikkawa will be collaborating with a variety of musicians from Pōneke and around Aotearoa.
Not ever limited by any one medium or genre, Motoko Kikkawa has been working prolifically with sound, performance, improvisation, visual, textile and object art in Dunedin for over fifteen years. Motoko Kikkawa is regarded as one of the Ōtepoti-underground's most prolific and versatile exponents.

Originally from Tokyo, Motoko Kikkawa has lived in Dunedin since 2004 where she obtained a BVA from Dunedin School of Art.

Her presence across noise, contemporary classical, free improvisation and quasi-ritual fields on violin, voice and atmospheres is as recognisably unique and identifiable as it is sympathetic, musical and adaptive. Notable projects include The Ladder is Part of the Pit, Ray Off, Kiseki Usagi, and countless collaborations.

Motoko is a past resident of None Gallery and has played solo and in collaboration at The Audio Foundation Auckland, The Auricle Christchurch and regularly at various independent events such as Lines of Flight.
Night 2 - Motoko Kikkawa in collaboration with Nell Thomas/Erika Grant, Beth Hilton and Marika Pratley
Beth Hilton is an Ōtepoti based artist whose work stems from an exploration of form and texture through varied manipulations of sound and light. She has previously worked under the name Satori performing live expanded cinema as audio/visual collaborations with sonic artists.
Marika Pratley is a composer, sonic artist, improviser and performer, using found objects, Indonesian Gamelan, Greek Folk Instruments, synthesizers and field recordings in her compositions. Through this, Marika explores the topics; radical relaxation, the phenomenology of spacetime, trauma recovery and intersectional identity politics.
Erika Grant is a Wellington multi-instrumentalist, Chapman Tripp Award winning theatre composer, music teacher and member of multiple bands/groups including Cookie Brooklyn and The Crumbs and the acclaimed Orchestra of Spheres.
Nell Thomas is a multi-instrumentalist, playing synths, drums, harp, flute and voice in many collaborations and groups including Orchestra of Spheres, Cookie Brooklyn and the Crumbs and Micro Soft Voices.
---
Night 1 - Baxter Gray solo, Motoko Kikkawa solo, Motoko Kikkawa w/Kieran Monaghan
---
NOTE: WE ARE CURRENTLY OPERATING UNDER CURRENT COVID19 LEVEL 2 RESTRICTIONS WHICH REQUIRE SOCIAL DISTANCING AND LIMITED NUMBERS
Presales from Under the Radar
LIMITED TO 20 TICKETS UNDER LEVEL 2
Many thanks to Creative NZ for supporting Pyramid Club's programme
Feature Image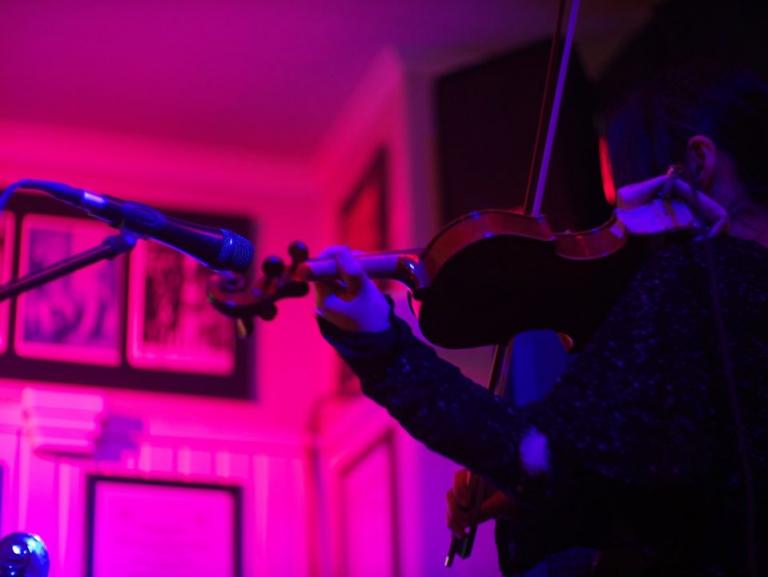 Upcoming Events