Jonny the Snails' Janitor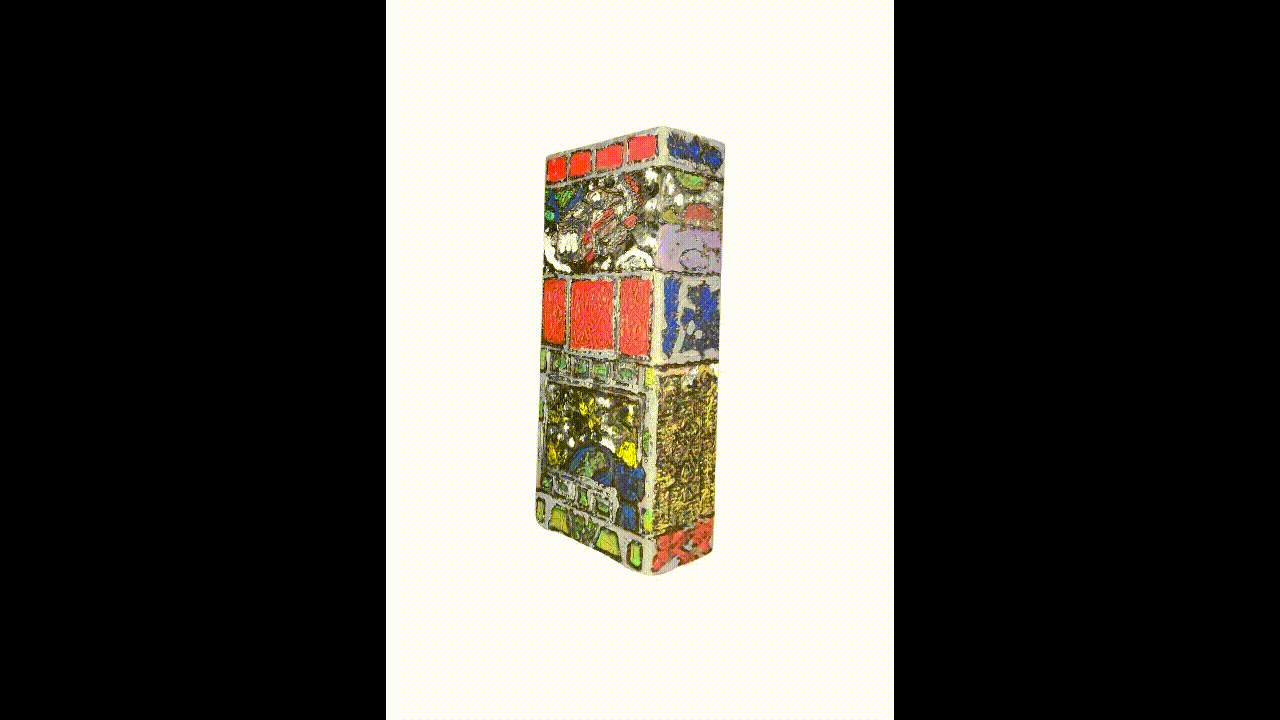 Snails is an artist-run space in the heart of Papaioea/Palmerston North. It is the home of 11 studio artists, a small clutch of part-time board members, a couple of sparingly paid events managers, a community and a Janitor. All of these people contribute to the Kaupapa of inclusion in the arts, while simultaneously working outside of the confines of finances AKA holding up the mahi to push away the wolves of capitalism, and just nurture local creativity. 
Snails started its life as a gap filler, occupying a space that was waiting to become something other than Snails.  It was an opportunity too good to be missed and taken on with the knowledge that the lease was precarious. Such swift formation meant that Snails wasn't a considered venture from the outset, rather a tremendously happy accident that gathered momentum and with it a solid Kaupapa that evolved alongside the physical space.  
The kaupapa of Snails was put down in writing during a weekend long performance installation in the space after a year of operation and with a bunch of committed folks. We were passionate about the future of such an opportunity and had the insight to see what we wanted the place to become, and knew the importance of putting in place scaffolding to ensure that Snails didn't become a place that we didn't want it to become. We wanted opportunities in the regions, we wanted the people of Palmerston North to know how exciting and vital creativity could be, we wanted a space that was inclusive and safe, we wanted touring bands to stop in and play a show and we knew that to keep all of these dreams alive we needed to make sure that it could happen without the necessity to conform to a capitalist business model.  It hasn't always been easy, but when great opportunities arise good people come out of the woodwork and help build Snails into the place it has become
Not long after Snails first opened, Jonny Kan arrived on our doorstep. He was carrying a supermarket plastic bag full of art disguised as a bunch of wooden offcuts. Pen lines, doubled over, images picked out and burnt with a poker work machine, brightly painted, lacquered in glitter and ready to hang with a thumbtack and a loop of string. It was like nothing else I had ever seen. We agreed to have an exhibition in our space forging the way to a relationship with one of Palmys most prolific artists.
I hesitate to use the word, but an easy way to describe Jonny is as an outsider. It's a neat little box to put someone in when they fit that particular mold but it's hard to know what exactly Jonny is sitting outside of. If Snails existed in a city of a more sizable population perhaps things would be different.  Palmy is no different from any small New Zealand city, it has rural roots, loves its stockcars, rugby and takes a muffin with a latte. Snails in all its loud on loud aesthetic, salon style art, grungy corners and louder than life sound system, already sits outside of the normal central city experience. Jonny fits right in here.    
Jonny has a head injury, and he is totally OK with everyone knowing this. When he was 5 years old, he was involved in a traffic accident. After a lengthy recovery he was left with the superpower of retaining a childlike enthusiasm for curiosity, creativity and wonder. He embraces art making just like a typical primary school aged child would, without the hang ups of perfectionism that adults tend to cling to. He is excited about the world, constantly exclaiming his delight at discovering a nugget of interesting information. Though Jonny lives, works and socialises independently as an adult he feels like his body is stuck in the process of ageing; he says that he can relate to the character Benjamin Button, who is also lost somewhere in the aging process.
To say that Jonny is prolific is an understatement, he is possibly one of the most passionate and visionary artists I have ever met. Though he favours working in wood, there are also works on paper, zines, painted tables, board games and Jonny painted plinths. His work is a reflection of the modern mind, or a mind flitting about on the unfettered information treadmill of the internet.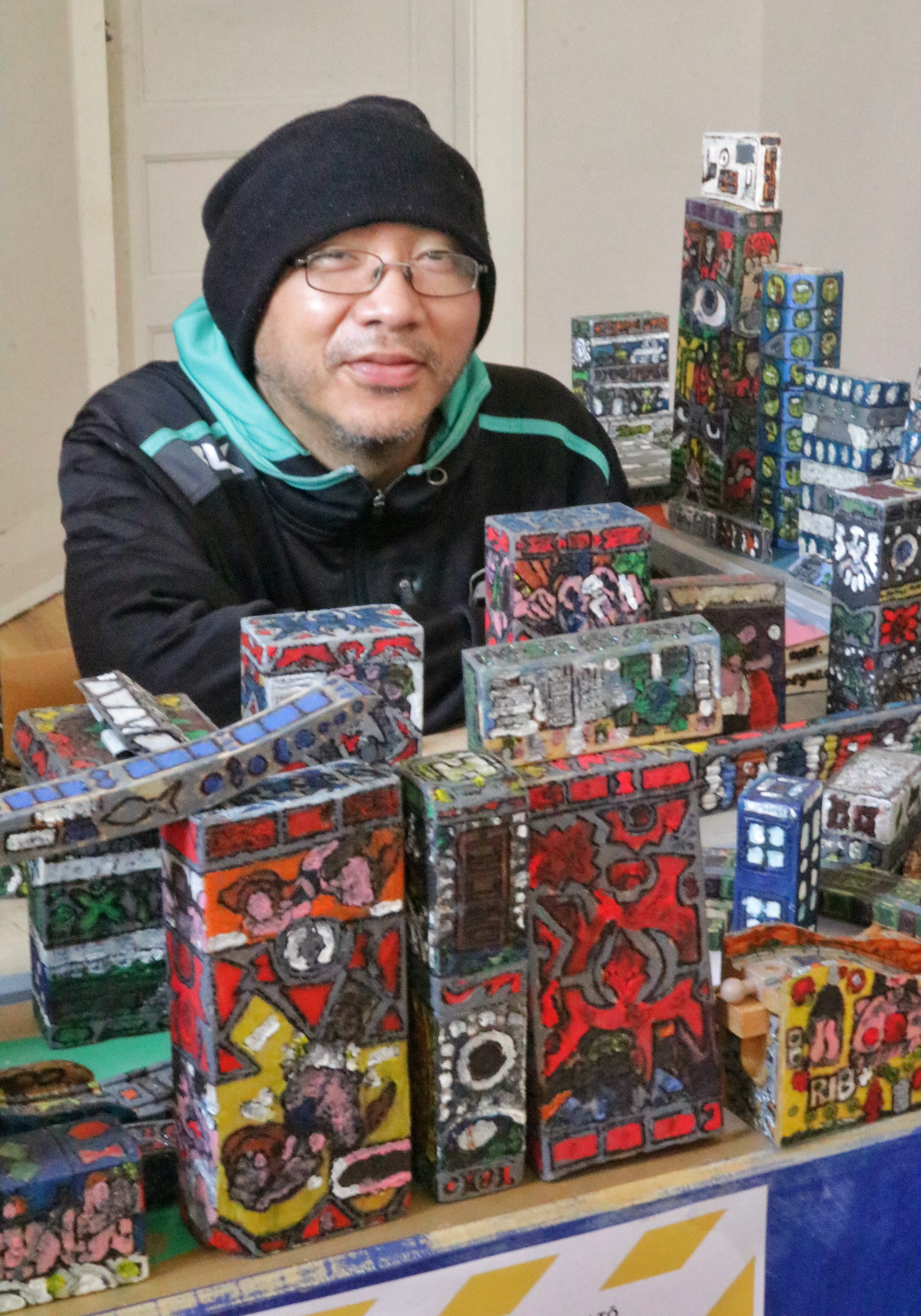 To peer into the world of Jonny Kan is akin to having no filters on an AI generated search engine. HIs influences are far and wide, ancient history, future scapes, pornography, tourist icons, wedgies and the worlds that he creates span from the ancient past, to present day and imagine a future some 7000 years from now when Palmy has a large population of migrant interplanetary aliens. 
Most works seem to fit into a collection, just how many collections there are is hard to fathom.  One popular collection now sits with a private collector locally, purchased as a bulk lot and hung in a Karaoke room as a conversation piece like no other. The collection is made up of 60 works on wood showing various shots of wedgie porn screenshot from the internet. (Apparently, wedgie porn IS a thing). The images have been stylised in a wood burn and hasty paint kind of way and it takes a keen eye to pick up whats going on at first, but once you come to recognise swaths of pink as flesh then the mind can fill in many blanks. The images have moved far enough away from realism to no longer be pornographic in their intent, and this in part is some of their wonder.  As part of Jonny's condition he has lost his discretion and so travels to places that others would leave hidden behind closed doors. Once you know that this thread runs through his work it is everywhere. A hunk of wood made into a building could contain some very vibrant happenings, there are dildos floating around interior scenes and on the sides of 80s game machines, there's even a rather charming rendition of wonder girl and wonder dog, which on close inspection reveals corners of human imagination usually disclosed in plastic wrap or behind the velvet curtain.  Unsurprisingly the works that journey into pornography or fetishism are some of Jonny's most popular. 
But there is utter innocence in equal measures. Jonny has had me up into the small hours on messenger discussing ancient Egyptian politics. He delights in the great monuments of the world and paints spaceships, celebrities and scenes from his favourite computer games. He makes pictures of bands as part of his music collection, puts together intricate game boards with dice and action cards, paints TV characters, adverts for Pak n Save and Covid 19 billboards. There's the Tentacle Monster collection from circa 2018, where monsters and unicorns dwell in barren landscapes with half moons and floating skulls.  He has made TVs complete with all the plugs and buttons and painted scenes of the Mona Lisa presenting the news. He decorates chalices to resemble illuminati keepsakes, transforms odd shaped pieces of wood into weapons and wooden bears into golf trophies.  You name it, probably Jonny will be up to giving it a whirl.
Seven years since his first exhibition there are works on wood tucked into nooks and crannies around Snails, perched on windowsills and stacked in boxes in our basement.  He has had 6 exhibitions at Snails, with each exhibition he has been able to dig deeper into his oeuvre and explore new terrain. His most recent collection is called ULSC, or the Urban Landscape Collection and is inspired by what he imagines Palmerston North to look like in the year 9999AD. The collection transforms blocks of wood into high rise buildings assembled with model motorways, food trucks and vehicles into a city scape.  The work doesn't stop with its exhibition, in fact  it's as if Jonny is writing the book for community engagement that any council officer could only dream of.  The work became a submission to the 10 year plan, was paid a visit by the city's chief town planner and has made it close to being acquisitioned by the local museum.   We are expecting a visit from the Mayor and the CEO of the PNCC in the next month.  His visions involve monorails and condominiums all fueled by an inventive magnetic system painted onto the tops and bottoms of each unit.  There's a language strewn all over the city, one that Jonny has the ability to translate. His vision may seem far flung for us right now, but perhaps we need to take a visionary leaf from Jonny's book and perhaps having the ability to imagine a new and better world is going to be the best chance we have in attaining just that.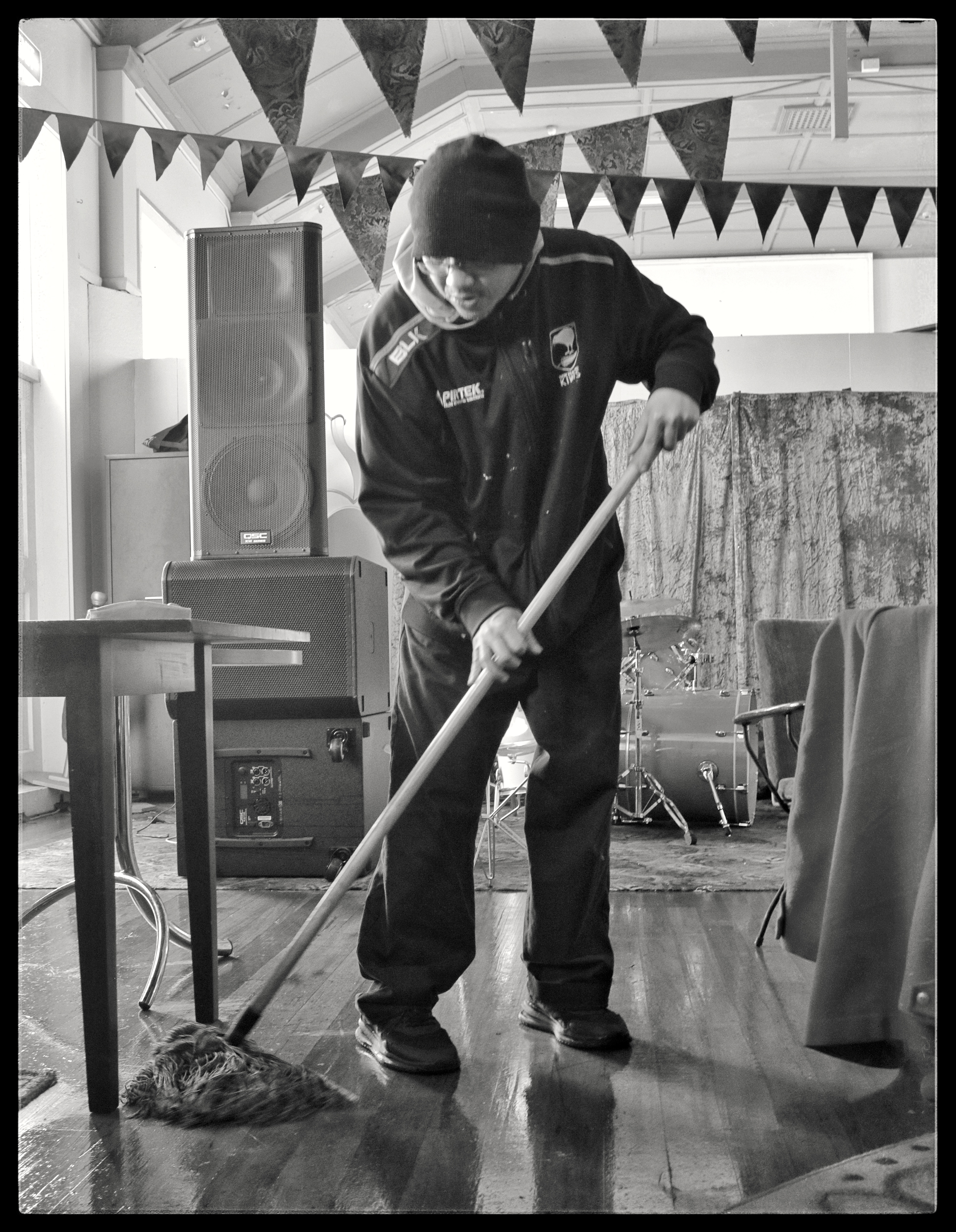 Jonny arrives at work at around 10am every Friday. He is the Janitor, a title that he bestowed upon himself. He has a list of tasks, clean the loos, sweep and mop, vacuum, the dishes. He does them while listening to a plethora of obscure sci-fi inspired synthesisor tracks interspersed with old school Micheal Jackson remixes. At lunchtime someone knocks up a lunch with silverbeet from his garden, perhaps some noodles and whatever anyone else has bought in washed down with strong coffee. During the day there are many tales. One day he is arranging a fishing trip and reassures us that when he catches a great white shark  he would be happy to share the feast, the next week he is arranging his Christmas plans, even as early as March.
Jonny is stable, he is a constant. Not only does he show up, but he contributes to the kai, he brings a constant stream of good art, his curious mind is flooding with ideas, he offers to help on the door and enjoys shows, he loves his job, company, the art and the community.   
This is what artist run spaces are for. Jonny ticks all the boxes for participation at Snails, an area that's often difficult for those of us who have boxes that need ticking for funding purposes. Jonny is a model engager, he not only gets it, but he is pioneering the way for other artists. In some moments it seems that spaces like Snails are made for people like Jonny. But the real magic comes when people like Jonny inhabit spaces that are also made for a plethora of other people, other people who in some ways are just like Jonny.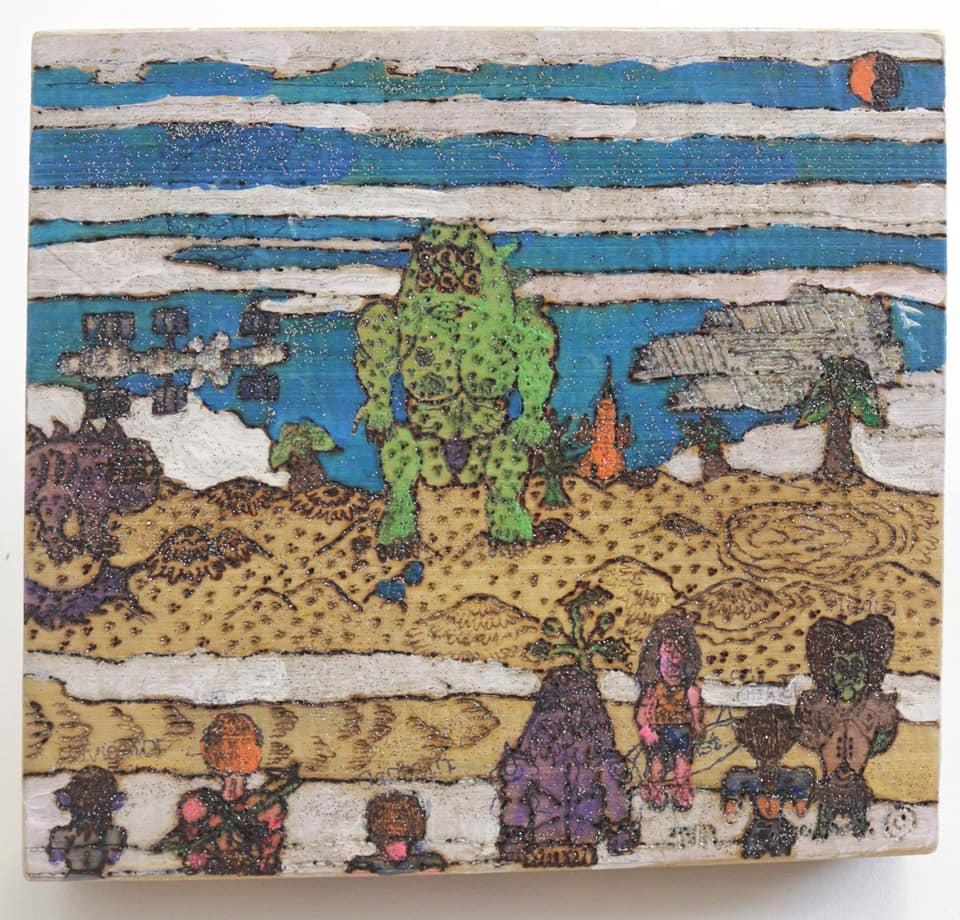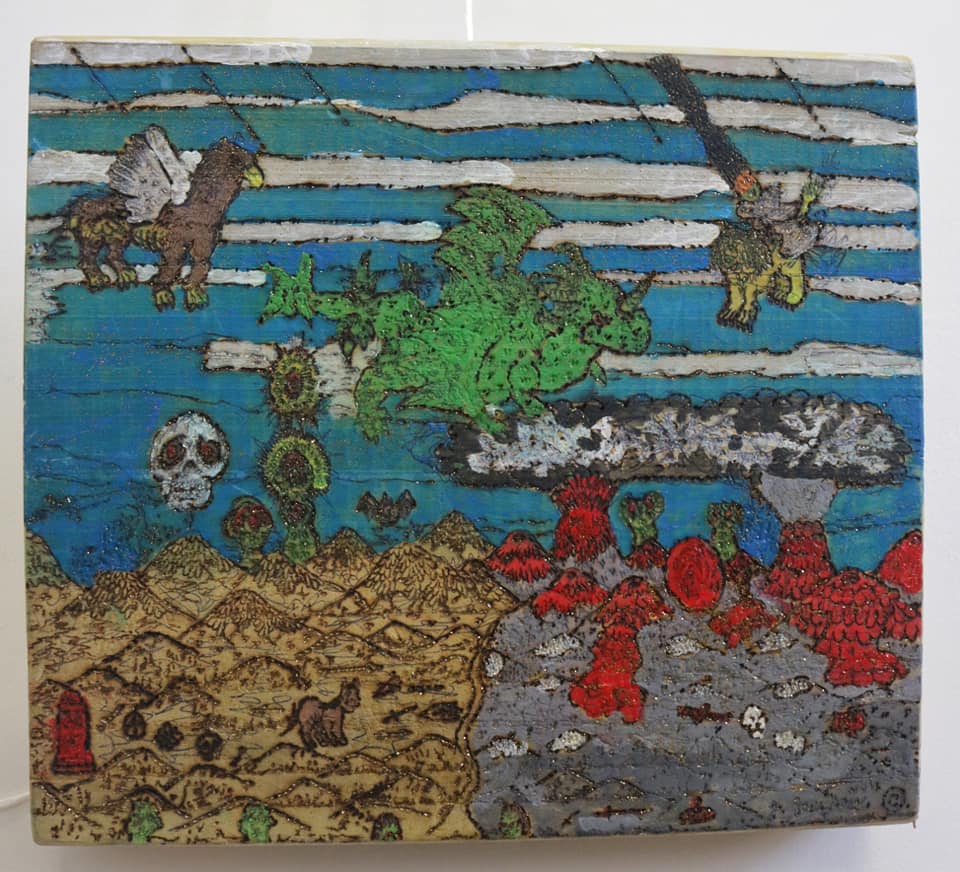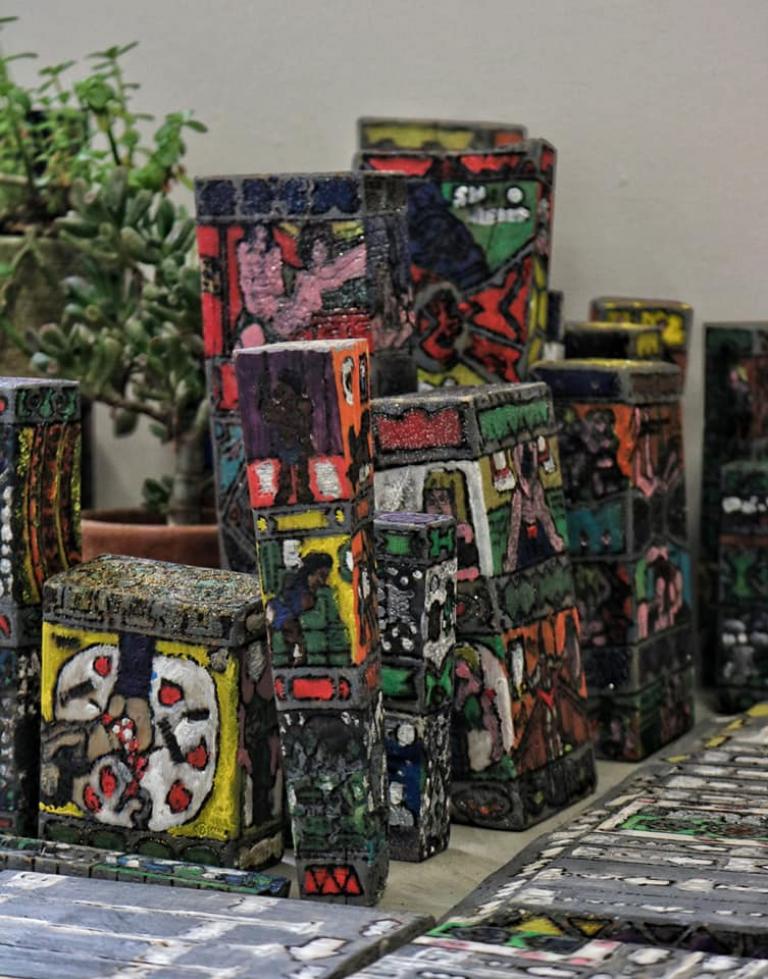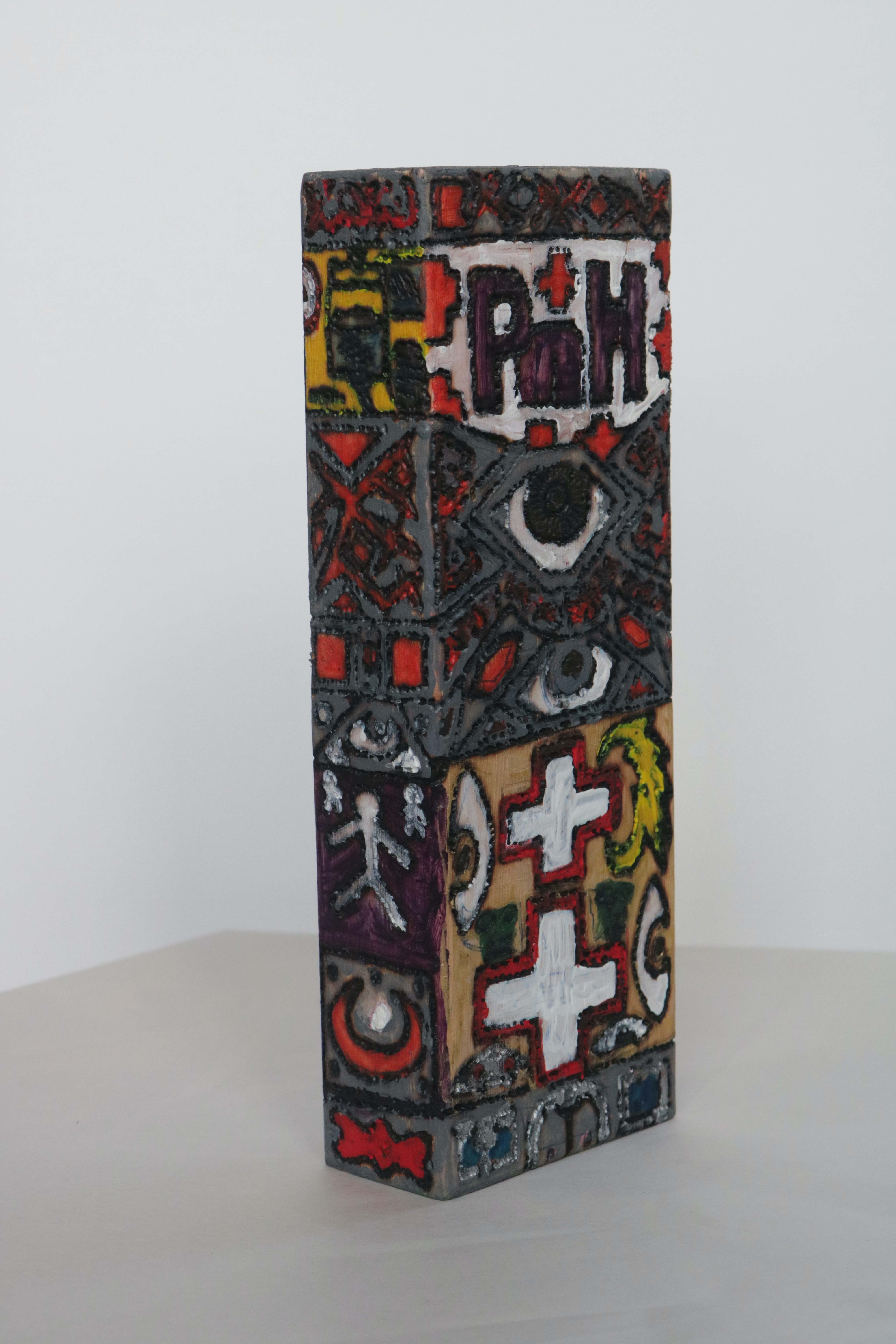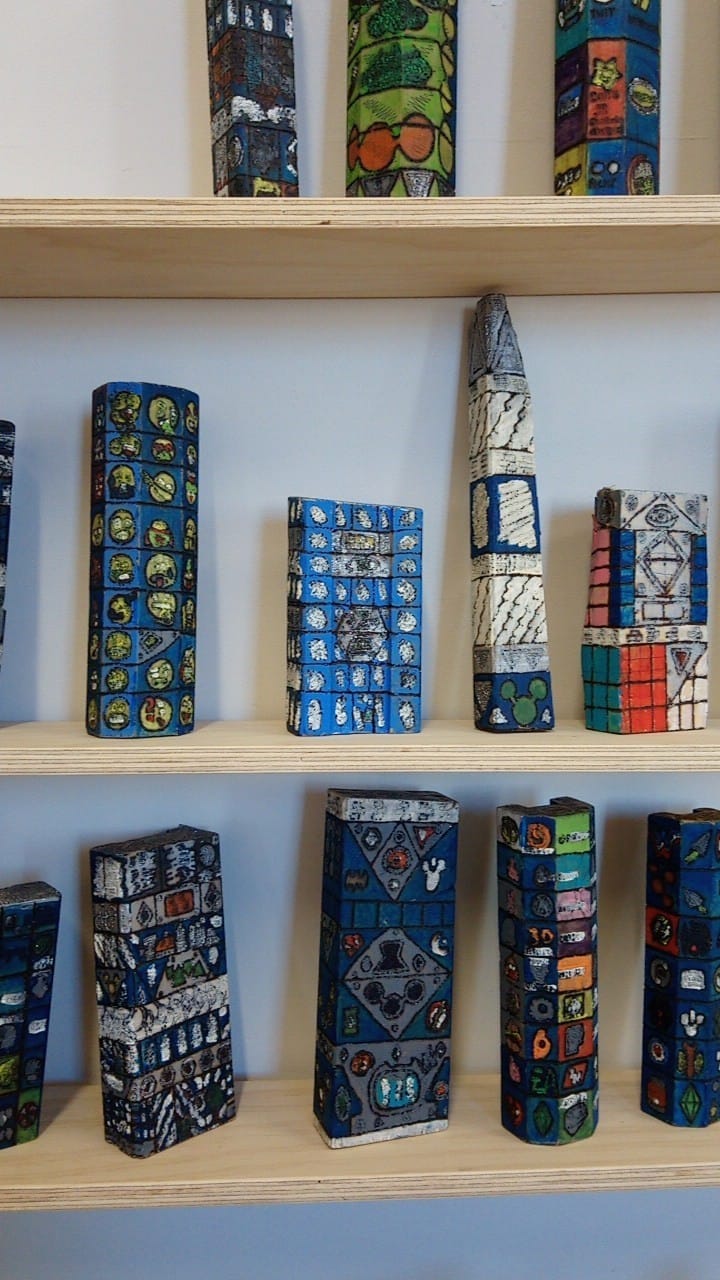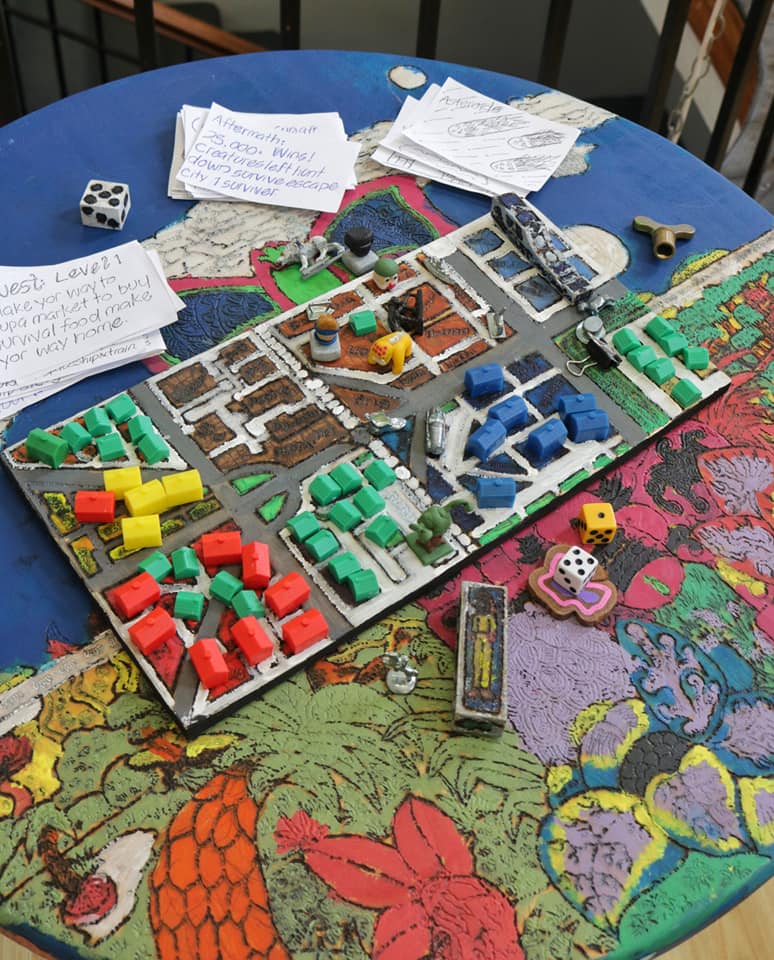 Portrait Image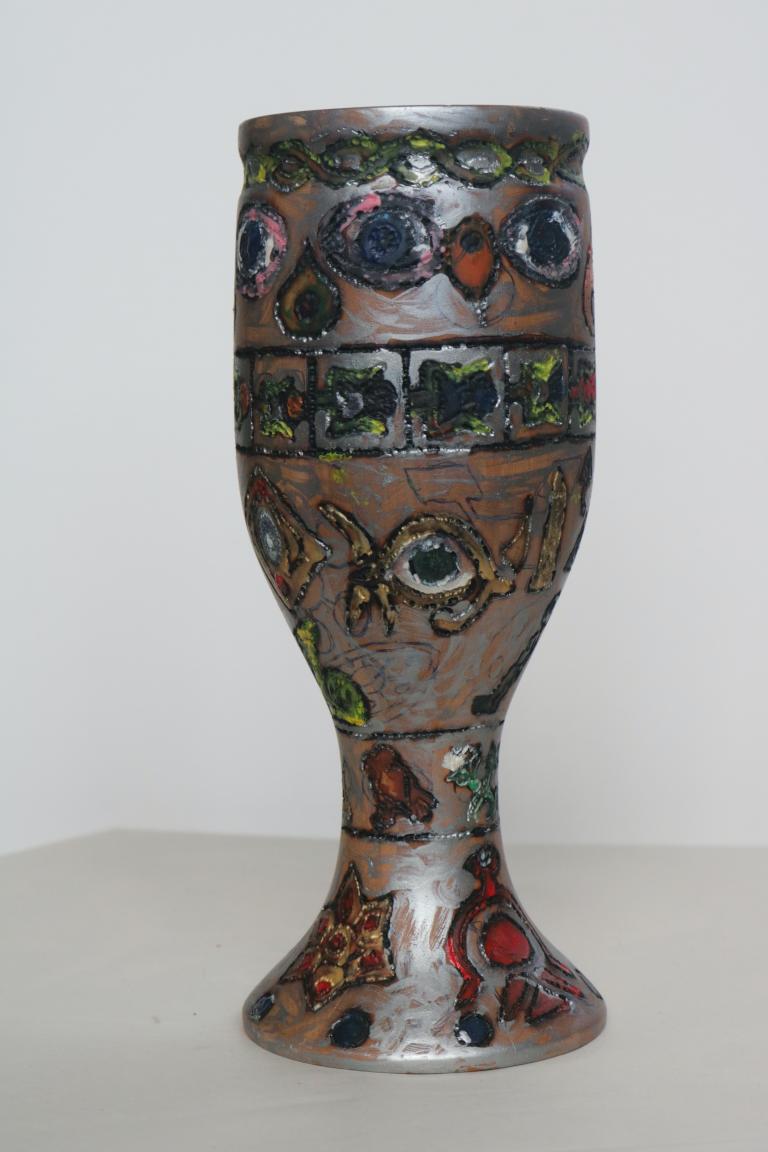 Landscape Image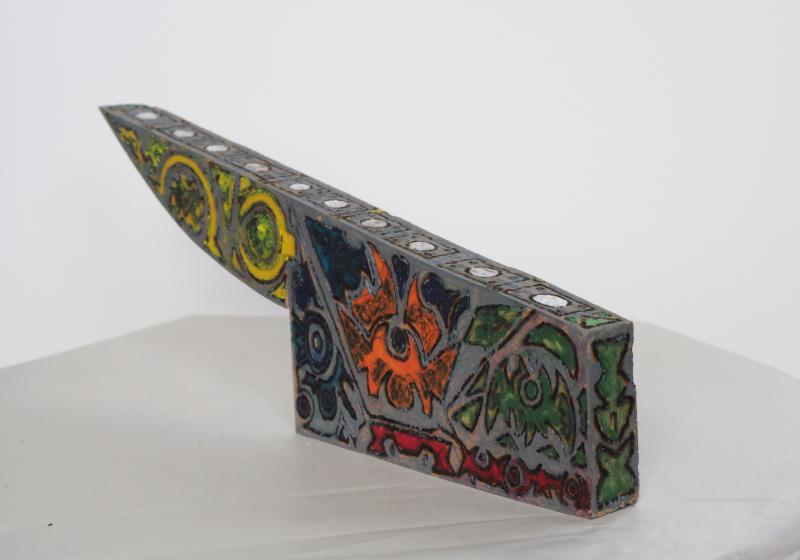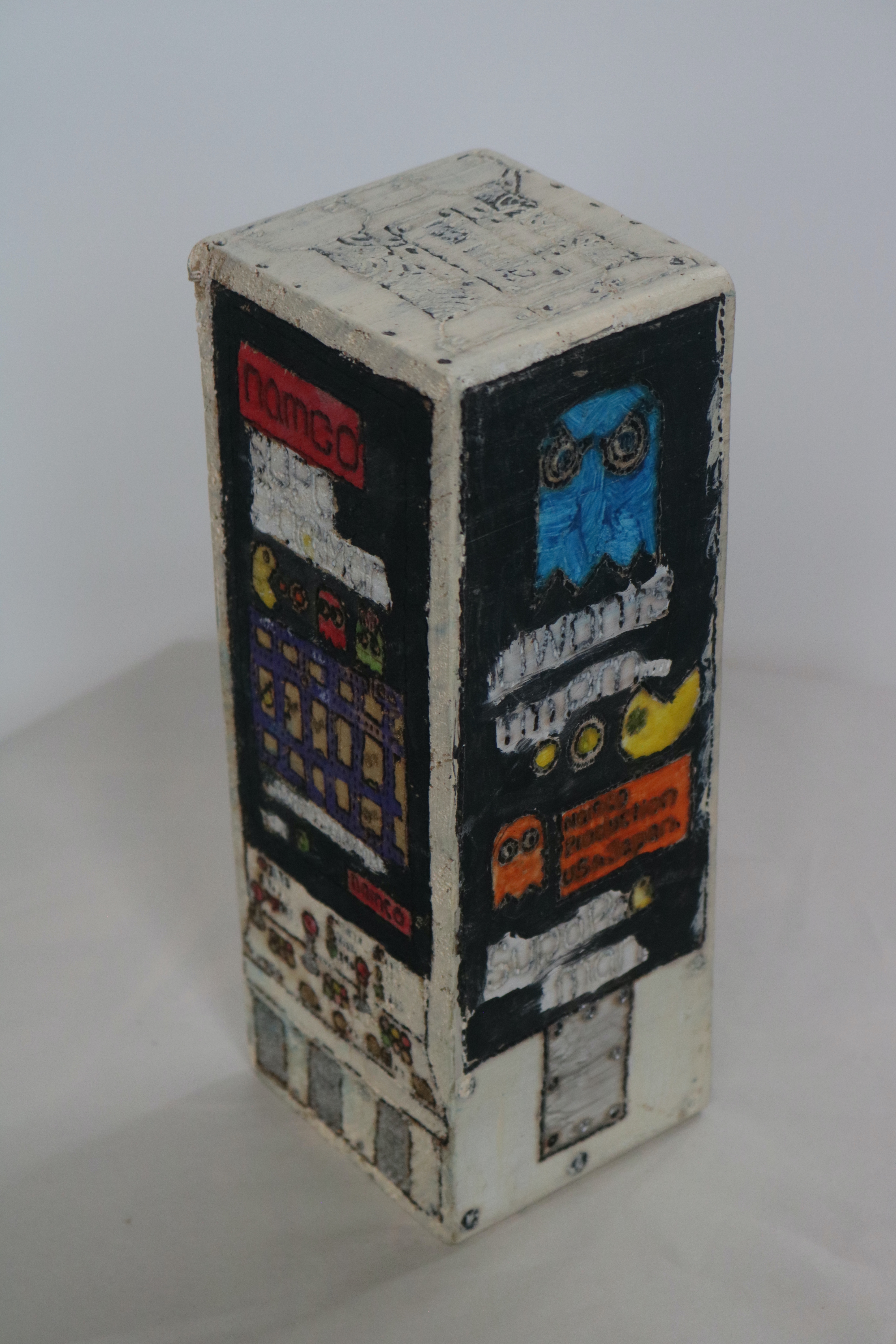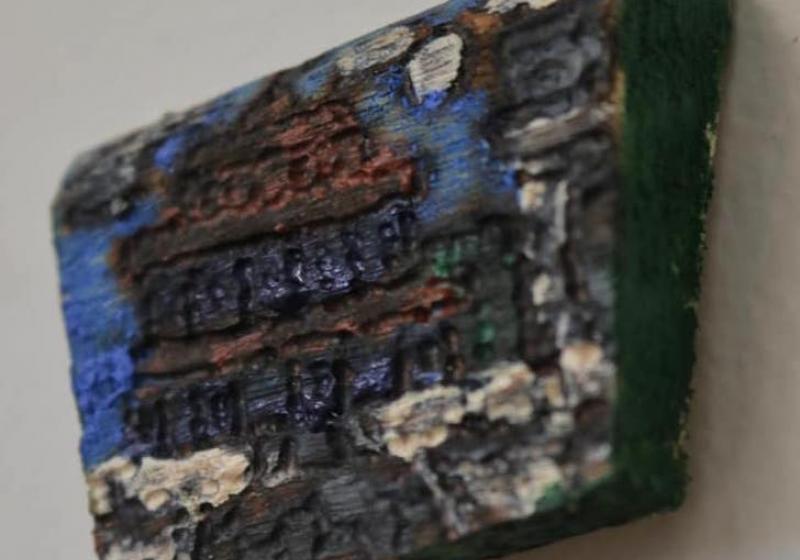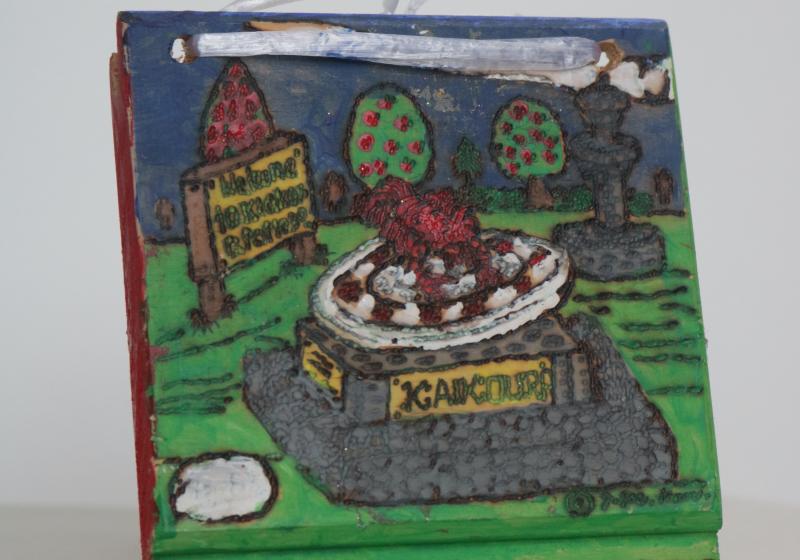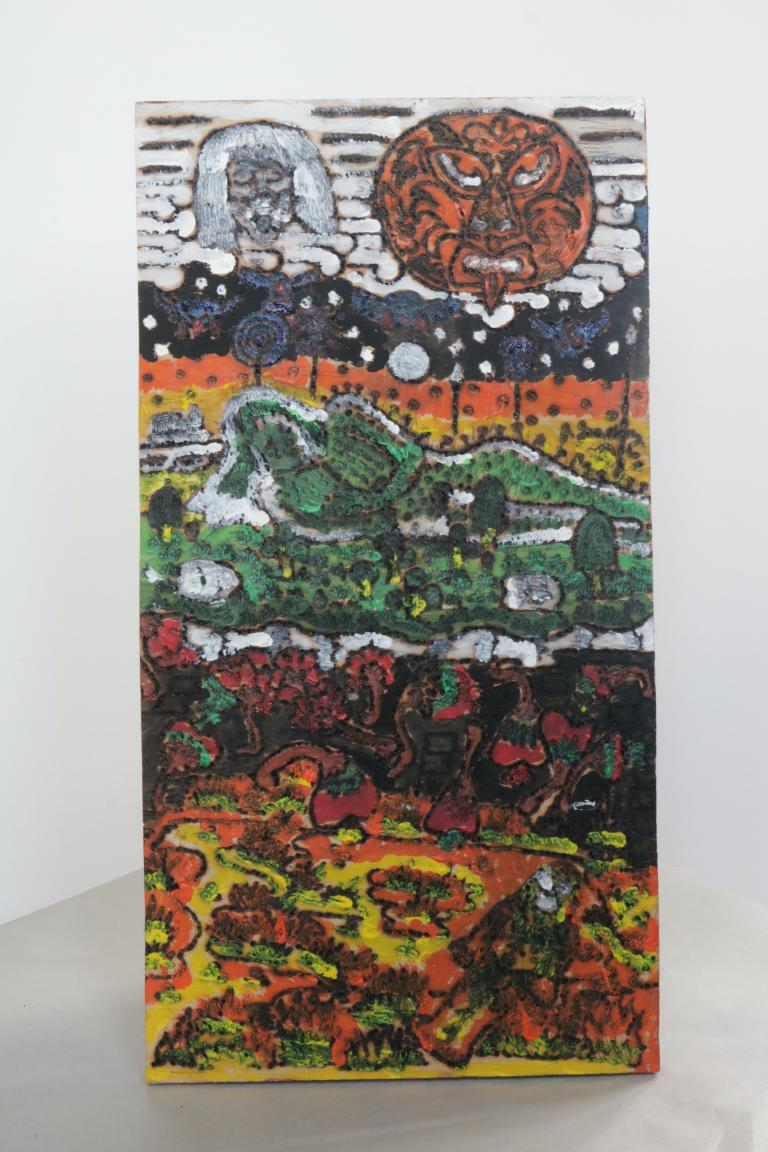 Bio reference
Artist Photo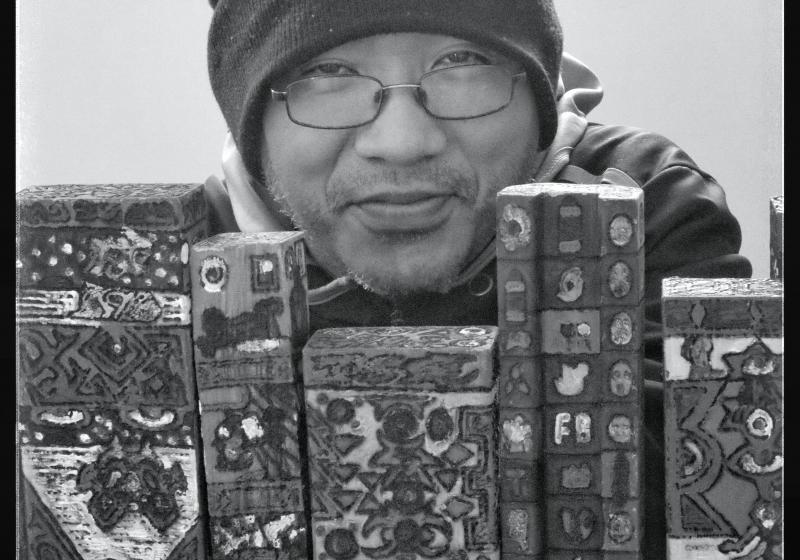 Artist Bio Text
Jonny Kan is an artist living and working in Papaioea.  He has been an award winner at the IHC art awards and has work in private collections around New Zealand.
Find him on instagram @serbiangreywolf, or on facebook.
More Articles