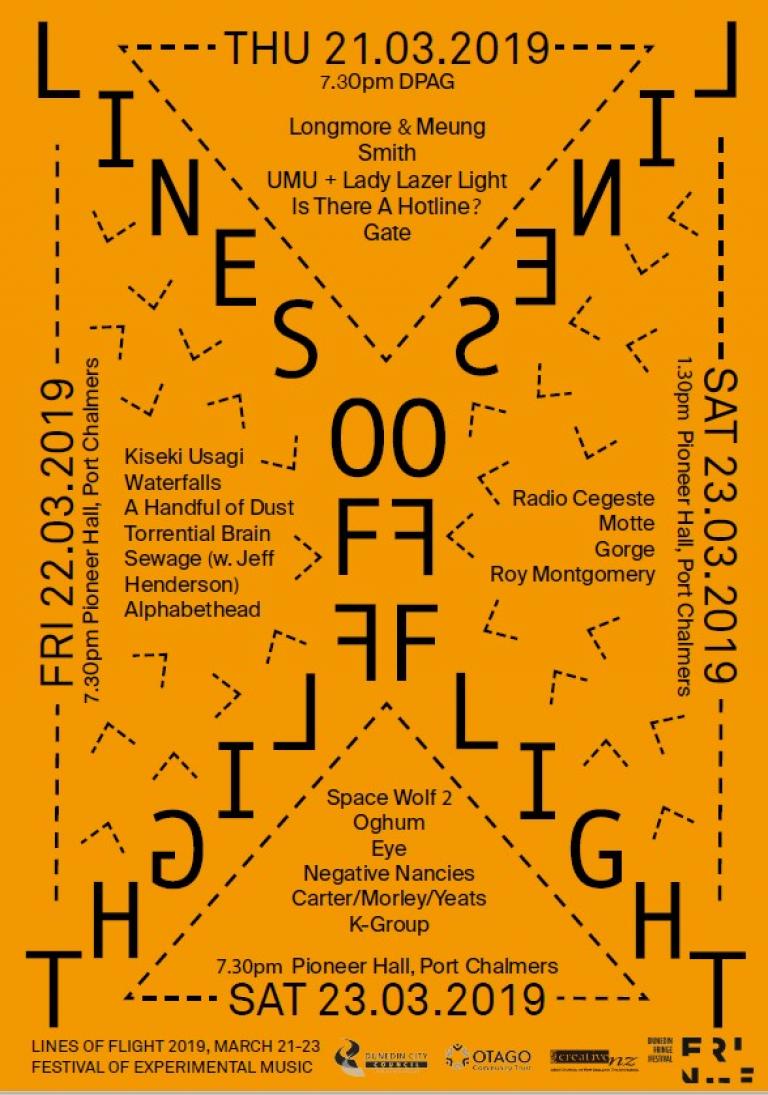 In 2018 Peter Stapleton announced to Jon and I that he had been diagnosed with cancer. This was devastating news to us all, and his prognosis wasn't good. The next few months was a series of hospital appointments, treatments and all that goes with a cancer journey. Despite this, Peter made the conscious decision to continue life as much as usual, and this included the next Lines of Flight.
For the 2019 festival, we had to think a bit more about venues. Chicks Hotel had closed down, the Anteroom was temporarily out of action, and the Athenaeum was now run by a theatre group who would be using it for the fringe festival themselves. We decided to stick with the Dunedin Public Art Gallery for the Thursday night show. The mezzanine was not available (due to a booking mix up), so we were back in the large auditorium space we had used 15 years prior. There were some improvements however – they now had a brand new expensive 4k projector, we switched the audience seating 90 degrees for better acoustics, and there was a bar set up for the evening.
The other three shows we decided to hold out at the Pioneer Hall in Port Chalmers. A community hall, there had been several gigs held there over the past few years, and it was working well as a gig space. It had the feel of an old school hall, and the heritage aspect was appealing too. We booked it and set to work on programming.
This time we had two acts from Australia – Melbourne guitar/drum duo Torrential Brain, and dream improvisers Is there a Hotline? Drummer Jen Tait was the common link in both bands, and her charismatic positivity was a great addition to the festival. We were inundated with requests to play as usual, and could have filled the bill three times over. I was particularly looking forward to Roy Montgomery and K-Group, both doing rare shows.
We had some late withdrawals to the lineup this time – Kiran Dass was to have DJ'ed, Hermione Johnson was to have played with Nell Thomas as Bush and Cave, Lady Lazer Light was to have played with UMU, and Alphabethead was a very late cancellation, due to an arm injury. We rejigged the bill, and we were set.
Thursday March 21, 7.30pm – Dunedin Public Art Gallery
- Longmore & Meung
- Smith
- UMU
- Is There A Hotline?
- Gate
Friday March 22, 7.30pm – Pioneer Hall
- Kiseki Usagi
- Waterfalls
- A Handful of Dust
- Torrential Brain
- Sewage (with Jeff Henderson)
Saturday March 23, 1.30pm – Pioneer Hall
- Radio Cegeste
- Motte
- Gorge
- Roy Montgomery
Saturday March 23, 7.30pm – Pioneer Hall
- Space Wolf 2
- Oghum
- Eye
- Negative Nancies
- Carter/Morley/Yeats
- K-Group
Six days before the first show, there was a terrible tragedy. An armed white supremacist entered two mosques in Christchurch in broad daylight, and shot and killed 51 people. It was the worst massacre in the history of Aotearoa, and the country was shell shocked. We grappled with what to do – do we cancel the festival, or if not, how do we mark this tragedy? We decided to start the first show with some words about the attack, and then had 4 minutes 33 seconds of silence, referencing the John Cage piece and allowing everyone to communally send their thoughts to the victims. The large crowd was totally silent. Once the time was up, I rang a bell, and Longmore and Meung quietly started their laptop set. Their music was contemplative, and the perfect way to start the evening.
Smith did another wonderful set, with visuals to match – Emilie had been developing her solo project for the last few years, and every time I saw her I was amazed how good she was. The introduction of beats into her layers of sound was a new direction, and her vocals over the top were stunning as ever. UMU (Dan Beban) followed, using a range of electronics and a turntable to create looping percussive rhythms. Campbell Walker did some expanded cinema to compliment the sounds – a person walking, cut up and repeated ad infinitum.
Is There a Hotline? were the first of the Australian acts. Jen Tait and Jen Callaway are skilled improvisers, and Fraser Thompson described them well.
"We watched them somehow turn an array of musical toys into a surreal nightmare. It was exhilarating. We sat frozen as a pure expression of improvised trauma played out in front of us via flails, whistles, and other unidentified objects. There was no discernible rhythm, no melody, nor did there need to be."
The Thursday night ended with Gate, the solo project of Michael Morley (of Dead C fame). Over the decades Gate's sound has moved from densely distorted guitar, to ambient electronics, to acoustic improvised guitar and beyond. Tonight we got an extended improvisation on electric guitar, with lots of space between the reverbed notes and chords. It was music to sink down into, and the huge screen image of clouds added to the mood. A fitting way to end the night.
It had become apparent that there was a large overseas audience component this time – about 20 people had traveled from Australia and Japan for the festival, some of them ex-pats and old friends. It was great to see some old faces and meet new ones.
Friday was out to Port Chalmers and setting up the Pioneer Hall for the evening show. Dunedin's Kiseki Usagi dressed in rabbit ears, gave out carrots, and improvised with violin, acoustic guitar and Korg synth, setting the mood for the evening. Waterfalls (Amber Johnson) and her synth driven experimental pop songs were matched with visuals by Satori (Beth Hilton) – one of several acts she would cast her spell over with her multiple slide projector setup.
Free-noise godfathers A Handful of Dust were a contrast, to say the least. Bruce Russell and Alastair Galbraith created a bed of continuously mutating violin skree and guitar skronk, and Peter Stapleton's drums were the spine which held it together. Loud and overwhelming, I was worried how well Peter would be able to drum. He was in two minds whether to play with them or not due to his energy levels, but his performance was great.
Torrential Brain were a Melbourne two-piece – drummer Jen Tait and ex- Dunedinite Ede Eves. Ede used a guitar to create feedback and play against Jen's powerful drumming. They were wonderful and exhilarating, music close to my heart! Their energy nicely segued into the Sewage set. Ro and Gabriel were joined by Jeff Henderson for a wild free jazz session – dueling saxophones, violin sawing and intense drumming. By the time they had come to a close, we were ecstatic. A large crowd milled around on the street afterwards, happily socializing and processing the show. This is one of my favourite parts of LOF, the times between, before and after the music, where community is created.
We were back at the Pioneer Hall for both Saturday shows. We had organised free bus transport to and from town for the Port shows, and the buses were well patronized. The afternoon show commenced with a good set by Radio Cegeste, her radios and field recordings, ably accompanied by Campbell Walker projecting birds flying across the ceiling above us. Campbell was also responsible for overseeing the video/film work for the festival, and he did a stellar job as usual.
Motte is the violin project of Anita Clark. Danny Brady joined her for this set, and as well as her beautiful violin loops and voice, she also played some guitar. Danny added electronic touches and Satori contributed glorious images.
Gorge (Bek Coogan, Sarah Bingle and Kirsty Porter) are rock improvisers from Palmerston North with wonderful attitude and extensive histories in the Aotearoa music scene. Sarah and Kirsty run Snails, the Palmerston North underground venue, and Bek is a veritable force of nature and has played in countless bands over the years. They did a great set, and fitted right into the festival community.
I had been looking forward to seeing Roy Montgomery ever since he said he would play. Reclusive in nature, he hardly ever plays live, but his musical recordings are much loved, whether it be his solo work or with his earlier bands Dadamah and the Pin Group. He sat on a chair surrounded by a seated audience and played achingly beautiful reverb-drenched guitar instrumentals. His music goes to the core of my soul, and I found it very emotional (that Saturday afternoon LOF thing again).
After soundchecking and a good meal next door at the recently opened Filipino/Japanese restaurant, it was time for the evening show. Clayton Noone (Futurians) and Dene Barnes (LSD Fundraiser) were Space Wolf 2, and they lay down a twin guitar feedback drone to start things off. Oghum (Nell Thomas from Orchestra of Spheres and Jonny Marks from All Seeing Hand) were next, playing theremin and synth to build shifting soundscapes.
Nathan Thompson had returned from Sydney to play with Eye when he heard Peter had cancer, so we were a four-piece. In the last couple of years, Peter had started to do some talking/singing of his lyrics (he was the lyric writer for the Terminals, as well as the drummer) and this was part of the Eye show that night. Two guitars, modular synth, drums, Tibetan bell, percussion, radio, modulations between quiet and loud, listening to each other, trying for beauty in the quiet passages, and destruction in the loudest crescendos. Kim Pieters had given us an old film to project that she had shot in Christchurch in the '90s, which showed all the heritage buildings which came down in the earthquake, and featured some shots of Peter as a much younger man. At times I could tell Peter's drumming was not quite what it once was, conserving his energy. When we finished, I walked off to the side where Kim and Sally were standing. We were all emotional, holding back the tears, thinking about Peter. By that stage, I was aware every Eye gig I played could be the last one.
There was an intermission and then it was time for the Negative Nancies. A Dunedin crowd favourite by now, they did a great set. The energy of the band was electric and wild, and the songs got everyone dancing. A mixture of pop, no- wave, post-punk, and fun - always unmissable. It was a natural progression to incendiary trio Carter/Morley/Yeats. Individually responsible for some of Aotearoa's best bands over the years, together they are a juggernaut and the venue suited them well, audience pressed in around them like a living wall.
K-Group was the perfect coda to the weekend. Paul Toohey had played guitar in Surface of the Earth in the '90s, my favourite drone band of all time. He disappeared from the music scene for a long time and had only recently reemerged. Sally Ann MacIntyre described his set:
"It was beyond incredible to see Paul play last night for the first time live (for this listener) in solo K-Group guise. I know I'll be thinking about those seven or eight movements, each held in the room like a layer of geological time made audible, a precise cross-section of densely mineral air, a luminously beautiful quarried slab of glassy, shimmering obsidian drone, for a long time to come."
There was a small after-party at the Buffalo Lodge nearby, where some of the performers were staying. We reminisced about the past few days, talked about future plans, and just enjoyed being together.
More Articles