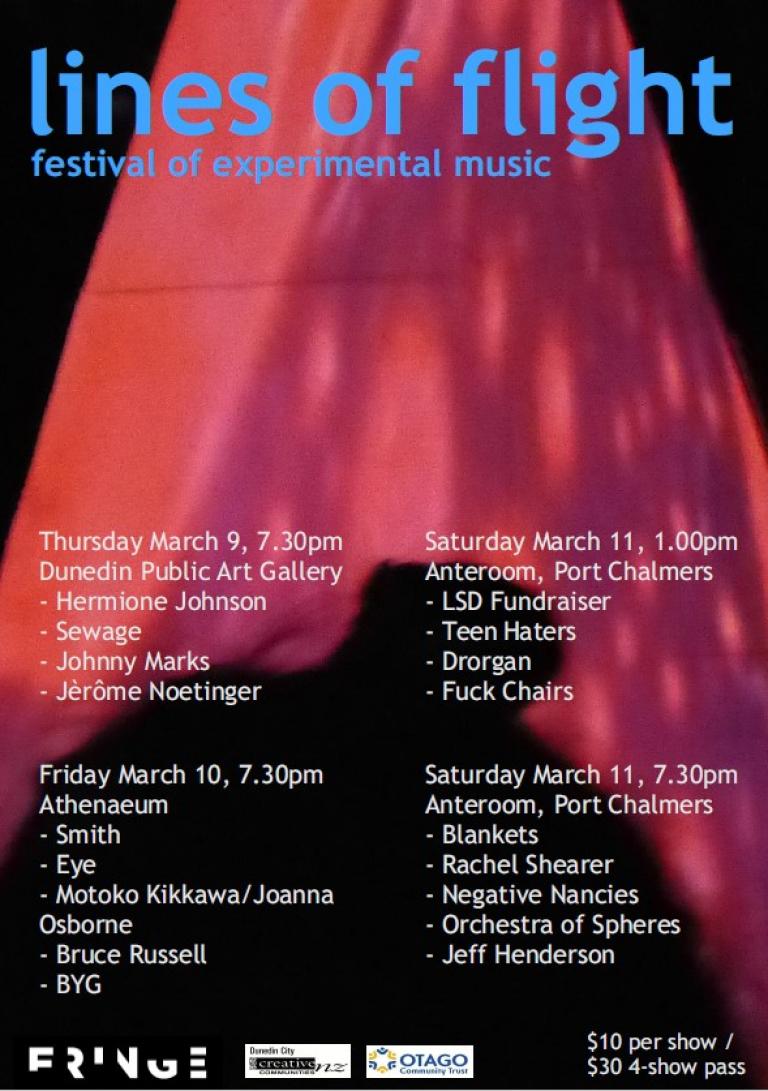 March 2017 saw the 10th edition of Lines of Flight. As with the recent festivals, there were four shows over three days and a diverse selection of sonic practitioners from Aotearoa and beyond.
During programming the lineup, we were approached by two international artists who were going to be in Aotearoa at the time and asked if they could play at LOF. French improviser and electroacoustic composer Jèrôme Noetinger was the first – this was very exciting, as Peter and I had both been fans of his work for years (both his musical output and that of his record label Metamkine). The second was Canadian Sasha Ford, who performed her electronic music under the name Blankets.
Locally, highlights included visually spectacular Wellington 'future primitive' funksters Orchestra of Spheres, Dunedin seismic rock quartet BYG (Alastair Galbraith/Robbie Yeats/Mick Elborado/Reg Norris) and Christchurch's Teen Haters, with their achingly beautiful guitar/cello drones.
Hermione Johnson returned for two slots: solo with her wonderful prepared piano, and playing organ in the mad carnivalesque duo Drorgan with percussionist Ben Holmes.
The Friday night show was held in the recently re-opened Athenaeum theatre, the venue for the very first festival in the year 2000. This was a nice full circle moment, and a chance to reflect on how the festival had grown.
Thursday March 9, 7.30pm – Dunedin Public Art Gallery
- Hermione Johnson
- Sewage
- Jonny Marks
- Jèrôme Noetinger
Friday March 10, 7.30pm – Athenaeum
- Smith
- Eye
- Motoko Kikkawa/Joanna Osborne
- Bruce Russell
- BYG (Alastair Galbraith/Robbie Yeats/Mick Elborado/Reg Norris)
Saturday March 11, 1pm – the Anteroom
- LSD Fundraiser
- Teen Haters
- Drorgan
- Fuck Chairs
Saturday March 11, 7.30pm – the Anteroom
- Blankets
- Rachel Shearer
- Negative Nancies
- Orchestra of Spheres
- Jeff Henderson
The first night was on the mezzanine of the Dunedin Public Art Gallery. Hermione Johnson started the festival with an amazing improvisation on the gallery's grand piano. She always "prepares" the piano prior to playing, by opening up the lid and messing with the strings – putting masking tape over some sections, inserting screws and nails in other spaces, and adding blutack and chopsticks to further alter the sound output. The performance was dynamic and wonderfully exciting, ranging from delicate microtonal gestures, right through to aggressive sheets of sound and occasionally bashing the piano keys with her forearms(!)
Sewage were next – a Dunedin free jazz two-piece. Conjuring up the spirit of Albert Ayler (for me anyway!), Gabriel Griffin's polyrythmic drumming set the background for Ro Rushton-Greene to first play saxophone, then violin, then finally scream into the microphone. Jonny Marks followed with a trance-like electronic set, accompanying his accomplished throat singing.
Jerome Noetinger closed the first night with a masterful performance. Playing a Revox reel-to-reel recorder, he built his sound collages from a single sound into complex loops. He manually varied the speed of the loops, and switched between left and right channels. The performance was dynamic, with often abrupt cuts between fast and slow, loud and quiet. He has been playing for thirty years, and it showed - it was a very special performance.
The Friday night show at the Athenaeum was more the "dirty rock" side of experimentation. Built in 1870, the dilapidated feel of the venue was perfect for the event, and we had many audience members coming up to us raving about the building – it was still a fairly unknown part of the Dunedin landscape.
Smith started proceedings, with her stunning voice processed and layered inventively through various effects, over a beautiful abstract film. Eye played next – I had decided to try out a new guitar tuning, and for the first half of the set felt nothing was gelling. I actually decided to surreptitiously retune halfway through, and after that things were somewhat better. Jonny (Chapman) also felt playing was hard work, and once we had finished playing, we sat on the door for the next hour or so talking through all the things we didn't like about it. This was interspersed by a succession of people coming up to us saying how great it had been! It reminded me that listening to improvised music is very subjective, and that the audience experience of listening to a set can be quite different to playing it on stage.
Motoko Kikkawa and Joanna Osborne have been improvising together for years, predominantly in Dunedin outfit The Ladder is Part of the Pit. Their duo of cello and violin for the evening was virtuosic and effortlessly stunning. They were certainly a counterpoint for the next act. Bruce Russell played loud noise guitar through two amps – self-described as "a wild half hour of guitar that sounded like someone fucking a fire alarm." Toward the end of his set, Robbie Yeats wandered on stage and started looking around the drum kit for something. I thought he had decided that Bruce had played for long enough, but it transpired that he was trying to find drumsticks so that an impromptu Handful of Dust mini-set could happen. Alas, it was not to be.
The final act was BYG, Alastair Galbraith's current band featuring himself, Robbie Yeats, Mick Elborado and Reg Norris. When choosing a name, he insisted it was not to be called Plagal Grind, but they played Plagal Grind songs, and it was exhilarating. For those who don't know, Plagal Grind were a veritable Dunedin super-group in the late '80s (including Alastair, Peter Jefferies and Dave Mitchell), who released one amazing EP on Xpressway, and became mythic/legendary in the process. The Athenaeum set was wild and life affirming, and the audience roared their approval – a wonderful end to the evening.
The Saturday afternoon Anteroom set in Port Chalmers had become one of my favourite parts of Lines of Flight. We were well into the festival, there were memories already to be recounted, and people had been hanging out together for two or three days so it felt like a big family reunion by this stage. The Anteroom has a lovely garden off the side of the building where you can sit on the grass and chat, or use the swing which hangs from a tall tree. The afternoon shows always have a more relaxed feel to them, even if some of the music is not.
LSD Fundraiser (Dene Barnes) had been playing a lot in Dunedin over the last few years, and it was great to finally have him on the bill. He did a long guitar drone set, accompanied by grainy videos of cars. The Teen Haters followed – one of my favourite Aotearoa bands. Peter Wright's contemplative guitar loops and sounds are the perfect accompaniment to Helen Greenfield's processed cello, and they did another beautiful set. I could listen to them all day.
Drorgan were another highlight – Ben Holmes is an Auckland multi- instrumentalist, channelling the spirit of Screaming Jay Hawkins. He plays DIY synth, drums, saxophone and sings at the same time, and is accompanied by Hermione Johnson (who plays a mean frenetic organ). The sound is akin to some sort of demented carnival music, and is very danceable!
Port Chalmers locals the Fuck Chairs (Michael Morley and Morgan Oliver) finished up the show with their minimal electronic ambience. They play under sheets so it is difficult to see what they are playing, but I understand it is sometimes playstations or other hacked electronics. Whatever, the set was the perfect closer to the afternoon – the calm before the high energy of the evening to come.
The Saturday night show at the Anteroom was a fantastic finale. Blankets started the evening with a captivating set, complete with field voice recordings and subtle electronic moods. Rachel Shearer continued the theme, with her thoughtful laptop soundscapes accompanied by a beautiful film. The Negative Nancies were next and raised the energy levels considerably. Variously described as art-punk chaos, life on a knife edge, and no-wave bubble-gum pop, Tess Mackay, Emilie Smith and Mick Elborado play songs that rock, slip and slide all over the place. Their anarchic energy and excitement were contagious, and the audience lapped it up. The noise must have been loud and abrasive outside too, as one of the neighbours called noise control and a Dunedin City Council car turned up just after they had finished, to listen and decide whether to shut down the show.
This was very fortuitous timing, as there was a longish gap between bands. The next band Orchestra of Spheres then walked down the footpath and into the venue in full ritual dress, ringing small hand bells as they went. They got to the stage and then continued the quiet mantra-like introduction for some time. The noise control officers had enough by now and left for the 20 minute drive back into town. As if controlled by psychic powers, the music then ramped up and before too long the entire crowd was dancing ecstatically to the wonderful krautrock/African beat/Sun Ra grooves.
There was really no way to follow them. Jeff Henderson knew this was going to be the case, so had brought along a huge bag of woodwind instruments and distributed these to the crowd. He started off with a wild solo in the middle of the floor; we then all played along, and the communal music-making was a fitting close to another great festival.
At this stage I should mention the stellar contribution of Forbes Williams to Lines of Flight. He has done the sound engineering for all the festivals – a mammoth undertaking, especially when the four (or even five) shows are often at multiple venues with no PA. This means we have had to set up the sound systems from scratch, before even starting to sound check the bands. In recent years the number of acts in a show has sometimes increased from four to five or even six, making it even more challenging to keep to a time schedule. Forbes has been accommodating to last minute changes, professional and so supportive to Peter and I. We couldn't have done it without him, and it has been a pleasure to work with him and build up such a strong friendship over the years.
Later in 2017, Peter Stapleton and I were asked to present a pechakucha-style overview of Lines of Flight (20 slides, 20 seconds each) as part of a Dunedin City Council Arts Seminar – Ara Toi Community Hui 2017.
More Articles