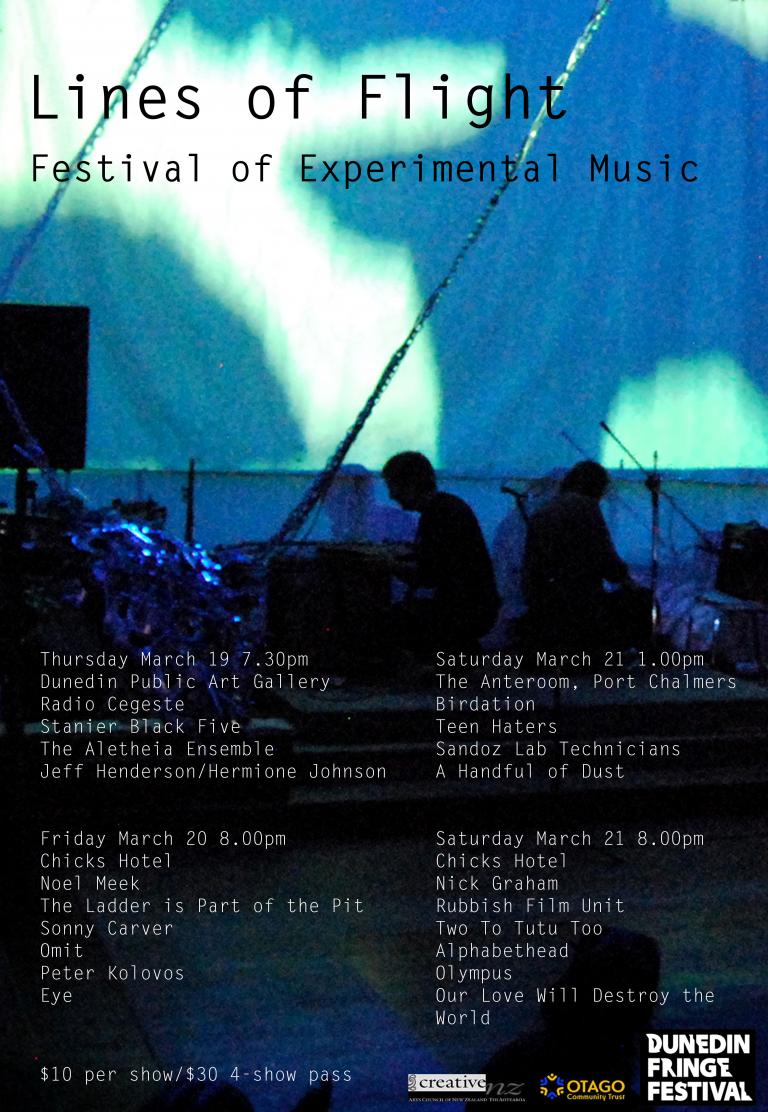 The 2015 lineup had some of our old favourites alongside new acts, with a broad cross-section of sounds from Dunedin and around the country. As usual, there were some returnees playing in new arrangements, and some unique events – Stanier Black-Five's wine tasting act was one thing I was particularly looking forward to.
This time we had two US acts approach us to ask if they could play. Peter Kolovos was a Los Angeles-based improvising guitarist (formerly a member of the Open City), who had evolved an incredibly physical and dynamic musical language for the electric guitar.
Two To Tutu Too were a Baltimore duo comprising self-described 'sound mechanic' Neil Feather and NZ ex-pat composer/pianist Rosie Langebeer. We managed to squeeze both onto the lineup.
Thursday 19 March, 7.30pm, Dunedin Public Art Gallery
- Radio Cegeste
- Stanier Black-Five
- The Aletheia Ensemble
- Jeff Henderson/Hermione Johnson
Friday 20 March, 8pm, Chicks Hotel
- Noel Meek
- The Ladder is Part of the Pit
- Sonny Carver
- Eye
- Peter Kolovos
- Omit
Saturday 21 March, 1pm, The Anteroom
- Birdation
- Teen Haters
- Sandoz Lab Technicians
- A Handful of Dust
Saturday 21 March, 8pm, Chicks Hotel
- Nick Graham
- Rubbish Film Unit
- Two To Tutu Too
- Alphabethead
- Olympus
- Our Love Will Destroy the World
As mentioned before, film/video is an important part of Lines of Flight. In the first few festivals, Kim Pieters was responsible for organizing and manning the projecting of the supplied videos. This was sometimes technically difficult, depending on what formats were given to us by musicians – the Apple vs Windows incompatibility often reared its head at inopportune moments, and we were lucky to have a good community of tech-savvy friends we could call in last- minute favours. Nigel Bunn also gave invaluable technical assistance. In more recent times, the projection was looked after by Campbell Walker, a friend and talented experimental film maker. His expertise and calmness were much appreciated.
The venues were the same ones we had used in 2013 – we really liked the combination and contrasts in atmosphere between the DPAG, Chicks and the Anteroom. Flights were booked, PA's hired, films scheduled, sound equipment borrowed (the Dunedin musical community has always been very generous in lending out gear), advertising done, and we were ready to go.
Radio Cegeste opened the festival at the Dunedin Public Art Gallery. Sally Ann McIntyre performs with radios, laptop, and an old gramophone which plays ancient records. The soundscapes are delicate, filmic, and meditative, and often incorporate radio static, birdsong and other found sounds. For this performance, Campbell Walker projected film onto a small screen behind Sally, adding to her world we had entered.
Stanier Black-Five was next: her piece 'Oenosthesia' was a multi-sensory performance exploring the synergies between sound and taste, and was originally created during her artist's residency in Southern Italy. Jo Burzynska is a wine writer in her other life, and this piece brought her two passions together. She started with a lecture about how taste can influence how we perceive sound, and explained that we would be given three small glasses of wine at different intervals during the sound piece she had created. We would drink them when advised – she had matched the wine to the types of sounds she would be playing. It was a wonderfully communal performance, and quite thought provoking.
The Aletheia Ensemble were a quartet from Christchurch. They had set up four speakers in the corners of the space, all pointing in at the seated audience. Each musician then was stationed by one speaker and made sounds (largely electronics based), and these sounds were fed back to Malcolm Riddoch, who mixed them down and then sent the quadraphonic output to us. Visually interesting and sonically rich, the mezzanine space was the perfect setting.
Jeff Henderson and Hermione Johnson were back by popular demand, following their performance in 2013 (which had won the prize for best performance in the overall Fringe festival). Another stunning set was offered up, punctuated by Jeff deciding to walk off to the back of the room, get into the lift, go down to the ground floor, come back up, and eventually rejoin us, all whilst playing his saxophone!
Port Chalmers is fifteen minutes' drive out of Dunedin along the west side of the harbour and is known for its musical and artistic community. Lines of Flight has had many shows out there over the years – on Friday night we were at Chicks Hotel. We had ended up with six acts on the bill, much to Forbes' concern, but we hoped things would run smoothly. The advantage of Chicks as a venue was that it could run as late as we wanted, though we hoped to finish by 1am.
Noel Meek kicked things off with a nice laptop noise set, and we were underway. The LOF audiences had been getting bigger over the years, and Chicks had become Dunedin's favourite venue by now, so it was good seeing people coming along who wouldn't ordinarily venture out to see experimental music. The Ladder is Part of the Pit played a lovely set of violin and cello over subtle beds of sound – distorted loops, musique concrete and quiet tones.
Sonny Carver was Lucy Hunter and Reg Norris – two-thirds of local post-punk band Opposite Sex. Lucy played the Chicks piano and sang her gothic murder ballads while Reg played guitar underneath and added colour. The audience was transfixed. Eye played next, with Nathan Thompson on second guitar (back from Sydney for the show), and from memory we were very loud that night. We were always completely improvised, and if we ever suggested an approach to take before we started, we would invariably end up doing the opposite. Maybe that night we said we should try and be quiet. Peter Stapleton's drumming was so intense when he was in full flight, and it was always a very special feeling to be standing next to him playing guitar.
Peter Kolovos did a great guitar set after us – nervous, convulsive attacks of sound, distorted wails and shrieks punctuating the silence, quite unlike anything I had seen before. Omit was a calm coda to end the night, as his electronic oscillations and rhythms took us off into other galaxies, far far away.
Saturday was sunny, and we had a good crowd out at the Anteroom for the afternoon show. Some people spent much of the show happily lying in the garden outside, drinking and listening to the sounds wafting out the door. Birdation (local multi-instrumentalist Hope Robertson) started with her layered guitaring, reminding me a bit of My Bloody Valentine. When she started to sing after ten minutes or so, it was a magical moment for me.
Teen Haters (an anagram of The Eastern, an alt-country Lyttelton band) was Peter Wright and Heather Greenfield from Lyttelton. They had both performed solo at previous LOFs, and this time Helen was playing cello processed through delay pedals, to accompany Peter's guitar and laptop drones. Their set was the highlight of the festival for me. The combination of achingly beautiful music, in a special place, surrounded by friends, in a festival I had helped make happen, on top of days of lack of sleep, brought tears of happiness to my eyes.
Sandoz Lab Technicians hadn't played live for many years, due to James Kirk living in Wellington and Nathan Thompson living in Sydney, so there were several people very excited to see them back in town to join Tim Cornelius and play for us. A friend once described their music as "quality noodling", which is one of the more hilarious descriptions I have heard. They cast a spell over the audience, and James' beautiful film was perfectly matched to the sounds.
A Handful of Dust were very uncompromising, very loud, and very wonderful. Not for the faint hearted, by the end I felt like I had been wrung through an old mangle washing machine – in the best sort of way.
Once the show ended, it was straight back to Chicks to start sound-checking the evening cohort. There were another six acts programmed for the Saturday night, due to the late inclusion of the two American acts. Forbes was doing an amazing job, though Peter and I felt a little guilty about overloading him.
Two young Dunedin acts started the night. Nick Graham started with an excellent electronic noise set, and then Rubbish Film Unit set up. Chris Schmeltz is the cinematographer, feeding found footage (Super 8 and other formats) through reel-to-reel projectors. Kerian Varaine mikes up the sound of the projectors in real time and then processes that sound, so there is a wonderful synchronous melding between the visuals and the industrial sounds.
Two To Tutu Too was Neil Feather from Baltimore, USA, accompanied by NZer Rosie Langebeer. Their set was wildly inventive and comedic at times, with unusual instrumentation and even a dildo used as a percussive device. Once the set was finished, Neil was surrounded by audience members, excitedly asking questions about what he was actually playing.
Alphabethead performs as part of the All Seeing Hand normally, but here he did a solo set. A turntablist virtuoso with a mischievous sense of humour and a love of experimentation, we lurched from genre to genre, dancing when we could, but overall in awe of his skill. Lady Lazer Light (Erika from Sign of the Hag) had constructed three tall triangles which stood behind Alphabethead, and she impressively video-mapped images on to these to compliment the music. Olympus was next, an Auckland group formed by Stefan Neville (of Pumice fame) and Pat Kraus. Their catchy songs were clothed in fuzzed out electronics, kraut groove guitar lines and wild drumming, and were a crowd favourite.
It was left to Our Love Will Destroy the World to bludgeon us into the ground with his maximalist noise experience. Once you submit to the inferno, there is a meditative quality to the extremes of feedback and volume. I am a huge, huge fan of anything Campbell does, so probably not the one to ask for an objective critique. Suffice to say, I loved it, the crowd loved it, and once the noise had subsided, we were able to sit back, have a drink and celebrate another successful Lines of Flight.
Jonathan Marshall, an Australian living in Dunedin at the time contributed two reviews of the festival to separate Australian arts websites (see below). Writing about Hermione Johnson and Jeff Henderson, he wrote...
"They also serve as a reminder of the open-ended, catholic approach in which contemporary noise and post-serialist music thrives. There are few better signs of an exciting scene than the cohabitation of free jazz improvisation with both DIY drone and contemporary digital processing. Long may LOF fly."
Experimental sounds from across the Tasman - review for Resonate Magazine
RealTime Arts - Magazine - issue 126 - Trans-Tasman drone
More Articles