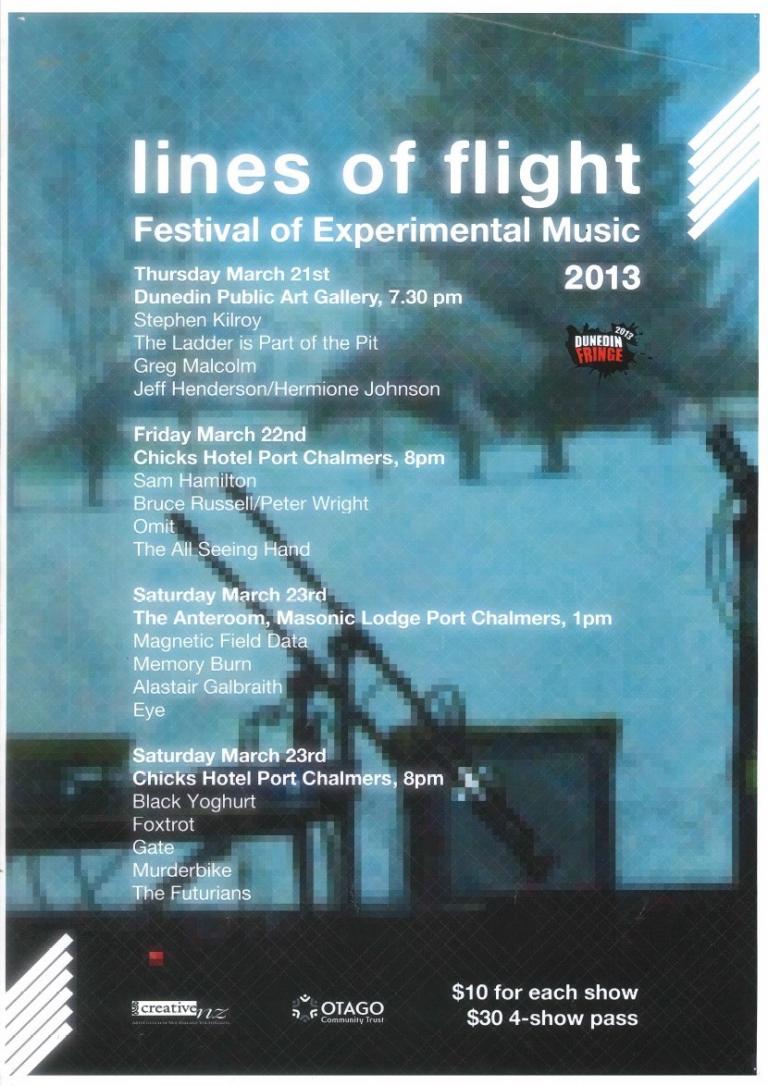 Planning for the 2013 festival started in mid-2012. We would typically start the process eight months or so before the actual dates – the first thing was to choose a few acts which we could then build the programming around. This involved checking with them to see if they could play, then getting support letters from other music organisers/curators. Performance dates were chosen, and venues decided on and confirmed with venue owners. This then became the basis of our funding requests. The Dunedin Fringe festival were usually the prime source of funding, but this was sometimes augmented by the Otago Community Trust, DCC grants, and Creative NZ (though their application forms involved a lot more work!).
Once we had confirmed budgets, we could then work out how many "out-of- towners" we could afford to fly down to Dunedin. As usual by this stage, we were bombarded with requests to play, making decisions difficult – we realized at an early stage that we could not please everyone, so not to worry about it! The festivals were run on a shoe-string, comparatively speaking – successful funding application totals over the years have typically ranged between $3,000 and $7,000. Door sales augment this and are split up between performers, though ticket prices have always been kept low to try to make sure that cost is not a barrier for audiences. Peter and I never paid ourselves for our organising work, as it is so rewarding in every other way. Someone described Lines of Flight as anti-capitalist in approach, and there is some truth to that.
We decided to use the mezzanine level of the Dunedin Public Art Gallery for the Thursday night show, Chick's Hotel for the Friday and Saturday nights, and Port Chalmers Masonic Lodge (now called the Anteroom) for the Saturday afternoon show.
Thursday 21 March – Dunedin Public Art Gallery, 7pm – 11pm
- Stephen Kilroy
- The Ladder is Part of the Pit
- Greg Malcolm
- Jeff Henderson / Hermione Johnson
Friday 22 March – Chicks Hotel, 8pm – 12am
- Sam Hamilton
- Bruce Russell / Peter Wright
- Omit
- The All Seeing Hand
Saturday 23 March – The Anteroom, 1pm – 5pm
- Magnetic Field Data
- Memory Burn
- Alastair Galbraith
- Eye
Saturday 23 March – Chicks Hotel, 8pm – 1am
- Black Yoghurt
- Foxtrot
- Gate
- Murderbike
- Futurians
Over the years, there had always been occasional audience members from overseas, who had heard about it and wanted to attend. As the internet age blossomed and visibility increased, we started to see more of this. For 2013, we had two illustrious attendees from the USA – Tom Lax (Siltbreeze records head honcho), and Charles Neilsen (musical improviser, and editor of my favourite '90s music magazine Bananafish).
The first night was on the top mezzanine floor of the Dunedin Public Art Gallery, an architecturally dramatic space with a skylight above, drinks table to the side, and a rear balustrade which looked down into the main entry atrium floor, eight metres below(!). We had previously had LOF shows in the large auditorium room, which had been great for film screening but not so reverberant acoustically.
Dunedin musical stalwart Stephen Kilroy opened the festival with a beautiful guitar tape loop piece. Stephen had played in bands for decades in Dunedin, and was also a very good sound engineer, responsible for the Fish St studio where most of the Xpressway releases were recorded. The Ladder is Part of the Pit brought their distinctive violin/cello interplay over microtonal improvised sounds – delicate and captivating. This nicely segued into Greg Malcolm's guitar set. Greg played two guitars (one conventionally, one with his foot), and added to this soundscape with a selection of sound-making objects scattered around him. Hermione Johnson's prepared piano virtuosity duelled with saxophonist Jeff Henderson in the final set. Calm and wild by turns, they were amazing - a great start to the festival.
The Friday night at Chicks saw Sam Hamilton do an impressive set of what he called "weird 21st century (un)pop music" - quite a change from his laptop drone outing in 2006. Bruce Russell and Peter Wright brought their twin guitar feedback and drone improvisation to Dunedin this time, and then we all were hypnotized by the analogue synth beats of the Clinton Williams, aka Omit. Wellington's The All Seeing Hand closed with their turntable, drums and throat singing maelstrom, and we all set off into the night.
Saturday afternoon at the Anteroom was another memorable show. Charlotte Parallel and Ali Bramwell did an amazing piece called Magnetic Field Data. A cluster of speakers (20 or 30?) was suspended by a long chain, hung from the high ceiling apex. They then attached microphones, and started to swing the cluster back and forth, producing oscillating feedback. The swing arc got wider and wider, until it was traveling about ten meters in each direction – visually compelling, sonically wild, and with a real sense of danger, as it was quite heavy. I was standing next to Alastair Galbraith who was getting rather nervous as it was getting close to his precious glass harmonium! All was well however – the cluster began to slow, and eventually came to a halt.
Christchurch's Memory Burn were next – cracked electronics, amplified sticks and other natural materials combined for a captivating set. This led into Alastair Galbraith's latest example of his wondrous sense of inquiry. The glass harmonium is a musical instrument that uses a series of glass bowls or goblets rotated on a spindle, to produce musical tones by means of the friction of a finger. The first one was invented by Benjamin Franklin, and Alastair created this one using a glassblower from the University of Otago. He also demonstrated a series of aluminium rods and made beautiful high pitched drones by running his fingers along them.
Eye closed the afternoon show – Jon Chapman was now part of the band, playing modular synthesizer, complimenting the guitar and drums core. Another tweak to the sound, to keep things new for us and the audience. Tom Lax afterwards described the loud parts of the set to me as like sitting in the path of a B-52 bomber. Ha!
Black Yoghurt started the night off with an intense muscular synth set, and then Foxtrot brought a nice contrast with her complex vocalisations, delicate and layered. The next act was advertised as Gate, but actually turned out to be the Dead C – a personal request from Tom Lax to the band resulted in this guerilla act. They were great as usual; ramshackle, intense, veering between poles, their chemistry creating the sounds.
Murderbike (Rachel Blackburn and Iso12 from the Futurians) brought the audience on to the floor with their improvised techno, utilising a raft of synths and Korgs. Beth Ducklingmonster joined them for their finale, and this segued into another rocking sci-fi punk set by the Futurians. Two "dance" acts to end the night showed that LOF was changing subtly, reflecting the experimental sound community in Aotearoa.
''We use the word 'experimental' as a very loose generalised term,'' Peter Stapleton explained in a newspaper interview prior to the festival. ''It is basically an attitude to going a bit further. I think it is an aesthetic rather than a genre because it does cross a number of musical genres.''
More Articles