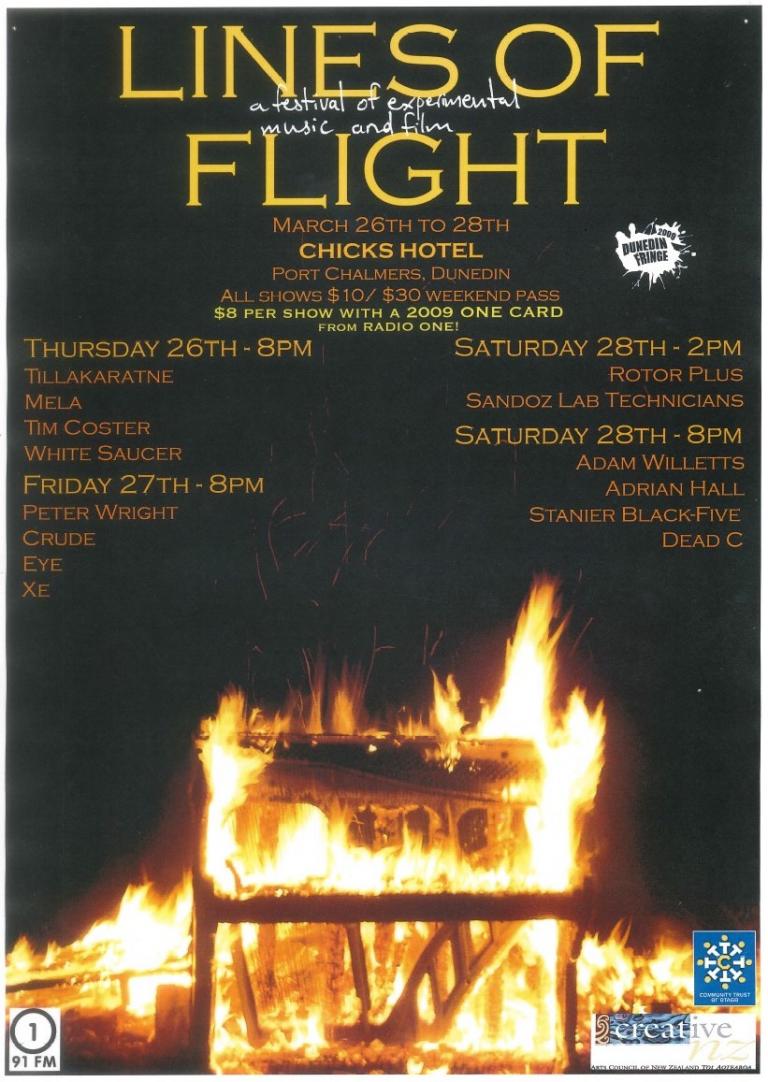 The Dunedin Fringe festival had been held every two years from the 2000 inception, in early spring - September/October. Each festival had got larger and more popular, and the Fringe organization committee decided to change the festival to an annual event, and change the time of year to March, This was to dovetail in with other fringe festivals (Melbourne, Wellington, etc) and potentially create a circuit where performers would move from fringe to fringe.
This meant the next Lines of Flight was held in March 2009. The Fringe had always been supportive of LOF, with funding and logistical help. Alex McKinnon (a young experimental musician and None resident) joined Peter and myself as co-organisers, and we set to work.
Thursday 26 March, 8pm, Chicks Hotel
- Tillakaratne
- Mela
- Tim Coster
- White Saucer
Friday 27 March, 8pm, Chicks Hotel
- Peter Wright
- Crude
- Xe
- Eye
Saturday 28 March, 2pm, Chicks Hotel
- Rotor Plus
- Sandoz Lab Technicians
Saturday 28 March, 8pm, Chicks Hotel
- Adam Willetts
- Pete Gorman
- Stanier Black-Five
- Dead C
The 2009 lineup was almost completely different to the previous festival. As usual, there were acts from up and down the country, and a mix of new and established. The Dead C were the most well-known act – formed in the mid '80s, they had started as a noise/rock band playing "songs" and had built up a strong international following over time, with regular releases through local (Flying Nun) and overseas (Siltbreeze) labels and overseas touring. In the late 90s they had gradually stopped playing song-based material and were now wholly improvised.
LOF was now becoming a Dunedin institution, and everyone wanted to play. This started to become awkward, especially as we had decided that 4 shows was the limit and so there was a finite number of spaces on the bill. Once any form of advertising started, we would get inundated with offers/requests from bands and performers, some who felt they should be on the bill. Unfortunately by then the lineups were fairly much decided and so many were disappointed. We had also made a conscious decision not to expand the festival any more by having multiple stages – I had been to many festivals overseas as an audience member, and it was always frustrating whenever two bands I wanted to see were playing at the same time. It is fair to say that saying no to bands was one of the hardest things about organizing LOF, especially if they were friends!
Emma Smith was an ex-Radio One breakfast host who had moved to Wellington and started work at Radio NZ. A great Dunedin music supporter, she interviewed Alex and myself prior to the 2009 festival, and we attempted to explain what it was about:
There was a change of venue for the festival – Hector Hazard had moved from the Masonic Lodge and had taken out a lease on Chicks Hotel, an historic Port Chalmers pub built in the 1860's. A character-full space, it was perfect – the interior was warm, inviting and felt like someone's living room, there were no noise control problems, and there was accommodation above for visiting musicians. We decided to have all four shows there – evening shows on the Thursday, Friday and Saturday, and a Saturday afternoon show.
Alex produced a great poster (the burning piano image), and we were set to go. Port Chalmers became the Lines of Flight hub for three days, as people came into town from around Aotearoa. Many performers and attendees stayed out at Port Chalmers for the duration – either on the first floor of Chicks Hotel, at other paid accommodation, or crashing on the couches of friends. This added to the community feeling, as people would bump into each other walking down the streets, share meals before gigs, and generally hang out.
It is worth mentioning that Lines of Flight has always had a very high percentage of musicians in the audience – sometimes it felt like almost everyone watching also played music. I suspect this is partly because experimental music is inclusive and anarchist in nature; it encourages anyone to participate, no matter what their "skill" level on an instrument. A good ear, curiosity, and a willingness to try things out are more important than technical virtuosity. The sense of community was a powerful attraction – a chance to connect with friends, make new acquaintances, and be inspired by live music which wasn't always that easy to see played in your hometown.
Mela (Helen Greenfield) from Christchurch played a beautiful set of cathedral drones on her analog synths, Half way through her set, the resident cat walked on stage and literally over the keyboard, depressing the keys and making a wonderful addition to the music! White Saucer closed out the first night – a two- piece from Auckland, Alan Holt (distorted guitar) and Stella Corkery (polyrthymic drums) created a gorgeous cacophony and we left on a high.
The Friday night show included Xe, another Auckland band comprising Rachel Shearer, Guy Treadgold, Sean O'Reilly and Dean Roberts. They all have a rich history in the Aotearoa underground music scene, and their improvised set was a series of beautifully delicate moments.
Rotor Plus performed on the Saturday afternoon. Audience members were led in and seated, and then blindfolded. The seats were arranged in a circle, with eight speakers surrounding us, all facing inwards. We were treated to a multiphonic half an hour of processed field recordings – I remember footsteps down a gravel path, and a sense of complete immersion. Sandoz Lab Technicians completed the afternoon set, with their esoteric Sun Ra/Sun City Girls inspired electro-acoustic improvisations.
The Saturday night included Stanier Black-Five (Jo Burzynska from Christchurch) with her laptop soundscapes, and Pete Gorman playing his homemade harsh noise "fustigulator" remotely from the basement. This was filmed and projected up into the main space, as well as the sound. The Dead C closed out the festival with a typically wonderful set; unpredictable and full of mesmerizing guitar noise and scattershot drums.
Many performers brought their own films to play to, and there were more of Kim Pieters' beautiful slow-motion abstract works. Typically the projections were aimed diagonally across walls and the ceiling. The venue was a great success, and we would return in future festivals.
Gilbert May and Sally MacIntyre were local representatives of Radia. Started in April 2005, the Radia network is an international informal network of community radio stations that have a common interest in producing and sharing art works for the radio. They interviewed several of the 2009 participants, and produced a radio-based podcast:
 
A year or so later, Bruce Russell was commissioned to write a chapter in a book called "Home, Land and Sea: Situating Music in Aotearoa New Zealand". His chapter was titled "Lines of Flight: 'the most perfectly autonomous sector of the field of cultural production'."
He attempted to outline the festival in "the way in which the community engages in its practice", drawing upon the theoretical work of Pierre Bourdieu, a French sociologist. Surveying performers from LOF, he built up a picture of generally untrained musicians, interested in sound-making, often making their own instruments, often with connections to the art world, and all possessing a freedom to experiment. Everyone played their music with no thought of financial reward – the reward was the music itself, and being part of the accepting community.
More Articles