Seven – Singer Similar Replaying – 79J and The Snow Goose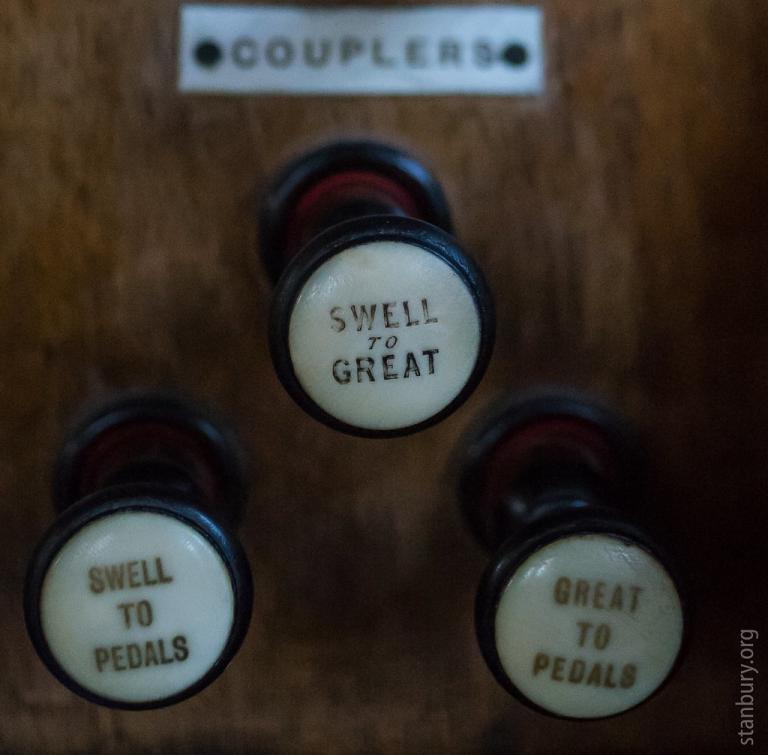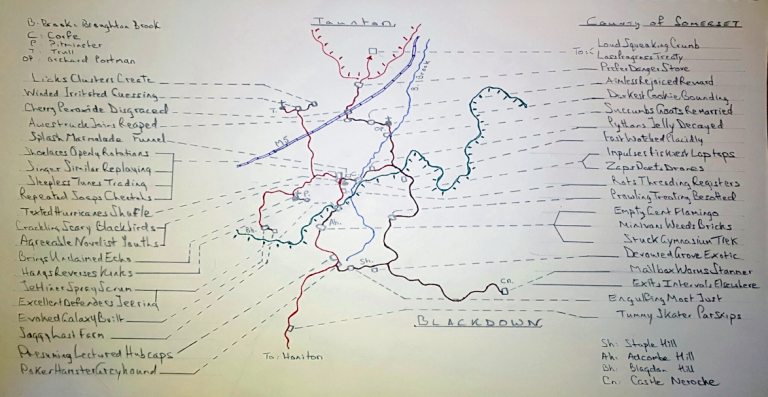 Map of the area to the south of Taunton, West Somerset, England. Corfe to Taunton is roughly 2 miles. The 3-word references (which are also found throughout this document in Bold) mark locations identified using the app What3Words. This app divides the planet into 3m square grids and assigns a different set of 3 words to each square. Somewhere on Earth there's probably a square called Never Get Lost. I wonder where it is? Oh hang on a minute let's check…. Looks like there isn't one. But there is a Never Deft Lost. It's in Southland, New Zealand just to the east of Rae's Junction, between Roxburgh and Lawrence (there's also a Never Debt Lost in the heel of Italy).
The British Government Ministry of Defence paid for my upbringing. That is to say that the MOD funded the Army, the Royal Navy and the Royal Air Force (why isn't it the 'Royal Army' then?) and these bodies in turn commissioned a company called A to make optical equipment for their weapons and Dad was apprenticed to this company when he left school at 15 and worked in the factory until he was in his 40s. During this time my parents saved enough money to buy a plot of land and have a house built on it. We moved then, in 1973, from a terrace on a housing estate in the town (Loud Squeaking Crumb) to a new brick house with a garden in the village (Splash Marmalade Funnels). I was 11 years old.
Mum and Dad were enjoying their new situation. They threw the family into a village life oriented around the church. Besides attending the services, we sang in the choir, and on one memorable occasion all five of us rang the church bells together with Frank Sharp on the Tenor. Later I became the organist.
But when we first moved to the village I couldn't even play the piano, let alone the pipe organ.
There it is now. My bedroom window (Shoelaces Openly Rotations). I can just see it over the fence the new owners have built to keep out the village life. Grandma's annex (Repeated Soaps Cheetahs) is completely rebuilt. Almost don't want to look but I do. Can't see the living room because of the fence but it was there, in the north corner of the room (Singer Similar Replaying), behind one of the armchairs and the standard lamp, that Mum and Dad kept their records and record player.
I don't know why they never played any of their records. But I did play them. There was one with a picture on the sleeve of a stylised tree that was good for pretend sword-fighting to (Tchaikovsky 4th). There were some smaller ones that had wild landscapes on them that were also pretty dramatic (2 Overtures of Beethoven). And there was another Beethoven one (piano sonatas 8 and 14) that had me completely entranced. Everyone knows the first movement of the Moonlight Sonata don't they? But does anyone else reading this remember where they were when they first heard it? Well I was at Singer Similar Replaying.
Mum and Dad noticed me playing their records. They got hold of an old piano. They talked to an old woman who lived up the hill by the golf course and taught music. And pretty soon I was thrashing out that old Moonlight on a daily basis.
If I move to the other side of the living room (Sleepless Tunes Trading) another musical aspect opens. Because that's where I was standing when Dad came home from work one evening with a cassette some mate of his from the factory had made for him in what was, I'm sure, a vain attempt to turn him on to what's going down, man. Dad handed 73Me his own portable tape deck, showed me how to fit the cassette into place and how all the buttons worked and then he went upstairs to get changed or whatever and I Pressed Play.
On the cassette: three shortish songs - What Is and What Should Never Be (Led Zep), Alright Now (Free) and another one I think it was Layla (Derek and The Dominos). While these catchy little numbers had me hopping and g'lopping on the spot with excitement, it was the rest of the tape that really focused my attention: another rock band but with flutes, bassoons and all kinds of electronic sounds, no singing, a series of short movements stitched together to make a 43-minute long piece.
The piece was called The Snow Goose and the name of the band was Camel. This made absolutely no sense to 73Me at all. Why would you name a band after an animal? Unless, perhaps, you were making a warped reference to The Beatles (who 60sMe used to think were named after actual beetles). The Snow Goose had the tunes and changes of mood and the drama that I liked about Tchaikovsky and Beethoven. Plus it had drums, those spacey keyboards and more brain-splitting electric guitar. How was it possible to change such a quiet intimate wooden-boxy-stringy thing into this blood-rousing beast? It was a miracle.
It took me a while to figure out everything that was going on in The Snow Goose (cos nothing's written down right so, another mystery, how do all the players know what to play?) but eventually I worked out a piano version of it and, well, I guess that's how I started composing music.
Oh yeah – one more thing about The Snow Goose: there was some sort of story associated with the sounds as well. Something about geese I think it was. Nothing I could be bothered with at any rate.
There it is now. The pipe organ of the church of St. Nicholas (Agreeable Novelist Youths). The morning sun lighting up the stained glass of the East window above the altar. 2020Me was surprised to find the door open, but not surprised to see the notice letting the parishioners know that all services are suspended for the time being, and to see the little bottle of hand sanitiser sitting on a table at the entrance. And now I'm standing, my hands cold and chemical, in the choir looking at the organ, trying – and failing - to remember where the key was kept.
It's a modest pipe organ this one. Built and maintained by Osmonds of Taunton. Best thing about it: a Fifteenth stop on the Great. A beautiful Fifteenth! Automatically doubles to the second octave anything you play. Sounds sweet with the mellow flutes and stopped diapasons. And with all the stops out? Oh yes! Winter evenings in the empty church. Walking nervously through the dark graveyard. Owls hooting up all those dead bodies. A skeletal claw on your shoulder as you reach to unlock the vestry door to sanctuary. Lights on, engine on, stops out and ... Bach! One miraculous piece after another. All evening long. God exists! There can be no other explanation...
Or so I thought.
The Magnificat and the Nunc Dimittis. The hushed and muted voices of Evensong psalms in winter. So beautiful. And, if I was lucky-lucky, 79J in the front pew, kneeling with her parents and younger sisters.
79Me was in love with 79J, but she was in love with 79P, but he didn't really desire her as much as she desired him and when he chucked her I caught her on the rebound only to find her broken heart mothballed for safe keeping, and after a month or so she decided she felt the same way about me as he felt about her and, accordingly she informed me of this in writing.
Back again looking at my bedroom window. Behind which, lonely in the dark I sat, cassette deck playing The Snow Goose on loop, her letter in my hand, feeling sad and desolate as Rhayader in the Great Swamp itself.
By chance, in London, at a Proms concert at the Royal Albert Hall, I bumped into 82J. She told me she was studying piano at the Royal School of Music (all these bloody Royals). I'm doing geography I said. At Queen Mary College (all these Berloo-Berloody Royals!). On the Mile End Road, I said. In the East End, I said. Oh, she said, well it's nice to see you. I told her it was nice to see her too. And that's all. That's all that remains of the intense sadness of my first love.
Bio reference
Artist Photo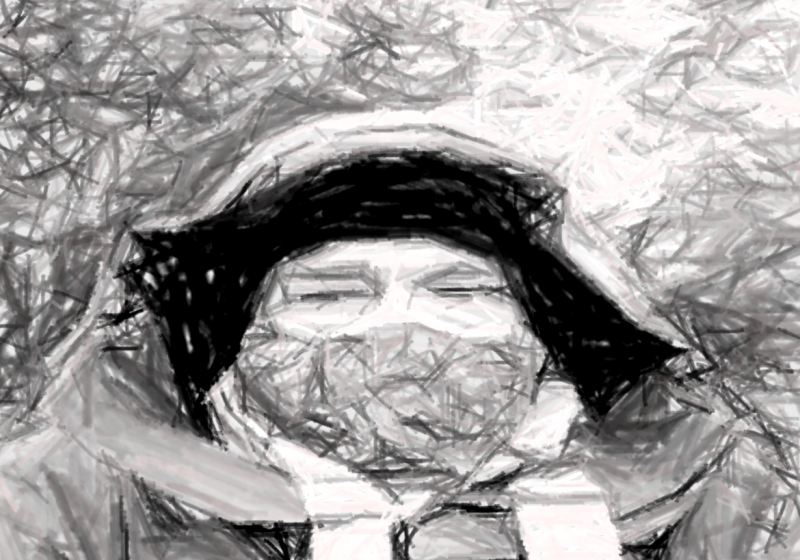 Artist Bio Text
UK-born in 1962, Treefrog 'David' Sanders is a musician and artist with a peculiar interest in the piano and creative investigations into the world of fluid dynamics. Since 2009, David has exhibited works at venues including the NZ Academy of Arts, Thistle Hall and Ron Barber Gallery. David has also been a member of the Bayview Shelley Bay Arts Collective and the music theatre group, Amalgam. Solo painting shows include Demolition Series (2009), Surface Tension (2013) and Strange Attractors (2017). David lives and works in Wellington, NZ.
More Articles