Body
MURDABIKE TAKEOVER!!
Murdabike is multi-dimensional music, art and garment duo of RGB (aka Rachel Blackburn) and ISO12 (aka Jason Aldridge) from Ōtepoti Dunedin. They're taking over Pyramid Club for two days of music and art on the 6-7 October.
NIGHT 1 - Friday 6 Oct, 8pm doors
Murdabike
Kolya
Class War on the Dance Floor
Like explosions of sound and colour, Murdabike performs electronic dance music inspired by its environment with themes of post-human, cyber punk, road rock'n roll, freestyle, post punk and pop culture. Seekers of interdimensional quantum realities, they make space time experiments and play with resonance and magnetics (previous experiments used a magnet switch to trigger audio hardware, include using an exercise cycle, treadmill, and a wind contraption). Murdabike uses external hardware analog and digital: drum Machines, samplers, sequencers, and synths. Triggering, syncing rhythms and driving 4 to the floor beats. Dimensions of House, disco punk and techno. 
Alongside the music, Murdabike's art expressions manifest through Steep Street, the screen print textile art and garments collaboration sidecar of ISO12 and RGB. Murderbike inspired costumes, team apparel and art uniforms. Managing powers as chief orchestrators of the Murdabike machine, pulling the strings with super psychic intuitive powers….. sometimes. 
Operating since 2006, Murdabike is one of this country's most uncompromisingly inventive underground electronic acts. Both Jason and Rachel have long histories of creative work and collaborations in Ōtepoti including art collectives None Gallery and Glue Gallery, bands like The Futurians, Rise of the City Cat Cult, DirtRoom and Auto Harpies, and solo/group exhibitions. 
For their stay at Pyramid Club Murdabike will be conducting found object installation experiments with P-Club's array of old synthesizers, playing a duo set on Friday 6th alongside Kolya and Class War on the Dance Floor, and on Saturday 7th they're forming an extended Murdabike orchestra, a fully costumed ensemble of local electronic sound gurus that'll be cv sync'd to ISO12's motherboard. Opening the Saturday gig is local no-wave guitar ensemble Blood Fucker.

Presale tickets $15 from UTR
Murdabike on Facebook
Murdabike on Instagram
Steep Street on Facebook (Clothing and textile art design and collaboration by ISORAC Music, Murdabike)
Steep Street on Instagram
ISO12, Murdabike on Bandcamp

Night 1 - Friday 6 October
Murdabike
Class War on the Dance Floor
Kolya
Night 2 - Saturday 7 October
Murdabike Orchestra
Blood Fucker
---
Many thanks to Creative NZ for supporting Pyramid Club's programme.
Feature Image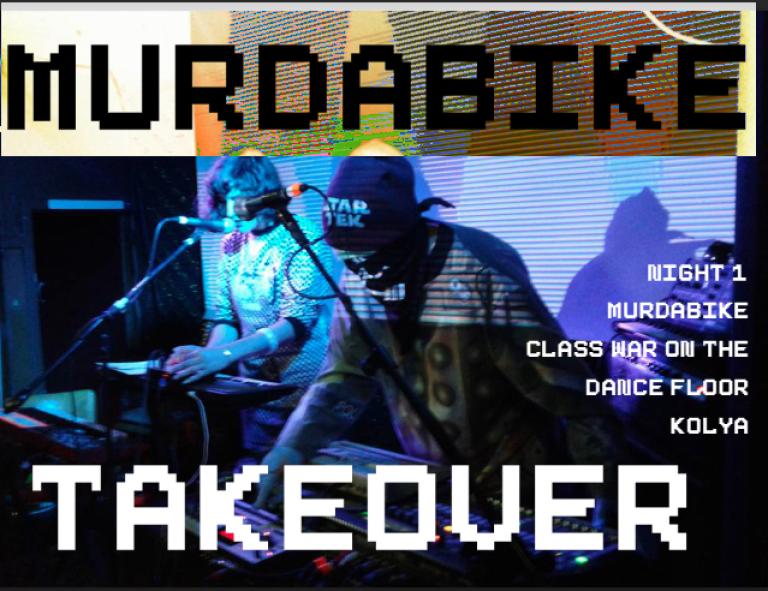 Upcoming Events