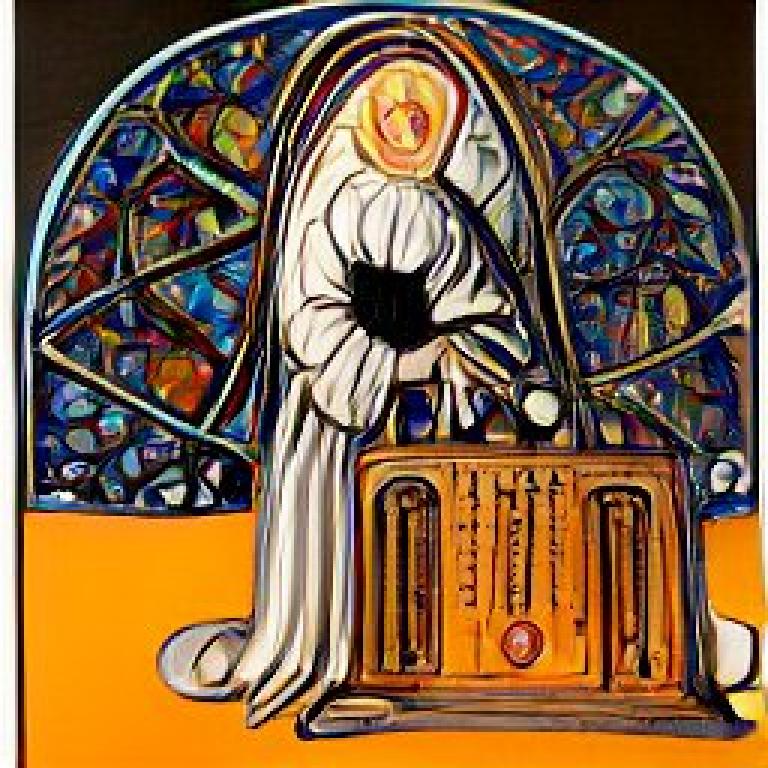 NOTE: Headphones are required for listening (many frequencies are beyond what built-in computer speakers can handle), but please take care to keep the volume moderate so that the very high-frequency sounds do not become unsafe or unpleasant!
These three pieces build on two longstanding musical interests which, though fairly unrelated, I find fruitful to explore alongside one another: the sonic behaviours of radio feedback, and the socio-historical entanglements of the human voice.
The electronic sounds in these pieces are generated by radio feedback: live signal from a microphone is broadcast via a low-power FM radio transmitter, and a battery-powered FM radio (tuned to the same frequency on which the transmitter is broadcasting) serves as the loudspeaker closing the feedback loop. In making these pieces I have used two setups: either the microphone is fixed in place and I move the radio around the microphone to modulate the feedback, or the radio stays put and I use a cheap little lapel mic that I can twirl around a radio like a butterfly. I will often wave my other available hand around the radio and/or microphone to further manipulate the acoustic reflections and thus the resulting sounds.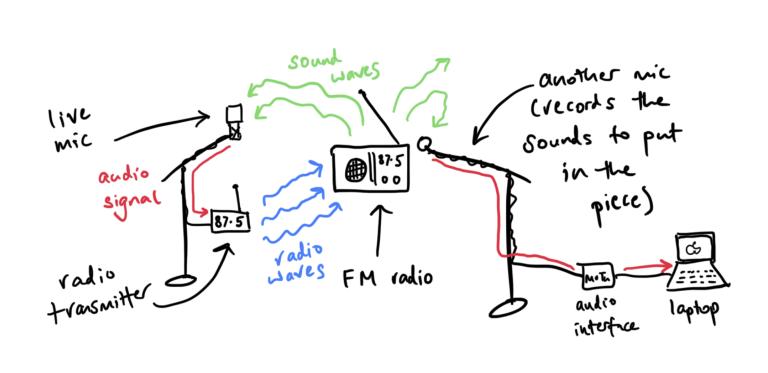 The interest in acoustic feedback I share with innumerable musicians and artists — Robert Ashley, Yoko Ono, Alvin Lucier, Merzbow, Cathy van Eyck, Jimi Hendrix (and many an electric guitarist since) to name only a few. (And hat tip to Natacha Diels, in whose electronic music class I myself got hooked.) This 'instrument' is, like any instrument, both indeterminate and master-able to certain extents. What I continue to find so alluring about working with radio feedback is its unpredictability. 'Performing' on this instrument feels like performing a duet with a latent musical intelligence, whose behaviour I can influence but not dictate (perhaps the same could be said for many instruments). At the same time, some behaviours of this instrument do become more predictable the better-acquainted I get: I have learned what regions of a particular radio will usually generate what pitch-register of feedback when they are closest to the microphone, for example, and the speed and physical quality of my gestures leave a mark on the sounds' rhythmic characteristics.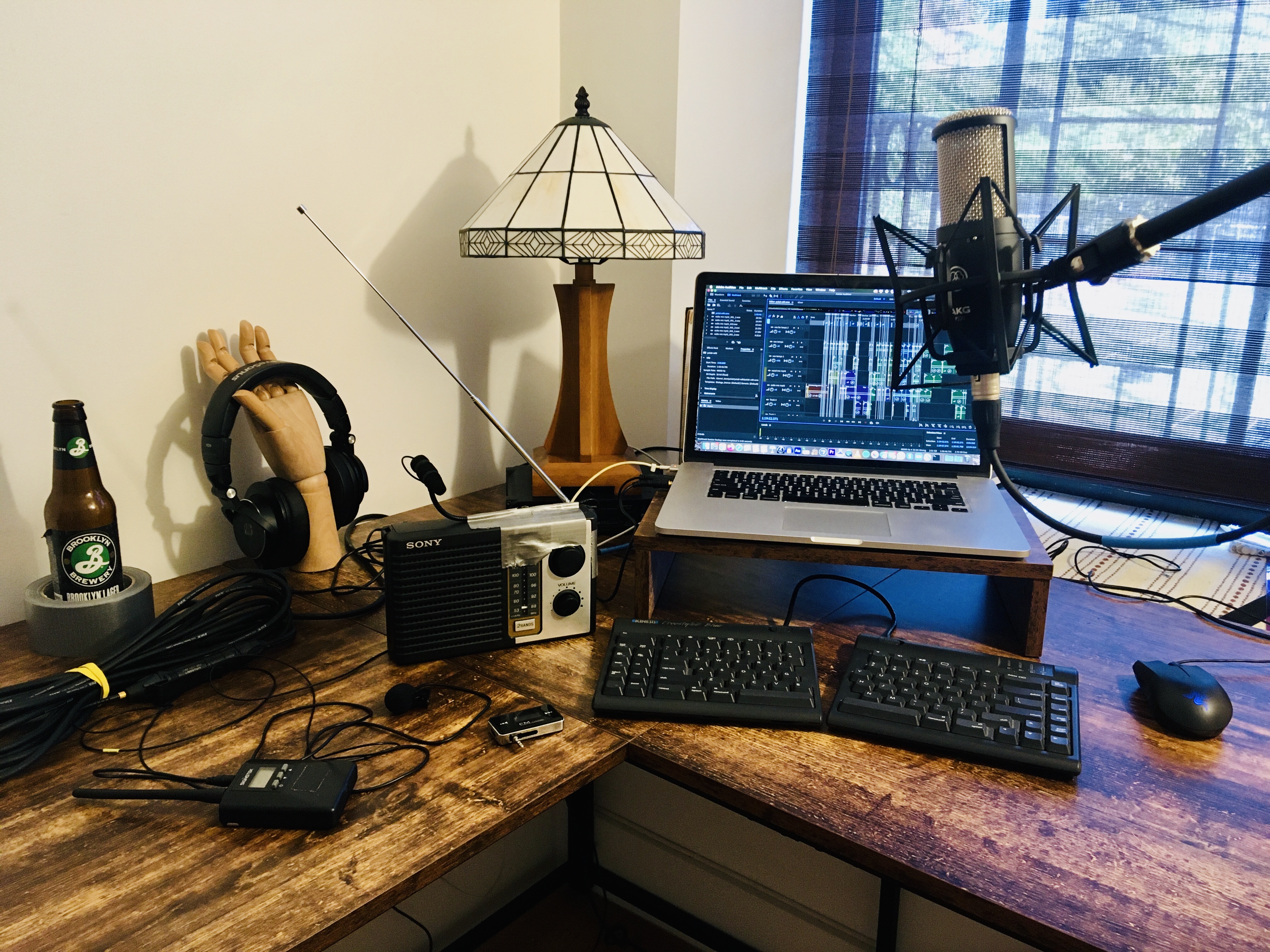 Anchorhold Polyphony is a newly-created work for this Pyramid Club commission. As it builds on previous explorations in radio feedback, I present it here alongside two earlier predecessors. Both are excerpts from an experimental radio-opera, Yunge Eylands Varpcast Netwerkið, created in collaboration with Ensemble Adapter in Berlin in January 2022. 'Qui La Voce' features the harp playing of Gunnhildur Einsarsdóttir of Ensemble Adapter, and casts the radio-'voice' as that of an opera diva delivering their rendition of Bellini's famous aria. To my ear, setting the radio feedback's subtle fluctuations of pitch and timbre against the robust harmonic scaffolding of Bellini's aria has the effect of vividly anthropomorphising the radio-voice, encouraging us to listen to it as a sentient subject. At the same time, it offers a different way to listen to the expressive mechanisms of Italian opera (a genre whose cultural positioning has, incidentally, been transformed by its broadcast on radio). In place of the extroverted vocality engineered to hush a rowdy opera house with its scenery-chewing declamations is a more introverted vocality, bringing inscrutable expressive pangs to familiar musical manoeuvres. 'Álfakór' featured in Varpcast as my fanciful attempt to recreate the "incredible choir singing" that Adapter flutist Kristjana's father heard as a small boy in the middle of the night deep in the Icelandic countryside – "complicated and the most beautiful thing he has ever heard." It was the elves! More broadly, the popularised presence of elves in Icelandic culture (you can't build a highway through an elf-village! etc.), interested me for how this folk-knowledge articulates material concerns around resource extraction, terraformation, indigeneity and settlerhood. Composed into a quasi-four-part choral texture, here the radio-voices render their own strange inflections of familiar harmonic routes, as if the Männerchor repertoire so popular in 19th-century Northern Europe—and among its settler diaspora—were sung by creatures to whom the usual conditions of physics and human anatomy did not apply.
After working with these radio-voices for some time, I naturally became tempted to sing along with them – and this was the starting-place for Anchorhold Polyphony. As for my own voice, I don't really consider it "an instrument" in sense of producing a particularly impressive sound (you know how they say of some singers, "wow, what an instrument!"). But my own voice is absolutely an instrument in the utilitarian sense of the word: it is a tool through which—both musically and otherwise—I sense, perceive, understand, structure, interpret, and articulate. Singing in choirs (of the literate Anglo persuasion) since childhood has drastically conditioned the way I use my voice: and thereby the knowledge it yields whenever I deploy it as an instrument of sensory and perceptual measurement. I am continually curious about the inherited knowledges embedded in my voice, how they shape my thinking and perception, and how I can work to reform that knowledge and its material enactment. 
As I began singing along with these radio-voices, I found myself leaning on the principles of church counterpoint familiar to me from choral singing: seeking stepwise, rhythmically independent routes to triadic arrival points. Those vocal traditions are definitely shaped by the resonant spaces they are designed to occupy. The cathedral's visual splendour no doubt inflects a listener's experience, just as its cavernous acoustics shape so many aspects of church polyphony, from its harmonic technologies to its rhythmic profile. Acoustic feedback, on the other hand, depends on spatial constraint, generated as it is by sound waves reflecting off walls, floor, and ceiling. And here I was in my tiny home studio—quite unlike the resonant spaces for which my voice has been optimised—singing as softly as possible to blend with the radio's furtive tones. In this environment, it became necessary to temper and reform my habitual vocal behaviours to adapt to this new acoustic and technological setting. As a further mechanism of productive estrangement, I sent my live vocal signal to an FM transmitter broadcasting to a portable FM Radio. This 'out of body experience', holding my own voice in my hands, produced very cool acoustic interference: I could really feel the vibrational influence of difference tones and weird ring modulations that oftentimes would puppeteer my live singing voice beyond my control. 
Around the time I was making Anchorhold, I was reading about the radical theologies espoused by medieval beguines and Christian mystics, especially Julian of Norwich. Julian adopted a particularly extreme monastic lifestyle: she took a vow to be sealed into into an anchorhold, a tiny cottage which she could never leave, and where she lived out the last fifty years of her life. At first, this sounds like the stuff of horror films. But the more I learned about Julian, the more I was intrigued by the nature of her solitude. She had servants. She had a cat. She drank beer! And perhaps most crucially, her anchorhold was attached to the Norwich cathedral, and had windows—curtained windows, through which one could see neither in nor out—but which nevertheless allowed her to freely converse with anyone who dropped by. Given that the cathedral was the social, cultural and economic centre of a community in the Middle Ages, her omnipresence there made her a kind of resident agony aunt. She must have known everyone. She was very likely the person most au fait with the latest town news and gossip. And so her esoteric contemplations and communions with the divine were truly anchored in the bustling mundanities of civic life. It struck me that all this made Julian of Norwich a kind of proto-radio. Like a radio host, her voice would have been heard by many Norvicians, though over the decades most would have forgotten what she looked like. And, sealed off from the sensorial experiences of the physical world (except perhaps for the pleasures of beer and cats), she sought to transcend her own materiality and tune into some distant, invisible, other realm.
In essence, Anchorhold Polyphony is a speculative exercise in re-imagining how the tradition of Western European church polyphony might have turned out if it had developed not in the resonant cathedrals advertising imperial might – but rather in tiny anchorholds, as an introverted practice of communion with the still, small voice, and an exploration of the miraculous dimensions that can permeate everyday spaces.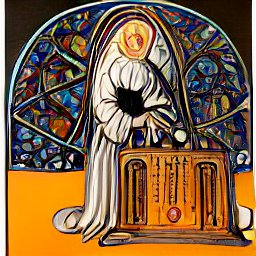 One final note on material entanglement. The creation of these pieces required the following equipment:
Sony ICF-F10 AM/FM radio

2x alkalike D batteries

Signstek 0.2W portable FM radio transmitter (with 3.7V lithium-ion battery)

AKG-P220 large diaphragm condenser microphone

DPA 4099 instrment microphone 

Motu Ultralite Mk3 audio interface

2016 MacBook Pro 

Presonus HD9 noise-cancelling headphones

cables, chargers, and other accoutrement for all of the above

not to mention the electricity to run them all

and the labour & resources required to ship them to me

etc. etc. etc.
I therefore understand these pieces to be the product of my collaboration with global networks of capital, commodity, and labour. Therein lies another analogue to the European cathedral, sponsored as they are by the spoils of war and crusades, built by a coerced and exploited labour force, lavished with precious goods extracted from far-off places and distributed by global trade. Then as now, even our most seemingly transcendent, immaterial or perhaps spiritual experiences are always furnished by wholly material conditions that tell a tangled and worldly story.
Bio reference
Artist Photo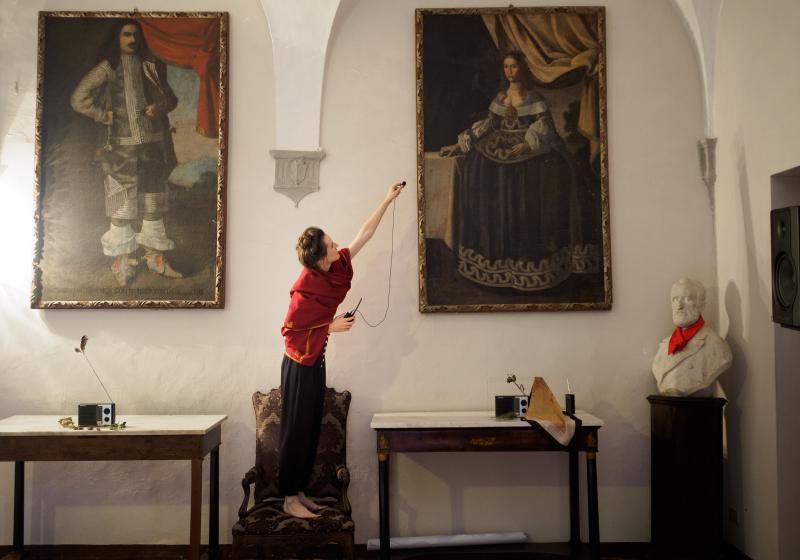 Artist Bio Text
Celeste Oram is a composer and musician who grew up Pākehā in Tāmaki Makaurau and now lives in Manhattan, New York with her partner Keir and sometimes a foster cat. Her recent work spans instrumental & vocal music for concerts, polyphonic songs, experimental music-theatre, music for dance, and radiophonic work. She did undergraduate studies in music (among other things) at the University of Auckland and then a PhD in music composition at the University of California San Diego.
Photo by Marco Giugliarelli for Civitella Ranieri Foundation
More Articles