Body
Pyramid Club is excited to present the opening of a solo exhibition by Charlotte Parallel.
In-terra uses the Pyramid Club stairwell as a field site. Stairs are a way of moving through space, an internal structure used to get from one place to another. I am interested in how our physical movement and interaction with-in architecture is often identified and monitored by the use of sensor networks.
Sensors are embedded in our daily lives, whether it be to measure changes in air pressure and adjust the temperature of a heater or to detect the movement of bodies that inturn activates a surveillance camera. The technological process of sensing, detection and then responding to a real time event can be thought of as an embodied set of operations that are articulated across devices, environments, practices and imaginations.
In-terra adopts the citizen-sensing or DIY approach to the use of sensor technologies, like the PIR motion sensor, as a way to experience a site while also directing attention to our pervasive and ubiquitous engagement with mediating technologies. The sounding of these processes is likened to a sonic collage where movement triggers different sounds, like the noisy grain of data collection layered with the fluorescent drone of 50hz.
---
Charlotte Parallel is an artist based in Koputai Port Chalmers. Working across sculpture, sound installation, collaboration and performance, Charlotte's explorations of transduction, sonic materiality and interaction have been exhibited throughout Aotearoa New Zealand since 2003, and internationally since 2010. In 2016 she completed a Master of Fine Arts at Dunedin School of Art, and since this time has been exhibiting consistently to further her research into sound as a means of directing attention to the active forces of place.
---
Special thanks to Creative NZ for their support of Pyramid Club's programme.
Feature Image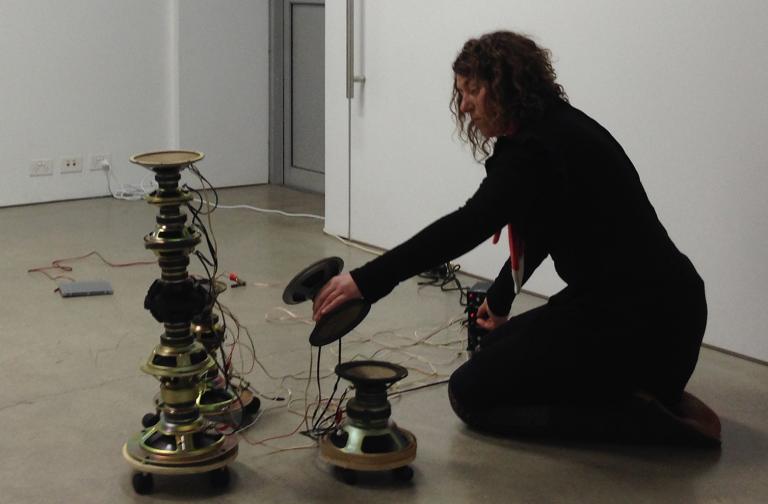 Upcoming Events